Faiz Ahmed Faiz's daughter Moneeza Hashmi disallowed from participating in Delhi event after being invited
Pakistani poet Faiz Ahmed Faiz's daughter and eminent media personality Muneeza Hashmi was invited to attend a media summit in Delhi but was allegedly not allowed to take part in it without being offered an explanation, media sources said.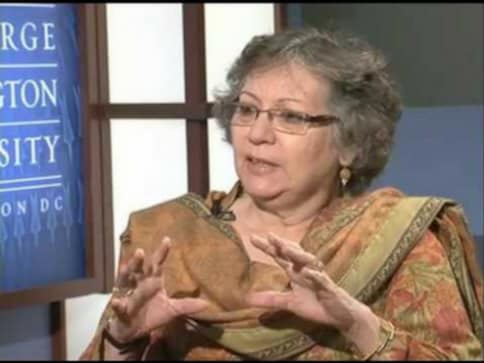 Moneeza Hashmi, daughter of Pakistani poet Faiz Ahmed Faiz, was barred from participating in a media summit in New Delhi she'd been invited to and offered no explanation, according to several media reports.
The Hindu reported that Hashmi, an eminent media personality, was withdrawn as a speaker at the last minute for the 15th Asia Media Summit which was held from 10 to 12 May in New Delhi.
Hashmi's son Ali took to Twitter to express his anger, tagging the Prime Minister's Office and External Affairs Minister Sushma Swaraj:
However, the Information and Broadcasting Ministry and Prasar Bharti, who hosted the event said that they are not aware of any such incident, according to a report in News 18. According to the report, Faiz Foundation Trust sources said that when Hashmi reached her hotel, she was told that there was no booking in her name.
Hashmi was later informed by Asia Pacific Institute for Broadcasting Development (AIBD) director Chang Jin that she wouldn't be allowed to speak.  Jin reportedly told her, "We were just informed that you cannot attend the conference" and apologised, according to the News18 report.
The Indian Institute of Mass Communication (IIMC), which was also hosting the summit in Delhi, denied any knowledge of this last-minute change, according to the The Hindu report.
More than 200 foreign delegates attended the summit hosted by India for the first time, with 54 speakers but there was no representative from Pakistan, according to the report.
According to a report in Pakistan Today, Hashmi told her Indian friends she was not going to speak of this and would prefer to return to Pakistan without making an issue of it, but the story found its way into the media.
Sports
Pakistan hockey suffered a crushing blow on Thursday when it lost to Japan 2-3 in its final Poll A match of the ongoing Asia Cup.
World
When the PML-N-led coalition government took over on 11 April, the dollar was valued at Rs 182.3, and since then, the rupee had lost Rs 11.4 or 6.2 per cent of its value
World
The Pakistan government has deployed the Army in the Red Zone to 'protect important government buildings' after Imran Khan entered the federal capital amid rising tensions in the country