Failure to immediately back CNN in Jim Acosta spat with Donald Trump's White House exposes media's lack of spine
In many ways, media deserves to be treated the way it treats itself.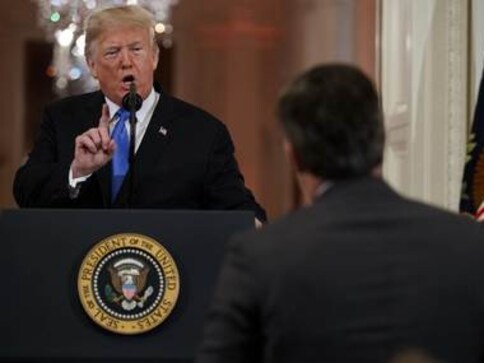 It was somewhere 1978 when Morarji Desai was prime minister that he held a press conference in Mumbai to which all editors were invited. He had already been given a rough ride over the Jorhat air crash when five valiant Indian Air Force officers from the VIP Communication Squadron lost their lives because it was suspected that they had been forced to fly in low visibility against their advice. It was November 1977 not that anyone recalls the five who died landing the plane in a paddy field with the prime minister and his entourage unscathed and all on the flight deck dead. The pilots were Wing Commander Clarence D'Lima, Wing Command  Joginder Singh, Flt Lt OP Arora, Sqd Leader Cyriac and Sqd Leader VVS Shankar. The investigation was kind of hushed up and a tight-lipped government made it look like the fault of the TU-124's instrumentation.
Apart from that rather poor farewell to the crew and his limited expression of concern Desai had not endeared himself to the media and his rare press conferences were not the most communicative.
On this occasion, one of the senior editors (if memory serves me right it was Inder Malhotra of the Times of India) asked Morarji what India's stand was on nuclear disarmament and the US-USSR SALT agreement of 1972. Morarji looked up and said, who are you?
The editor duly identified himself.
The prime minister gave him a withering look and said, if you are the editor of such a paper you should know better than to ask such silly questions and you should, anyway, know the answer. Now, sit down.
There was a kind of hush and then a couple of editors got up and walked out and then a couple more and then others and finally, all of us left the conference. It was a collective walkout. For that brief, shining moment, it didn't matter which newspaper you represented, you were journalists in a democracy and you would be damned if you were going to have your ass handed to you in a sling.
That solidarity was so strong that even the mandatory' sniggerers', gigglers and sundry sycophants who fill press conferences and suck up to the VIP had to walk away or be marked forever.
That didn't happen at the White House this week and for all the glamour and prestige attached to this most exclusive club, nobody backed Jim Acosta when President Donald Trump shut him up and he was asked to leave. Yes, journalism is a dog eat dog profession but we seem to have lost all sense of unity amongst ourselves.
Nothing stopped the White House Press Corps from standing by their colleague and walking out with him. All this claptrap about the constitutional right in a free country for the media to exercise its rights and do its job unhindered and placing court cases as CNN has done against the president means diddley. Just as the various associations representing media now huffily coming out with pompous indictments of the highhandedness displayed against Jim Acosta count for a spit in the wind the fact is the Press Corps, arguably seen as the most elite media club in the world showed no courage of conviction or any sense of togetherness. No point now showing delayed solidarity when they could have set the standard at the conference.
The harangue went on for some time. Enough time for the rest of the Press to squirm uncomfortably, be awkward and indignant but no one stood up for Acosta and therein lies the rub.
Whether India or the US the fact is media is divided within itself and now wallowing in the waters of schadenfreude, enjoying the misery of others of their tribe and taking delight in their plight.
When the subject of the conference is openly being contemptuous of your profession and your colleague and you sit there and you take it there is no point whining in the aftermath. In many ways, media deserves to be treated the way it treats itself.
also read
India
There was no casualty. All crew and aircraft are safe, IAF said in a tweet, adding that the rectification party reached the site
India
The new upgraded missile will be half in weight and size compared to the old BrahMos, but there will be no reduction in its firepower. Brahms NG can be loaded on the Tejas and the MiG-29
India
The IAF chief also emphasised the importance of developing cost effective long range weapons with formidable range and lethality