Govt rubbishes Fai's claims that he met Indian ministers
The government has rubbished US-based Kashmiri separatist Ghulam Nabi Fai's claims that he had 'a channel of communication' opened with the Indian embassy.
Washington: The government has rubbished US-based Kashmiri separatist Ghulam Nabi Fai's claims that he met several Indian ministers on a regular basis during the last two decades of his activities in Washington and had "a channel of communication" opened with the Indian embassy.
Times Now quoted sources as saying that the government had no links with Fai. It further said that the government had advised people against attending any event with him.
NDTV quoted sources dismissing the statement saying that Fai was "totally discredited" and that nobody could believe him.
Sixty-two-year-old Fai, who last week in a US court pleaded guilty to the federal charges of being an ISI agent, said in a statement that meeting these Indian officials was part of his strategy to communicate with New Delhi.
In his statement titled 'Why Kashmir is Important to Me?', Fai claims, "During the past 20 years, I along with Ambassador Yusuf Buch, former Senior Advisor to the UN Secretary General and late Ayub Thuker, President, World Kashmir Freedom Movement, have met with various Indian Cabinet Ministers, belonging to the administrations of Prime Ministers Chandra Shekhar, Narasimha Rao, Atal Behari Vajpayee and Manmohan Singh."
However, Fai did not respond to PTI's email on the names of these Indian ministers and officials. "And during the past 11 years, I also met with four different officials at the Indian embassy who succeeded each other periodically and introduced me to the new incoming official before leaving for a new post," Fai claimed.
The embassy did not respond to a PTI email seeking a response to the allegations being made by Fai on its official who used to meet him regularly or if it was incorrect.
Fai claimed that it has always been his habit to keep the channel of communication open to the Indian embassy. "I have met with the officials of Indian embassy in Washington since 1999, sometimes monthly, sometimes bi-monthly. From March 2006 onward we met monthly and at times twice a month. Whenever we had a seminar or a conference on Kashmir I would invite the Indian ambassador to speak," Fai said.
"I had a habit of exchanging information and establishing the details in advance with an official of the embassy, and then a final copy of the invitation for the ambassador would be given to the official, whom I usually met at a public cafeteria.
"An Indian official called me either on 18 or 19 July 2011, the day I was arrested. He left a voicemail that we must meet, which I heard 10 days later after my release," Fai said.
Conceding that he has made "personal mistakes" and he deeply regrets and feels great sorrow for that, Fai claims his fight was for the cause of an independent Kashmir, which is quite contrary to the guilty plea that he was an agent of the ISI and was dictated by the Pakistan spy agency in terms of what he would write, speak and invite guests to his seminars.
Pleading before the US Eastern District Court of Virginia last week, Fai, head of the Kashmiri American Council (KAC), acknowledged secretly receiving money from the ISI through clandestine routes and causing revenue losses to the US government to the tune of $200,000 to 400,000.
PTI
Lifestyle
Jhalani's luxury cashmere label, Janavi, retails out of 100 department stores worldwide, like Bergdorf Goodman, Saks Fifth Avenue and Nieman Marcus in the US, Harvey Nichols and Liberty in London, and Lane Crawford in Hong Kong and China.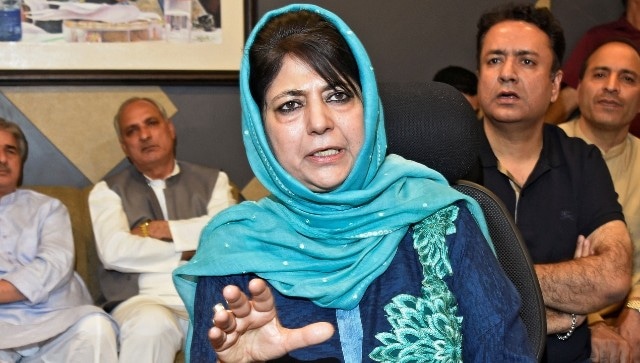 India
Her remarks came amidst growing criticism of the Congress and Digvijaya Singh over his purported comments that his party will have a 'relook' at Article 370 if it returns to power
India
Officials said the fire started around 4.15 pm due to a short circuit and was completely controlled by 5 pm