Emmanuel Macron in India: Maritime security, counter-terrorism high on agenda during French president's visit
Maritime security and counter-terrorism will be high on the agenda among a number of other bilateral issues when French President Emmanuel Macron comes on a four-day visit to India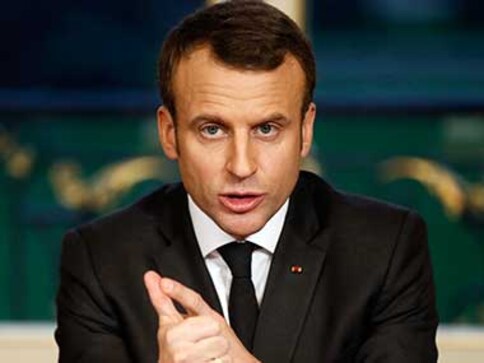 New Delhi: Maritime security and counter-terrorism will be high on the agenda among a number of other bilateral issues when French President Emmanuel Macron comes on a four-day visit to India starting Friday during the course of which he will also co-chair the founding conference of the International Solar Alliance.
Prime Minister Narendra Modi and Macron will hold a bilateral summit in New Delhi on Saturday that will aim at further deepening the strategic partnership that the two countries share. Following the meeting, a number of agreements across multiple sectors are expected to be signed.
Briefing the media in New Delhi on Friday, K Nagaraj Naidu, Joint Secretary (Europe West) in the Ministry of External Affairs, said that though civil nuclear, space and defence cooperation have been the tripod of the India-France partnership, "in recent years, we have seen greater convergence in new areas, particularly maritime security, counter-terrorism and renewable energy".
"Maritime security in the Indian Ocean region is a very important area where we are working together with France," Naidu said.
He said that there has been increasing convergence in this area and "we hope to take it forward".
According to French sources in New Delhi, though France is not against the recently revived quad of India, the US, Japan and Australia that seeks to work for peace and prosperity in the Indo-Pacific region, Paris would rather like to work with New Delhi bilaterally in the Indian Ocean region given that there are around two million French citizens in its territories in the region.
"Counter-terrorism is an area where we already have a dialogue," Naidu said in his briefing.
The fight against terrorism and the security challenges the two countries face form an important aspect of the strategic partnership and these are expected to come up in Saturday's discussions.
Naidu also said that the two countries have a very rich economic partnership with around 1,000 French companies operating in India and having invested close to $7 billion.
"We have a number of French R&D institutions in India working in very high tech areas," he said. "This is an engagement that is going to grow in the coming years."
Stating that bilateral trade stands close to $11 billion, he said: "It is a very evenly balanced engagement. We don't have any major areas of concern when it comes to trade. We don't have any conflict (of interest)."
During the presidential visit, an India-France CEOs Forum will also be held which will be attended by around 40 CEOs each from both sides.
According to Naidu, the French Development Agency (ADF) has made substantial investments in India, particularly in the Kochi, Nagpur and Bengaluru metro rail systems.
"At the same time, you will see that France is increasingly with this country in a number of areas, particularly the renewable energy sector. This will see a far, much more expansion in the coming days," he said.
Stating that India and France share a deep engagement in the area of space for over 50 years now, he said: "We would now like to take this to a new level. Hopefully you will get to see that at the end of this visit."
He said that overall the bilateral engagement is "very good" across all sectors whether it be political, economic, cultural sphere, or people-to-people exchanges.
"We have a very large Indian community in France and in French territories. In France itself, people of Indian community number a little over 1,00,000," Naidu said.
He also said that there are five parliamentarians of Indian origin in France and four of them participated in the PIO parliamentarians conference held last January in New Delhi.
On Sunday, Modi and Macron will co-chair the founding conference of the India-initiated International Solar Alliance (ISA) which was launched by Modi and then French President Francois Hollande during the Paris climate summit in 2015.
The ISA is conceived as a coalition of solar resource-rich countries to address their special energy needs and provide a platform to collaborate on dealing with the identified gaps through a common, agreed approach.
It is open to all 121 prospective member countries falling between the Tropics of Cancer and Capricorn.
The interim secretariat of the ISA was inaugurated by Modi and Hollande in Gurugram on January 25, 2016.
According to Naidu, till Thursday, 60 countries have signed the framework agreement of the ISA and 30 have submitted the instruments of ratification.
Sunday's conference will be attended by 23 of those who have submitted the instruments of ratification and 24 of those who have signed the framework agreement.
During the course of his stay in India, Macron will also visit Agra and Varanasi and have a town hall interaction with students in New Delhi.
During his visit to Varanasi, he will inaugurate a 75 MW solar plant built by Engie Solar at Mirzapur.
also read
India
Shortly after he arrived at the location, PM Modi attended a havan and performed a puja at the premises ahead of the inauguration
India
Congress leaders paid their respects to Nehru on his 59th death anniversary at an event held at Shanti Van in New Delhi
World
Modi who is on a three-day visit to Australia held bilateral meetings with Hancock Prospecting Executive Chairman Gina Rinehart, Fortescue Future Industry Executive Chairman Andrew Forrest, and Australia Super CEO Paul Schroder.