Elphinstone Road stampede: Survivors recall tragic ordeal that killed 23, injured dozens
The stampede, ensued on a foot-over bridge during the early morning rush at Elphinstone Road station, killed 23 people and injured dozens of others.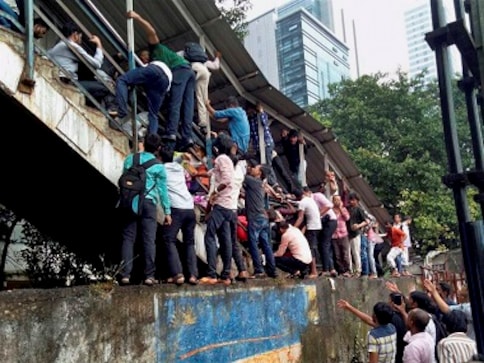 The morning of 29 September started off as any other day for daily commuters at Mumbai's Elphinstone Road station, but little did they know that it would turn into an ordeal they would never forget.
A stampede had ensued on a foot over bridge during the early morning rush on Friday at the Elphinstone Road station killing 23 people and injuring dozens. The incident had taken place while it was raining and several commuters had gathered at the bridge waiting for the rain to subside.
Syed Arif, 28, on Friday, as usual, boarded a local from Govandi station and got off at Parel station. When Arif was crossing the bridge, suddenly a sea of commuters started rushing for the exit, believing that the bridge was about to collapse, according to The Quint. 
"The bridge was so overcrowded that it was shaking. While we were trying to get off the bridge it was raining heavily. Because of the rain, the stairs were slippery and people started falling on the stairs but no one stopped moving," Arif was quoted as saying by The Quint.
The report adds that people got pushed into the railings on the side and died of suffocation.
Police suspect a short-circuit with a loud sound near the foot over bridge led to panic, resulting into the stampede.
According to The Indian Express report, many of those who died were buried under at least four or five other people for over 30 minutes. The report added that one Rohit had come to Parel market with his elder brother Akash Parab (19) to buy flowers. During the stampede, the duo got separated and Akash survived with a leg and femur fracture.
Tushar Patil was one of the survivors who escaped the stampede narrowly on Friday morning. The Times of India report says that, when it started raining, Patil instead of waiting at the foot over bridge for the rain to subside, decided to rush to office. Minutes after he reached office he got to know that a stampede had broken out at the very same FOB. "I am lucky to have escaped. This disaster was waiting to happen," Patil was quoted as saying by The Times of India.
The 23-year-old Ghatkopar resident Piyush Thakker's family believes that he survived only due to fate. Piyush was found buried under several others after the stampede and has little recollection of how he landed in KEM Hospital, says an Indiatimes report.
"I possibly survived because I could still breathe air as my face was near the open railings,'' Piyush was quoted as saying.
Shruti Lokre, who escaped the stampede, in a series of tweets described how she kept herself calm amid chaos.
Stampede at Parel Station. I survived. I don't knw hw. Before I realised, I was a part of that stampede. Saw bodies being taken out. #Bombay

— सवालों की जुम्बिश (@angryoungwoman) September 29, 2017
Still can't believe I am out. The only way to not give up on hope was to give hope to someone else. It's gonna be alright, we will make it. — सवालों की जुम्बिश (@angryoungwoman) September 29, 2017
Breathe, keep breathing, look that guy is helping us. Don't worry, I am here. We are in it together. Just few more minutes. This!

— सवालों की जुम्बिश (@angryoungwoman) September 29, 2017
You don't realise when the mob turns into a stampede. It happens in front of you, you become a part of it. Panic and chaos and insane crowd. — सवालों की जुम्बिश (@angryoungwoman) September 29, 2017
Twenty-five-year-old Shraddha Varpe met with a tragic fate that day. "Papa, you go ahead. I will come, let the crowd thin out," she told her father as the two tried to make their way out of the deadly crush at the Parel railway on Friday morning.
Those were her last words. Kishore Varpe (57), her father, managed to cross the footbridge connecting the Parel and Elphinstone Road railway stations when the deadly stampede began.
He searched for her frantically, only to find that she was among the victims, said a tearful Bhimrao Dhulap, Varpe's close relative who accompanied him to the mortuary of KEM Hospital.
With inputs from PTI