Electronic Voting Machine and its history with India: Controversy over EVMs malfunctioning, rigging allegations are not new
EVMs were used on an experimental basis for the first time in elections to 16 Assembly constituencies in Madhya Pradesh (5), Rajasthan (5) and Delhi (6) held in November, 1998. The 2004 Lok Sabha election was conducted entirely on EVMs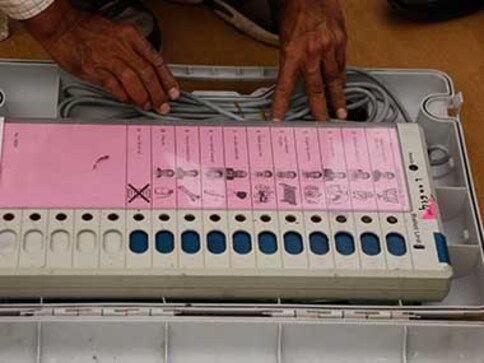 MB Haneefa invented the first Indian voting machine in 1980. It was first used in 1981 in the by-election to North Paravur Assembly Constituency of Kerala in 50 polling stations

The EVMs were commissioned in 1989 by Election Commission of India in collaboration with Bharat Electronics Limited and Electronics Corporation of India Limited

In 1998, it was used in 16 assembly seats in MP, Rajasthan and Delhi. The 2004 Lok Sabha election was conducted entirely on EVMs
Controversy is brewing over an Indian cyber expert's claim that EVMs (Electronic Voting Machines) were hacked in the 2014 Lok Sabha elections which the BJP had won by a landslide margin. Reacting strongly to the allegations, the Election Commission rejected the claims and insisted that the EVMs were foolproof and that it was 'wary of becoming a party to this motivated slugfest'.
Addressing a press conference in London via Skype, the individual, identified as Syed Shuja, said he fled India in 2014 because he felt threatened in the country after the killing of some of his team members. Although he appeared on screen through Skype, his face was masked. Shuja claimed that he is seeking political asylum in the US. Shuja, however, provided no proof to back up his claim.
Shuja also alleged that other than the BJP, the Samajwadi Party, Bahujan Samaj Party, AAP and Congress too were involved in the rigging of the EVMs.
EVMs can record a maximum of 3,840 votes and can cater to a maximum of 64 candidates. There are 543 Lok Sabha constituencies and an equivalent number of seats in the Lower House of Parliament. To win a simple majority more than 272 seats are therefore needed. BJP won 51.9 percent of all seats in 2014 elections.
In the 2014 election, 66.4 percent out of the total electorate of 834,101,479 voted.
A research paper published in July 2014 and titled 'India's Electronic Voting Machines (EVMs): Social construction of a "frugal" innovation' authored by Maximilian Herstatt and Cornelius Herstat, noted, "EVMs in India are unique and quite different from EVMs employed in other nations like the US. Rather than large, expensive, complex and computer like systems the Indian machine is praised for its simplicity, inexpensiveness, and efficiency. The Election Commission of India is very proud of this system and stated that the machines are perfect and tamperproof. Those overly positive remarks caused scepticism amongst political parties, activists, academics and voting security specialists. It has been argued that the simplicity of EVM design has negative implications as well, when it comes to questions of transparency, verifiability and the overall security of the election practice. Although the ECI generally claims that EVMs are tamperproof and perfect for the Indian elections, there have been occasions where EVMs malfunctioned and had to be replaced."
The paper also noted that after the outcome of the 2009 General Election political parties and concerned citizens claimed that EVMs could have been tampered and caused a wrong election outcome.
Members of an initiative called VeTA (Citizens for Verifiability, Transparency and Accountability in Elections) had raised suspicion that those kinds of "malfunctions" occur when people try to tamper the EVM. This is not the first time that people raised doubts and claim that it is possible to manipulate EVMs and change election outcomes.
When was the first EVM used in India?
MB Haneefa invented the first Indian voting machine in 1980. It was first used in 1981 in the by-election to North Paravur Assembly Constituency of Kerala in 50 polling stations. Haneefa's original design was exhibited in government exhibitions held in Tamil Nadu. The EVMs were commissioned in 1989 by Election Commission of India in collaboration with Bharat Electronics Limited and Electronics Corporation of India Limited.
The industrial designers of the machines were faculty members at the Industrial Design Centre, Indian Institute of Technology (IIT) Bombay. EVMs were used on an experimental basis for the first time in elections to 16 Assembly constituencies in Madhya Pradesh (5), Rajasthan (5) and Delhi (6) held in November, 1998. The 2004 Lok Sabha election was conducted entirely on EVMs.
In a 1984 Supreme Court ruling against EVMs had been on a legal technicality, and not about their fundamental suitability. That flaw was corrected by a 1988 amendment to the Representation of the People Act (1951) (RoP) Act, providing the legal framework for the use of EVMs. In yet another ironic twist of history that was passed by a Parliament dominated by Congress, the only beneficiary of EVMs being set aside in favour of paper ballots.
The incorporation of machines, technology and automation for electoral voting goes back to at least 1892, when the first "lever voting machine" was used in New York, after decades of relying on paper ballots. Punch-card voting machines were introduced in the US in the 1960s, and were still in use in Florida four decades later, when their malfunctioning helped make the 2000 presidential election controversial. The US also saw the first EVMs introduced in 1975.
A new generation of EVMs was developed in 2011 with a feature for Voter Verified Paper Audit Trail (VVPAT). As the name implies, these make it vastly easier to audit and verify the votes cast if challenged. After an SC judgment to deploy these EVMs by 2019, the EC has already commissioned 20,000 of them and is awaiting funding for the rest.
Can the EVM be pre-programmed to favour a party or candidate?
To transfer votes to a particular candidate, it is necessary for the EVM's programme to identify the favoured candidate's serial number. Now, the order in which candidates appear on the ballot paper depends upon nominations filed and found valid and this cannot be predicted in advance before the list of contesting candidates is actually drawn up.
EVM and VVPAT in a nutshell
An EVM has a control unit and a balloting unit along with VVPAT joined by a cable. The VVPAT is an additional unit attached to the EVM, which prints a small slip of paper that carries the name, symbol and the serial number of the candidate, which is visible for seven seconds on the viewing window.
According to reports, the polling officer has the Control Unit, while the balloting unit and the VVPAT is kept in a compartment. While each balloting unit has the option of 15 candidates and a NOTA button, unless the election officer activates the control unit, the voter can't cast their vote. Two ballot units are usually joined to offer 16-31 candidates including NOTA.
Reports of EVM tampering not restricted to India
While the EC is busy battling allegations of EVM tampering in India, almost an identical story was unfolding in the African continent. The poll panel, reportedly, faced the question of credibility of India-made EVMs in Botswana. Heated political debates ensued in diamond-rich Botswana in 2018 over imported EVMs from India. According to The Times of India, the opposition Botswana Congress Party (BCP) moved court against the ruling Botswana Democratic Party (BDP) government's amendments to electoral laws that enabled the use of EVMs. The allegations are similar: "BCP has contended that EVMs were aimed at getting a favourable result for BDP." The Independent Electoral Commission in Botswana, however, gave its stamp to the EVMs and said it would speed up electoral process.
EC took precautions in a two-stage randomisation process before EVMs were put to use. The aim was to ensure nobody knows in advance which EVMs will be allotted to which constituency/polling station.
For this, serial numbers of all EVMs under the jurisdiction of a district election officer are listed. EVMs for a given constituency are then randomly selected through a computerised process known as the first-level randomisation. A second-level randomisation by the returning officer later selects the EVMs at a given polling station.
The Aam Aadmi Party, among others, created an uproar in 2017 saying that BEL, which manufactures the EVMs, was to participate in an EVM hackathon in Botswana. While BEL denied that it would use any EVM meant for Indian elections, questions were raised on 'taking an EVM abroad' and how it can become susceptible to hacking or misuse.
Which countries use electronic voting?
As of now, 31 countries have used or studied EVMs. Only four of them use it nationwide. While 11 use EVMs in some parts, pilots projects are on in five nations. Three nations have discontinued it while 11, which ran pilots, decided against EVMs. A few countries which have discontinued the use of EVMs are — Kazakhstan in 2011, in Finland the system trialled in 2008 but a review in 2016-17 concluded against internet voting stating that risks outweighed benefits, Germany where the system trialled in 2005, but the court found it unconstitutional in 2009. Ireland scrapped the system in 2010, Netherlands discontinued it in 2007, Norway trialled in 2003, Romania trialled it for a limited period in 2003, and EVMs were used only for central counting of ballots in Scotland from 2007.
In the Netherlands, a pressure group called "We Don't Trust Voting Computers" demonstrated security flaws in voting machines in 2006. After an enquiry committee's report to Parliament, the regulation for electronic voting was withdrawn in 2007.
In 2009, a German court banned EVMs. The ruling was interpreted to mean that the court concluded that a computer-based system of voting required knowledge of programming that citizens did not have and, hence, the system was 'opaque', reports said.
For and against arguments
For a country like India which is the world's largest democracy questions were raised when the EC decided to introduce the EVM system. Demand to abandon the use of the electronic voting machine was raised by BJP after their electoral defeat in 2009.
The critics of EVM demanded the bringing back the ballot paper after the 2014 elections. The next spate of demands came in 2017 when several TV channels ran source-based news that the EC was planning to hold a week or 10-day-long challenge where EVMs would be deployed at its headquarters in New Delhi and all doubters will be given an opportunity to hack the machines.
Questioning the source-based stories, Kejriwal posted several tweets later on. "Why are these stories ascribed to 'sources'? How credible are they? Why hasn't EC issued any formal statement? Or is it just a plant? Has anyone actually seen any official statement from CEC? Am trying to get it since evening. Is this news correct?" he said in a series of tweets.
Why are these stories ascribed to "sources"? How credible are they? Why hasn't EC issued any formal statement? Or is it just a plant? https://t.co/Cxvu4nBUg8

— Arvind Kejriwal (@ArvindKejriwal) April 13, 2017
BJP had demanded that the system should revert to paper ballots and many political parties had even supported this demand. This issue made a comeback after the results of the Assembly elections held in five states in 2017. This time the call for paper ballots comes from the other side of the political spectrum, with the Congress and AAP leading the charge.
Several allegations surfaced during the Chhattisgarh and Madhya Pradesh Assembly elections. Experts have said that saying EVMs are "absolutely tamper-proof will not be accurate. But the that is saved with EVMs compared to the old ballot paper system.
Several political parties, including the Bharatiya Janata Party (BJP) and the Indian National Congress (INC) have taken turns to criticise the system. Interestingly, senior BJP leader LK Advani suggested reintroduction of ballot papers instead of EVMs. Kejriwal's Aam Aadmi Party (AAP) is one of the political parties who cried foul over EVM tampering during the 2014 elections.
In 2018, several allegations surfaced during several state Assembly elections — Telangana, Madhya Pradesh, Karnataka, Chhattisgarh and Rajasthan.
Election Commission's 'hackathon'
In June 2017, the poll panel challenged the critics and dared them to hack the EVM. Only the Nationalist Congress Party and the CPM were the only parties which applied for the challenge. The two parties were given a demo of the EVMs and the VVPAT or voter-verifiable paper audit trail-equipped machines, which produce a paper receipt of the voter's choice for proof. The Election Commission has vowed to only use EVMs with this paper trail for all future elections.
Neither of the two parties attempted their mission to hack the EVM. Instead, they watched a nearly four-hour-long demo by the Election Commission. "NCP, CPM did not participate in EVM challenge," the then chief election commissioner Nasim Zaidi. AAP declared the Election Commission's EVM challenge a flop show.
Every political party that doubted the credibility of the EVMs and wanted to participate in the hackathon, had to apply on or before 26 May, 2017. The parties would be allowed three representatives each, preferably Indian nationals, NDTV had reported. These representatives would be allowed access to four voting machines from five states where elections had been conducted this year.
Explainers
Democratic lawmaker Aisha Wahab introduced the bill just a month after Seattle voted to outlaw caste discrimination. This issue has come to the fore in California since 2020 when the employment regulator sued Cisco Systems on behalf of a low-caste engineer. But some claim it will further fuel instan
World
The adjustments reflect a movement that is currently underway at museums all over the world, spurred by Russia's invasion of Ukraine
Explainers
The early days of March have seen record-breaking temperatures in parts of Argentina. Experts say that while the La Nina weather phenomenon has driven the heatwave, climate change may be making matters worse