Electric buses are crucial for fighting pollution, but transition from traditional vehicles in India won't be easy
In the Global Climate Action Summit in San Francisco, several bureaucrats of Indian cities proudly announced the number of electric buses their cities had.
In the recently concluded Global Climate Action Summit in San Francisco, several mayors and bureaucrats of Indian cities proudly announced the number of electric buses their cities had and their pledges to buy more. "From 40 currently, we will procure at least 2,000 electric buses by the end of 2019," said the transport secretary of the Telangana state government Arvind Kumar at the high-level forum on India Climate Action in SFO. While the procurement process for 40 buses has been completed, only five are on the ground running.
Kumar also pledged that three-wheelers, including those collecting garbage, would be electric vehicles. Mukta Tilak, the mayor for Pune, said that the city would have 25 electric buses by 2019, 500 by 2020 and by 2021, all diesel buses would be removed from the city. The Tamil Nadu minister for transport R Vijayabhaskar and the Ahmedabad mayor Bijal Patel were also part of the deliberations to procure more buses.
The transition from diesel buses to electric buses is key in the fight against climate change and for reducing carbon emissions. While buses might have lower emissions per capita when compared to cars, one study by Niti Ayog and Confederation of Indian Industry (CII) showed that heavy vehicles, including buses, were responsible for more than 65 percent of the total vehicular pollution and fuel consumption, even though they make up only 2.5 percent of total vehicle population. These numbers are for Delhi, but can be largely attributed to the rest of the country, said Anumita Roy Chowdhury, the executive director for research and advocacy for Centre for Science and Environment (CSE).
To overcome the inertia of the administration, technical staff, and bureaucrats, and to adopt a new technology that requires extensive infrastructure development in trying Indian conditions is going to long, tough and on unchartered territories for transport corporations across the country. In Chennai, for instance, maintenance is ad hoc. A non-running bus is usually kept on standby for the technical staff to retrieve spare parts required for other buses. Automatic doors are often tied with ropes to keep them open, and several buses have a leftward tilt after years of carrying passengers way over their rated capacity.
Currently, there are about 40 electric buses owned by transport corporations in the country. The number is expected to go up to 500 over the next year, and up to 2,000 over the five years, said one expert from World Resources Institute. India has around 1.5 lakh buses operated by state transport corporations, of which 30,000 are within city limits.
While individual cities take on ambitious plans, the lack of a central policy to provide expertise and encourage these investments slows down the transition. While different schemes like Jawaharlal Nehru National Urban Renewal Mission (JNNURM) and Atal Mission for Rejuvenation and Urban Transformation (AMRUT) emphasised on cleaner public transportation solutions and subsidies for electric buses and fleet augmentation, there is no support in developing infrastructures that are required to run electric buses. "The central government needs to help city transport corporations in tendering and procurement processes, come up with a deployment strategy and create capacity for maintenance. Each city is finalising their own contracts with different manufacturers and there is no set protocol," she said.
Chowdhury also emphasised on the need for better deployment strategy and route rationalisation. "Electric buses need to be deployed in shorter routes with higher frequency, which makes it easier for charging between trips. For this, the depots which have charging points need to be chosen carefully. A corporation may also feel the need to deploy electric buses in central parts of the city where there are more congestion and higher pollution levels. These need to follow a standard protocol when more and more electric buses are introduced on Indian roads," she added.
With improving technology and lowering costs, bus manufacturers have left the responsibility of the transition on governments. "This transition is not a physics problem or a technological problem, but a political one. The technology exists for all challenges — including using electric buses in cities with steep inclinations. What is needed is the political will," said Ryan Popple, the CEO of Proterra, one of the biggest electric bus manufacturing company.
However, economics and the lack of technical expertise is one reason why the Bangalore Metropolitan Transport Corporation (BMTC), one of the earliest transport corporations to show interest in electric buses, would rather take these buses on lease rather than make an outright purchase.
The corporation has finished its procurement process to induct 80 pure electric buses. The central government is providing a 60 percent subsidy for these buses. They are expected to be on the road within the next three months. "Although we are training our technical staff for repairing and maintaining electric buses, we are not in a position to take on the full responsibility," said the corporation's managing director V Ponnuraj.
Currently, diesel buses cost around Rs 78 per km to run — including fuel, maintenance, salaries for staff. "For electric buses, it is Rs 57 per km. But the costs have to come down further. If we want to scale up beyond these 80 buses, we will have to find a way to do it without the Centre's support. For that to happen, the cost of batteries needs to come down to at least $130 per kWh from the current $180," said Ponnuraj. "We also need to improve our in-house expertise before we can confidently say that all new purchases will be electric. I think that would take seven or eight years for us to reach that stage," he added.
With higher capital costs, despite subsidies, India is better off focusing on electrifying two-wheelers and three-wheelers, said Pawan Mulukutla, the head of Integrated Transport at WRI India Sustainable Cities. "Most corporations are already bleeding. It is unfair to impose them with expensive technology. Even with subsidies, an electric bus costs at least Rs 1.5 crore, when you can get a diesel bus for Rs 30 lakh. However, I believe these pilot projects are important. It helps transport corporations evolve their own solutions and the best models when it comes to procuring and operating electric buses. We may, perhaps, arrive at a solution over the next two to three years," he said. "Bangalore is being smart by getting buses on a contract instead of purchasing them directly like how other cities have done," he added.
This story was supported by the 2018 Climate Change Media Partnership, a collaboration between Internews' Earth Journalism Network and the Stanley Foundation.
Politics
Reports say that some billboards have been put up in Telangana stating that there is 40 per cent commission government in Karnataka and alleging corruption in the state
India
Asaduddin Owaisi pointed out that despite a proper government panel's recommendation about the issues of Muslims, nothing much had been undertaken by the KCR-led TRS government in Telangana and demanded a hike in the quantum of reservation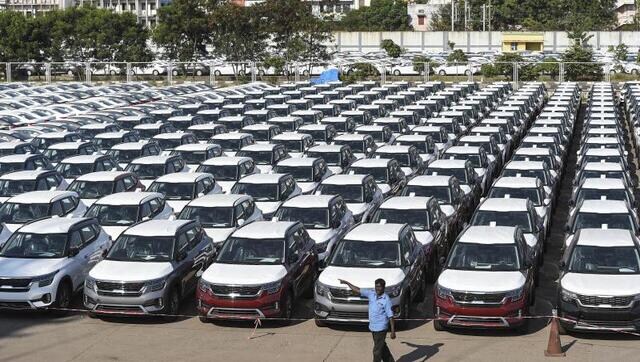 Business
The draft notification says these rules are expected to aid in recognising and empowering intermediaries/ dealers of registered vehicles as well as provide adequate safeguards against fraudulent activities