Misa Bharti money laundering case: ED files chargesheet against chartered accountant in Rs 8,000-crore scam
Apart from the money laundering case, Misa Bharti is also under the scanner in a disproportionate assets case.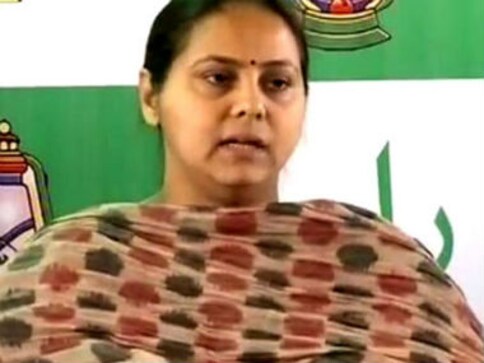 The Enforcement Directorate (ED) on Thursday filed a chargesheet against Rajesh Agarwal, a chartered accountant allegedly linked to Rashtriya Janata Dal chief Lalu Prasad Yadav's daughter Misa Bharti. Agarwal has been charged with a Prevention of Money Laundering Act (PMLA) case which was filed before a court of special judge Naresh Kumar Malhotra.
According to the ED, Agarwal was involved in transactions with a firm allegedly linked to Bharti, who is suspected to be involved in tax evasion. However, News 18 sources reported that Agrawal has been chargesheeted for round-tripping Rs 90 lakh for Bharti, who allegedly bought a farmhouse with the laundered money.
Agarwal was arrested in May for allegedly helping several high-profile people launder their funds, The Quint reported.
The ED suspects the entire racket is worth about Rs 8,000 crore of slush funds. The ED had earlier opposed Agarwal's bail plea saying he might tamper with evidence if relief was granted.
Apart from the PMLA case, Bharti is also under the scanner in a disproportionate assets case. She was summoned by ED on 11 July in connection with the agency's probe into a Rs 8,000-crore money laundering case. Officials said Bharti was questioned about her role in relation to M/s Mishail Printers and Packers Private Limited, as well as her finances and links with Agarwal.
The ED had also raided three Delhi farmhouses of Bharti, her husband Shailesh Kumar, and the firm on 8 July. The ED raids came a day after the CBI raided multiple premises belonging to Lalu Prasad Yadav and his family in a corruption case probe.
Shailesh was also summoned on 12 July by the ED to confront him with documents seized by the ED in the case and the statements given by his wife in relation to their finances and business transactions, officials told PTI on condition of anonymity.
The money laundering case
The Rs 8,000 crore money laundering investigation was initially launched against two Delhi-based businessmen brothers, Surendra Kumar Jain and Virendra Jain, and others who are alleged to have laundered several crore rupees using over 90 shell companies.
The case emerged after the ED filed a criminal complaint in February this year under PMLA. It was based on a chargesheet filed by the Serious Fraud Investigation Office against certain individuals and firms "for providing accommodation entries by accepting funds from their beneficiaries through mediators and converting the same into share premium transactions in the beneficiary company".
The Jain brothers were arrested under PMLA, and one of the firms that the arrested duo dealt with was M/s Mishail Printers and Packers Private Limited. Bharti and her husband are alleged to have been directors of this firm in the past.
The agency said that 1,20,000 shares of M/s Mishail Printers and Packers Private Limited were bought in 2007-08 at a rate of Rs 100 per share by four shell companies — M/s Shalini Holdings Limited, M/s Ad-Fin Capital Services (India) Pvt. Ltd, M/s Mani Mala Delhi Properties Pvt. Ltd., and M/s Diamond Vinimay Pvt. Ltd. These 1,20,000 shares were then allegedly bought back by Bharti at Rs 10 per share.
The ED had also arrested Agarwal, suspecting that he provided accommodation entries (black funds) of about Rs 60 lakh to M/s Mishail Printers and Packers Private Limited.
Shell companies are firms set up with nominal paid up capital, high reserves, and surplus on account of receipt of high share premium, investment in unlisted companies and no dividend income or high amount of cash-in-hand. The ED is the third agency probing alleged financial irregularities by the Yadav family, after CBI and Income Tax department, which recently attached benami assets worth about Rs 180 crore in its investigation against them.
With inputs from PTI
India
Earlier today, former West Bengal minister Partha Chatterjee and his close aide Arpita Mukherjee were produced before the City Sessions Court
India
The plea stated that provisional attachment order of February has lapsed and ceases to exist upon expiry of 180 days from the date of the order, and that the proceedings are no longer maintainable
India
Local coal operator Anup Majhi alias Lala is alleged to be the prime suspect in the case