Ebay's new 'Things don't judge' ad challenges LGBT, age, gender stereotypes and how
eBay India's new ad proves that the 10 crore products being marketed are more open minded than the one billion people they are being marketed to
India is a land of isms and the advertising world knows it no better. With the clichéd log kya kahenge getting thrown no matter what one does, brands often tend to play it safe and stick to the comfortably marketable stereotypes in society. Which is why the new eBay ad comes as a breath of fresh air.
The advertisement, titled 'Things Don't Judge', highlights the variety of products that eBay has to offer while also turning materialism on its head. The caption for the ad sums up the idea behind the advert. It states that "Don't let the voices hold you back. eBay has products that don't judge you for who you are or what you believe in. They say just one thing – Live and let live!"
It embodies the live and let live phrase by showing a montage of stereotype-shattering clips. In one scene, a man is gracefully dancing with ghungroos and in the very next scene a bindi-toting woman clad in a salwar kameez riding away on a motorbike. The video even has a same-sex couple depicted in a proposal, daring to show the relationship despite Section 377 still prevailing in India.
Perhaps the Indian society has something to learn from this ad because the 10 crore products being marketed seem to be more open minded than the one billion people they are being marketed to.
Watch the full ad here:

Find latest and upcoming tech gadgets online on Tech2 Gadgets. Get technology news, gadgets reviews & ratings. Popular gadgets including laptop, tablet and mobile specifications, features, prices, comparison.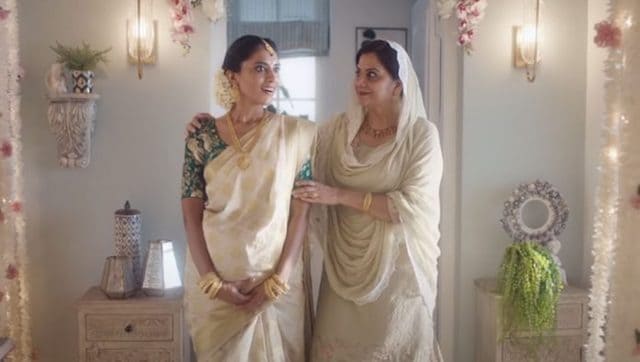 India
The jewellery company said Tuesday that it's dropping the television commercial as it has stimulated divergent and severe reactions, contrary to its very objective
Entertainment
It is disappointing that in Badhaai Ho, the struggle of a middle-class homemaker who gets pregnant at the age of 52, ends at the second-hand embarrassment of her son, and society at large.
India
In the context of rape in particular, the trend of the accused seeking to prevent the media from covering trials presents a unique challenge for media reportage.