Dying overseas: 7,000 bodies of Indians stranded abroad, bureaucratic and financial hurdles stand in way of bringing them home
According to a parliamentary paper, 7,694 bodies of Indians were stranded in foreign countries in 2015.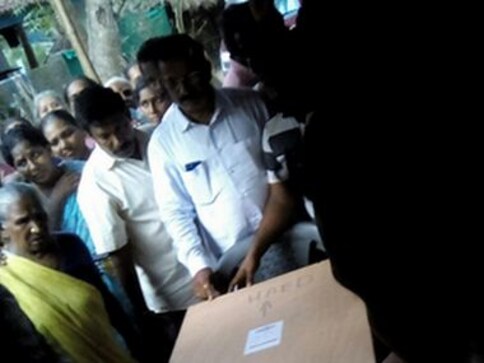 B Varalaxmi, an Indian domestic worker in Bahrain reportedly committed suicide in November but her body reached her family in east Godavari, Andhra Pradesh, only on 24 May. Sis Lissy Joseph, a migrant rights activist who helped repatriate Varalaxmi's body said she killed herself after allegedly being harassed by her employer and agent. Her body was then kept at the police mortuary for six months.
"According to the (victim's) family, an agent was collecting (Varalaxmi's) salary and was not transferring the same to her family. Varalaxmi is survived by her parents and two younger sisters. Even though Varalaxmi killed herself in November 2017, the Indian embassy contacted her family only in February 2018," Sis Lissy added.
"The family called me after being contacted by the Indian embassy. Everything was a total mess. We questioned the exploitations and delays but no major step was taken. Her family received her body on 24 May. All we could do was file a case against her agent here," said Lissy, and added that the central government's online system (MADAD), was not of much help as it only gave 'autonomous' responses.
According to a parliamentary paper, 7,694 bodies of Indians were stranded in foreign countries in 2015. Two thousand six hundred and ninety bodies were in Saudi Arabia and 1,540 in the United Arab Emirates. Shameer PTK, a social worker based in Oman, recalls multiple incidents where he helped repatriate the mortal remains of Indian workers after months of running around.
"Abhilash, a 24-year-old from Kerala, was killed in a road accident near Saham on 24 October. His body was kept in the mortuary and labelled unidentified," Shameer said. "When we were alerted (about him going missing), we started a search and finally, after two months, found his body in the mortuary. But due to the employer's non-cooperative attitude and other procedures, we were only able to send the body back on 27 December." He added that Saham reportedly ran away after being mistreated by his employers.
Bheem Reddy, a migrant rights activist from Andhra Pradesh, said instances of bodies being kept in mortuaries lacking necessary documentation or claimants is a common occurrence. "In some cases, bodies are kept in the mortuary for up to a year," Reddy added. Reddy pointed to non-cooperation by employers, financial troubles and bureaucratic delays as obstacles in repatriating mortal remains.
"Varalalxmi was working as a domestic in a house. And lack of cooperation from the side of employer and betrayal from the agent delayed the repatriation of her body," said Sis Lissy. Shameer said, "From getting a no-objection certificate from the host country to buying coffins, getting a medical certificate, arranging air tickets and other paper work; social workers have to step in. Of course the embassy cooperates, but if there are no social workers to run from pillar to post, the mortal remains of poor workers will stay stuck for months."
In another incident, the mortal remains of Mahesh from Andhra Pradesh, who worked in the same company as Abhilash, reached his family five months after his death. "His case popped up while we were handling Abhilash's case. Finally, we found that Mahesh committed suicide in October, and his body had also been kept in the mortuary. As it was in a decomposed state, we had to wait for scientific evidence to verify the body. We were able to repatriate the body only on 30 April," said Shameer.
According to the Ministry of External Affairs (MEA) "a medical report, death certificate issued from a hospital, a copy of the detailed police report (with an English translation, if the report is written in some other language) in case of accidental or unnatural death, a consent letter from the next of kin of the deceased for local cremation / burial / transportation of mortal remains" are required to complete the repatriation process.
Apart from this, a copy of the deceased's passport and visa, documents such as clearance and arrangements for embalming of the mortal remains and clearance from local immigration/customs department are also required. In most cases where authorities took months before allowing the mortal remains to be repatriated, the deceased died unnatural deaths, with causes ranging from suicide to accidents. Harsh working conditions and at times, non-payment of salaries by employers led to blue-collar workers running away, or in the worst case scenario, committing suicide.
The MEA agrees that while there is no undue delay in cases of natural deaths, the time taken to transport the mortal remains to India is longer in the case of unnatural deaths because of different local investigative procedures in different countries.  Shameer said that the repatriation process, though cumbersome, is not as lengthy for the economically affluent or celebrities. His statement is backed up by the widely reported two-day delay in repatriating the mortal remains of actor Sridevi from the United Arab Emirates (UAE). Sridevi died of accidental drowning in her hotel bathtub on 24 February; her mortal remains reached India on February 27.
"Speedy repatriation happens only in the case of celebrities or sometimes if the person who dies is from an influential family," said Arul Antony from the National Domestic Workers Movement in Tamil Nadu. For everyone else, it's just a matter of waiting to bring home the bodies.
The author is a member of The NewsCart, a Bengaluru-based media startup.
also read
Entertainment
In conversation with Indian author and screenwriter Satyarth Nayak on writing 'Mahagatha', revisiting the Puranas and more.
World
Singapore has executed a second man in three weeks for cannabis trafficking, inviting the ire of human rights activists across the world. However, the city-state isn't the only one with harsh laws on drug-related crimes. Countries like China, Malaysia and even Iran have zero tolerance for drugs
India
The third G20 Tourism Working Group meeting begins in Kashmir's Srinagar Monday amid a tight security blanket. There have been reports of a plot to carry out a 26/11-type attack and terror threat to schools. The itinerary of foreign delegates has been altered with a visit to Gulmarg cancelled