Drug abuse on the rise in Kashmir as growing militancy, hostilities provide safe ground for poppy cultivation
The Kashmir unrest seems to have fuelled not just drug abuse but also drug cultivation in the Valley with poppy cultivators finding a safe haven amid rising hostilities and militancy
On 21 July, police and the customs officials recovered nearly 66.50 kilogrammes of heroin and brown sugar in 300 packets worth Rs 300 crore from a truck that came from Pakistan-occupied-Kashmir. The truck was purportedly carrying boxes full of garments, but hidden among them were packets of narcotics. Two men, a fabric business person and his relative, are believed to be responsible for the drug consignment.
Afterwards, the trade activities between the divided parts of Kashmir were immediately suspended, thereby casting a shadow on important confidence building measures between India and Pakistan.
"There are similar problems through the Wagah border. Charas and ganja come from there also, but no one talks about closing that route," Jammu and Kashmir Chief Minister Mehbooba Mufti had told the Party Raising Day gathering at Sher-e-Kashmir Sports Stadium in Sonwar area of Srinagar on 26 July.
A drug abuser's account
Outside the famed Botanical Garden in the outskirts of Srinagar, Zahid (name changed) took a break from his work and closed the front door of his tea stall. He took a small pouch of brown powder from his pocket, spread it on silver paper and snorted it through a half burnt twenty-rupee note. He has been taking it for the last sixteen years.
"It all started with a cigarette that a school friend offered me. My whole world changed after taking a few puffs of that cigarette. It continued for some months until I was addicted to it. I later found out that I was smoking charas," said Zahid.
He was then studying in Class 12 and he was not performing well in exams. "After trying these drugs that my friends gave me, I felt confident and I started doing well in exams. I had no idea that I will get addicted to it," he added.
Zahid says that he left studies because of drugs and joined the family business so that he could earn money to buy drugs. He takes drugs to avoid the workload.
"I work at a restaurant and it squeezes every bit of energy I have in my body. A normal human body will crumble under such workload. Heroin gives me energy. I forget everything after I take it," he said.
During the unrest of 2016 in Kashmir, he would travel some 80 kilometres from his home in Srinagar to Sangam in South Kashmir, a hub of drugs, to get his dose. "I know all the diversions and streets that I use to evade police check points. In Srinagar city, heroin is costlier. I take nearly four packs of Heroin daily that cost me some Rs 2,500. It will cost me double the amount if I was to I buy it in Srinagar," he asserted.
Zahid, however, alleges that without the support of police none could buy or sell drugs. "I have bribed police officials several times at check points to allow me to go. Everyone takes his share," he said.
Did Kashmir unrest fuel drug abuse, poppy cultivation in Valley?
Dr Muzzafar Khan, Director of Police, Drug De-addiction Centre in Srinagar, says that drug addiction has become a serious problem in Kashmiri society, and runs deeper than thought. "We are both addicted to the drugs and cultivate it as well. We want cooperation from all departments to remove it," he says.
People mostly cultivate poppy and cannabis in Jammu and Kashmir, but every year in the month of April and May, the police used to accompany the State Excise Department to carry out poppy destruction drives across Valley. These anti drug cultivation drives however, have come to a halt with a spike in militancy and growing resentment among the locals.
In South Kashmir vast fields of blooming red and white poppy flowers were a common sight months back as unscrupulous persons were taking advantage of police's reluctance to move into the interior of the southern district because of growing hostilities between militants and security forces.
According to the figures of State Excise Department, just 40 kanals (2 hectares) of land cultivating poppy was destroyed in 2017 as compared to 2,733 kanals (138 hectare) of land that was destroyed in the year 2016. Similarly, between 2010 to 2015 the department destroyed 2,603, 2,864, 1,915, 1,628, 2,403 and 83 kanals (131, 144, 96, 82, 121 and 4 hectares) of poppy cultivation respectively. However, in 2017, only 40 kanals (2 hectares) of land have been cleared at Anantnag and Pulwama towns of south Kashmir.
The locals allege a nexus between the intermediaries who transport the drug to states like Punjab and Rajasthan, and tainted officials for the rise in poppy cultivation, and the police of aiding and abetting the growers.
However, the police holds a different view.
Speaking on the conditions of anonymity, a police official, however, denied those allegations. "Only the police is fighting tooth and nail to end this menace. We have treated and counselled thousands of addicts, and it is because of police that the menace has failed to flourish so far," he said.
According to police records, nearly 185.34 kilogrammes of cannabis, 1,06,965 capsules, 1,623 injections, 15,218 bottles and 25.182 kilogrammes of heroin were seized in 2016.
Kashmir's drug menace is rising
The data available with the Department of Psychiatry of Jammu and Kashmir revealed that in 2014, 3,808 patients were received for drug de-addiction and counselling at two centres — one in Government Medical College and the other at Psychiatric Diseases Hospital Rainawari — in Srinagar. In 2015-16, it rose to 4,658. However, the number dropped to 2,692 in the year 2016-1017, due to the Kashmir unrest.
Though, government data shows a drop in the year 2016-1017 to 2,692 such cases, according to those monitoring the situation the actual numbers could be higher since several cases went unreported due to the Kashmir unrest that was triggered by the killing of militant commander Burhan Wani in July 2016.
Besides, according to Khan, only 5-10 percent of substance abusers make it to de-addiction centres while the rest go unnoticed.
In the last two years, 3,864 patients have been treated in the four drug de-addiction centres across Kashmir. Srinagar tops the list of substance abusers with 2,260 cases followed by 610 in Jammu, while 603 and 391 patients were treated in the de-addiction centres of Anantnag and Baramulla.
Khan says that menace of drug addiction has penetrated every section of our (Jammu and Kashmir's) society, but what's more alarming is the fact that majority of the first-time users belong to a much younger age group.
"What we see is the tip of the iceberg. The problem is much deeper. Last year an unusual accident took place in Bandipora in North Kashmir wherein both the drivers, a pillion rider and an eyewitness were under the influence of drugs. It was shocking but at the same time it highlights how badly the drugs have eaten our youth," he said.
Khan added that in the last six months, nearly 1,140 patients have visited drug de-addiction centres and 149 were admitted. "The existing infrastructure is proving insufficient as it is unable to cater to the huge rush of patients. The centre has just 15 students and an extension of 10 more beds is under a proposal," he said.
Predominant drug abuse, says Khan, include medicinal opioids such as Spasmoproxyvom capsules, Codeine phosphate syrups, and Benzodiazepine tablets, but abuse of cannabis, alcohol, and solvents is also showing an alarming trend.
Teenage girls fall prey to drug menace
According to those monitoring the trend, a large number of teenage girls and women have also turned to substance abuse.
Towards this, it's important to highlight the United Nations International Drug Control Programme Survey in 2008, which found that out of 70,000 drug addicts in Kashmir, 4,000 were females. The report also revealed that out of 70 percent student community in Kashmir, 26% are female students.
Shazia (name changed on request) is a college drop out and an ex-drug abuser. Her addiction to lethal drugs started in a college washroom. A girl, who was selling drugs pursued Shazia to try it.
"I used to drink beer but I had never tried charas and Codeine. She told me that she would give me a free sample and if I like it, I can buy it from her. Therefore, I tried it and I felt immense pleasure. From the next day, I started buying drugs from her. I tried all kinds of drugs like Spasmoproxyvom capsule, sleeping pills, fluid, whitener, boot polish, Fuki, charas, and other drugs. I was so addicted that I started to sell my things to buy them," she said.
When she failed twice in exams, her parents started to ask her questions. "They suspected that I was addicted to drugs as my condition was not well. However, I always used to avoid any contact with them. They both were employed and they had the least time for me. I was the only sibling. I was not going to college anymore, and I would spend all my day with friends in restaurants and talk about drugs," she says.
Rehabilitation of drug abusers remains a challenge
The rehabilitation of a drug abuser begins with the first contact with a counsellor for motivational assessment and enhancement followed by medical review and necessary investigations including basic screening for HIV, HCV, HBV and other routine investigations in order to screen high-risk patients. Medical detoxification, if admitted, is conducted later. Individual and group counselling, yoga and meditation, recreation and gymnasium, group family sessions, relapse prevention sessions and regular follow-ups are some of the practices followed at drug de-addiction centres for rehabilitation of a patient.
At the drug de-addiction centre in Batmallu, Khan addressed some of the challenges faced by patients addicted to drugs. "Insufficient treatment facilities, stigma associated with the illness, no rehabilitation plan in place, high vulnerability for relapse, magisterial orders/court directions not easily available, lack of crisis team/dedicated helpline number, lack of financial assistance for patients/families, ever increasing wait list for in-house treatment, and a lack of clear cut policy towards de-addiction centre are some of the challenges," he said.
Looking at the numbers of drug addicts, it is clear that drug addiction has become a grave menace for Jammu and Kashmir, which if not tackled in time it can have serious ramifications in this border state.
World
Pakistan's statement came on a day the Centre invited 14 political leaders from Jammu and Kashmir to participate in a meeting to be chaired by Narendra Modi on 24 June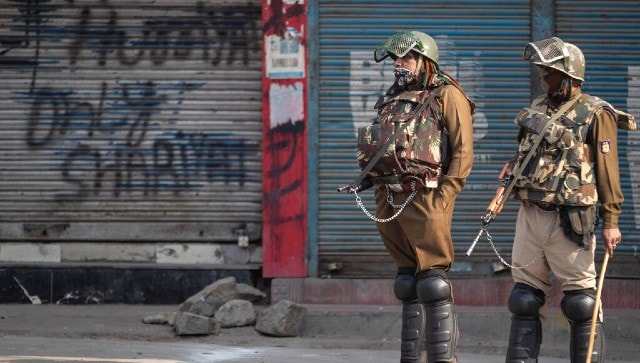 India
The encounter had started late on Sunday night as the security forces launched a cordon and search operation in the area following information about the presence of at least three militants
Sports
Robertson said he was "absolutely delighted" and honoured to have been recognised and awarded this honour for his work in Kashmir.