Donald Trump Jr in India to wine and dine flat buyers in Trump Towers, will also speak on Indo-Pacific relations at conference
Dozens of property investors will be treated to dinner with Donald Trump junior in Delhi after snapping up flats in a Trump Towers luxury development.
New Delhi: Dozens of property investors and their families will be treated to dinner with Donald Trump junior in Delhi this week after snapping up flats in a Trump Towers luxury development on the outskirts of the Indian capital.
Trump's local partners have promised dinner with the US president's son to anyone who buys into the development of high-rise apartments boasting floor-to-ceiling windows, state of the art amenities and a "lifestyle concierge".
At 2.5 million rupees (around $39,000) just for the down-payment on the smallest and cheapest flat, that is well beyond most Indians. Nonetheless, the development has already clocked up sales worth nearly $80 million, according to a statement released on Monday. "Despite the sluggishness of the luxury residential market in Delhi NCR (National Capital Region) and in India, the project has smashed all sales records," said the statement.
Around 75 people have already stumped up and Indian developer Tribeca expects that number to increase to 100 before the promotion deadline expires on Thursday, a staff member told AFP on condition of anonymity. "The meeting is a token of gratitude to the clients for showing tremendous faith in the upcoming project," said the Tribeca employee.
'Trump is here'
The 47-storey towers will comprise 250 homes and are expected to be completed by 2023, with price ranging from 55-110 million rupees ($850,000-$1.7 million).
Adverts in Indian newspapers on Monday promised prospective buyers their neighbours would include a "renowned industrialist", "art maestro" and "famous Indian cricketer" — although it was not clear whether this was based on the identity of the existing buyers.
"Trump is here. Are you invited? read the full-page advert in Monday's The Times of India. The development is in the modern satellite city of Gurgaon, where many major companies now have their headquarters. Prospective buyers are promised an adjoining nine-hole golf course and access to a club that will include an indoor pool, spa and fitness centre.
India is already the Trump Organisation's biggest international market, with developments in four major cities — Mumbai, Pune, Gurgaon and Kolkata. All are being built with local partners, with the Trump Organization giving permission to use its brand and taking a share of the profits.
According to media reports, the estimated cost of developing these projects is $1.5 billion. The Trump family earned $3 million in royalties in 2016 from ventures in India, according to a New York Times report.
Trump junior and his brother now head the company after their father stood down when he became president amid concerns over a conflict of interest.
Although the US embassy says he is in Delhi on an unofficial visit, Trump junior is due to speak on Indo-Pacific relations at a business conference on Friday at which Prime Minister Narendra Modi will be the keynote speaker.
The luxury property in Gurgaon is being developed by Indian firms Tribeca and M3M, with construction expected to start towards the end of 2018.
India's residential property market has struggled in recent years, hit by a glut in urban centres combined with the impact of a 2016 move to tackle tax evasion with a ban on high-value banknotes.
Sports
Damian Lillard scored 19 points and Johnson added 15 in an 83-76 victory Sunday night in the final pre-Olympic game for both teams before they head to Tokyo.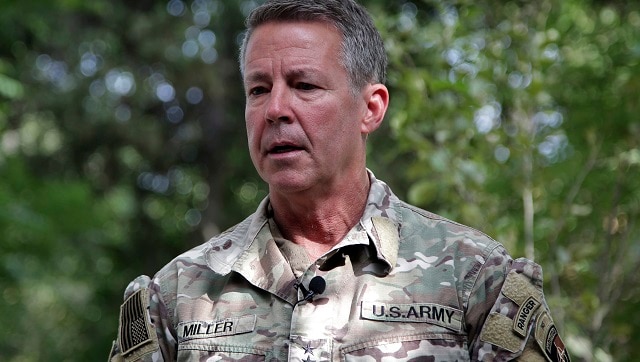 World
General Scott Miller has served as America's top commander in Afghanistan since 2018. He handed over command of what has become known as America's 'forever war' to Marine General Frank McKenzie
World
The World Health Organisation in no uncertain terms makes it clear that masks should be used as part of a comprehensive strategy of measures to suppress transmission and save lives.