Donald Trump and I are similar, our policies worked well for our economies, says Justin Trudeau at IIM Ahmedabad
Canadian Prime Minister Justin Trudeau on Monday answered questions on gender equality, bilateral ties, NAFTA, Canada's immigration system, Donald Trump and much more at a question and answer session in IIM Ahmedabad.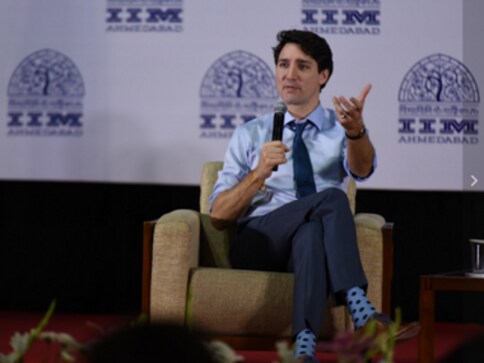 Canadian prime minister Justin Trudeau on Monday answered questions on gender equality, bilateral ties, NAFTA, Canada's immigration system, Donald Trump and much more at a question and answer session at IIM Ahmedabad.
Talking about how he ventured into politics, Trudeau said it isn't always about dynasty politics. He said,"Citizens are not fools. Citizens can tell whether someone is genuine in their approach or just trying to live up to some lofty familial expectation."
Explaining how he has always been a feminist and there is gender parity in his Cabinet, Trudeau said,"If you think that men and women should get equal opportunities, you are a feminist, it is that simple." He goes onto explain that gender balance in terms of opportunities isn't the right thing to do but the smart thing to do in terms of growth.
He also mentioned why, with growth being the main focus, bilateral ties are important to Canada. He said Canada-India trade is $8 billion in goods and $2 billion in services but it still has a huge potential for growth if compared to trade with America.
When asked about similarities with US president Donald Trump, Trudeau said that he has always emphasised on how similar they are in their approach towards the future, investment and how both their policies have worked very well for Canada and US' economy. He added that both he and Trump are working towards improvement of the middle class in their countries.
Talking about the robust immigration system in Canada, Trudeau said, "More countries need to do more to welcome immigrants not because that is the right thing to do, because refugees who flee the persecution in their country for a better life in another, are extremely grateful to the country that welcomes them. They work very hard and contribute tremendously to the growth of the country that welcomed them. That is the Canadian story."
Trudeau also said the media is 'frustrating' at times but it's essential to empower and support media. "It fulfils an important duty of telling Govt what it's doing wrong; an independent media is essential for a successful democracy," he said.
About citizens, Trudeau said the idea of ideal citizen does not just rest on surface attributes like ethnicity or racism, it is more dependent on shared values that a society subscribes to, says Trudeau. He added that young people tend to get that kind of openness and they understand how defined you are in your choices.
Early on Monday, Trudeau and his family offered prayers at the Swaminarayan Akshardham temple here and visited the Sabarmati Ashram as part of their day-long visit to Gujarat. The family travelled straight to Sabarmati Ashram in Ahmedabad after arriving in the morning. Trudeau, accompanied by his wife Sophie and their three children, visited Hriday Kunj, the place where Mahatma Gandhi lived and from where he ran the non-violence movement.
Trudeau was invited to visit the Akshardham temple here during his visit to the Akshardham temple in Toronto in Canada, said BAPS media coordinator Vivek Jeevan Swami.
"Trudeau visited Akshardham temple in Toronto on 22 July last year. There he remarked that the temple is an architectural masterpiece and embodies openness and peace. He was invited to visit the temple in Gandhinagar to which he graciously agreed," Swami Vivek said.
With inputs from PTI
India
The external affairs minister was speaking at a discussion on a book titled 'Modi@20: Dreams Meet Delivery', at the English and Foreign Languages University (EFLU) campus in Hyderabad
Sports
The felicitation program was attended most of the CWG-returned athletes, including the wrestlers, weightlifters, boxers, shuttlers and table-tennis players.
India
The mass civil disobedience movement was intended to be peaceful and non-violent, and aimed to force the British Government to free India of colonial rule immediately