Doka La tension: China warns India to 'correct its mistakes', says easier to shake a mountain than PLA
China's defense ministry on Monday warned India not to harbor any illusions about the Chinese military's ability to defend its territory.
Amid a festering border dispute, China's defence ministry on Monday warned India not to harbor any illusions about the Chinese military's ability to defend its territory.
"Shaking a mountain is easy but shaking the People's Liberation Army is hard," defence ministry spokesman Wu Qian told a briefing, adding that its ability to defend China's territory and sovereignty had "constantly strengthened". Wu made this assertion ahead of this week's National Security Advisors' (NSA) talks to resolve the standoff.
The standoff on a plateau next to the mountainous Sikkim, which borders China, has ratcheted up tension between the neighbouring countries, who share a 3,500-km frontier, large parts of which are disputed.
Early in June, according to the Chinese interpretation of events, Indian guards crossed into China's Doka La region and obstructed work on a road on the plateau.
The two sides' troops then confronted each other close to a valley controlled by China that separates India from its close ally, Bhutan, and gives China access to the so-called Chicken's Neck, a thin strip of land connecting India and its remote northeastern regions.
India has said it warned China that construction of the road near their common border would have serious security implications.
"The withdrawal of Indian border guards was a precondition for resolving the situation," Wu reiterated.
He urged India to immediately withdraw all troops that have "illegally" entered China, stating that the nation would defend its territorial sovereignty "at all costs".
"The Chinese border troops have taken initial counter measures at the site and will step up targeted deployment and training," Xinhua news agency quoted Wu, as saying.
"India should not leave things to luck and not harbor any unrealistic illusions," he said, adding that the military had taken emergency measures in the region and would continue to increase focused deployments and drills.
"We strongly urge India to take practical steps to correct its mistake, cease provocations, and meet China halfway in jointly safeguarding the border region's peace and tranquility," Wu said.
He also added that the Chinese Army in the past 90 years had demonstrated "its increasing capacities and unshakable determination" to "safeguard national sovereignty and territorial integrity".
The borders of India, Bhutan and China meet at Doka La, which holds strategic importance to all the three nations. China calls Doka La its own territory but India and Bhutan call it Bhutanese territory.
Indian officials have said that about 300 soldiers from either side are facing each other about 150 meters apart on the plateau. They told Reuters that both sides' diplomats have quietly engaged to try to ensure the standoff does not escalate, and that India's ambassador to Beijing is leading the effort to find a way for both sides to back down from confrontation without losing face.
It's our pre-condition & basis for solving situation.Peace of entire region depends on peace of border region: China's Defence Ministry Spox pic.twitter.com/VizLQiM1AJ

— ANI (@ANI_news) July 24, 2017
Wu's comments came as NSA Ajit Doval is set to travel to Beijing this week to attend the BRICS NSAs meeting scheduled to be held from 27-28 July during which he is expected to hold talks with his Chinese counterpart Yang Jiechi. Both Doval and Yang are special representatives of the two countries in the boundary talks.
Chinese officials say while there may not be a formal meeting between the two officials, keeping with Beijing's public position that no talks will be held without India withdrawing troops, they could hold discussions on the sidelines to end the deadlock.
Chinese state media have warned India of a fate worse than the defeat it suffered in their brief border war in 1962. In July, Chinese state media said their military had carried out live fire drills close to the disputed area.
Both Indian and Chinese armies are eyeball-to-eyeball at Doka La. However, India says it wants to resolve the issue diplomatically.
Last week, external affairs minister Sushma Swaraj told Rajya Sabha that China intends to unilaterally change the
status of the tri-junction with Bhutan, which poses a challenge to India's security.
She had said there was a written agreement between India, China and Bhutan in 2012 that the three nations will together decide on the boundaries at the tri-junction point.
She also accused China of building roads using bulldozers and excavators, which has been protested by Bhutan in writing to China. Swaraj also said that India was not "unreasonable" on the issue and all nations were with it.
With inputs from agencies
India
The case tally of the Omicron variant of the virus has reached 3,623 in the country with Maharashtra accounting for the highest number of Omicron cases — 1,009 infections
India
On the occasion of Guru Gobind Singh Jayanti, the DDMA has given relaxation to the devotees during the weekend curfew in Delhi, allowing them to offer prayers at Gurudwaras on Sunday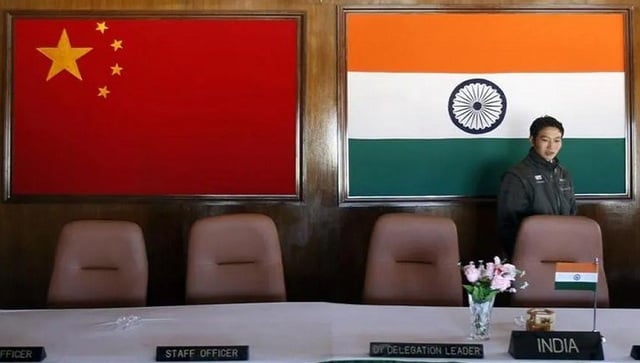 India
China has released 'new' names for 15 places situated in Arunachal Pradesh. Time for India to reassert its claim on Minsar near Mt Kailash, and support Thimbu in its claims of the eight Bhutanese enclaves located in Western Tibet