Doka La standoff an opportunity for India to restructure foreign, domestic policy
Doka La standoff with China has offered India an opportunity to recalibrate, re-structure and revitalise its foreign and domestic policy. The question is if the country's establishment is willing to seize it
The recent India-China standoff in Doka La can prove to be an important disruptive event, triggering vital strategic changes in India's military and foreign policies. The standoff brings with it multiple strategic and foreign policy lessons for the Indian establishment, which until now, was caught napping on fundamental policy issues relating to military modernisation, rusting infrastructure, border management and its 'neighbourhood-first' policy.
While the standoff was underway, the Comptroller and Auditor General (CAG) came out with its report on Indian Army categorically stating that the country did not have enough ammunition to last more than 10 days, in the event of a war breaking out. The chinks in the country's armour were further exposed when the lack of a strategic military and diplomatic policy vis-à-vis China made itself evident during the hardening of stance by the two sides.
The lack of robust internal connectivity and rusting border infrastructure continues to plague instant mobilisation of troops on the Indian side of the border. Besides the military considerations, the standoff has also yielded certain important foreign policy lessons for India which has found little support for itself in the immediate neighbourhood.
Underlining a failure of its 'neighbourhood-first' policy, the lack of forthright support for India from countries like Nepal, Sri Lanka, Bangladesh, Myanmar or even small island nations in the Indian Ocean Region has been telling of India's receding influence in its immediate neighbourhood. The most crucial of these was the statement by Nepal, which bluntly stated that the country won't take any sides in the current standoff. By some standards, even Bhutan's response to the standoff has been less aggressive, something that has worked to take the sheen off India's posturing in the crisis.
While India does find itself in an advantageous position in the current standoff, in reality, these advantages stem from the multiple geopolitical and geostrategic realities facing the two countries. In the Doka La region, the Chinese military finds itself placed in a strategically disadvantageous position, with the Indian forces occupying a much higher ground at Doka La and Doklam area overlooking the low lying narrow Chumbi valley, occupied by the Chinese People's Liberation Army (PLA). In trying to push for a limited war with India in the Doka La region, the PLA will most definitely face a defeat. This will dent the personal reputation of President Xi Jinping before the all-important 19th National Congress of the Communist Party of China (CPC); a scenario that Jinping would best like to avoid.
Geopolitically too, China has stretched itself a bit too thin by stoking trouble at multiple fronts. It finds itself involved in a continuing maritime dispute with Japan with the situation threatening to reach a flashpoint, given how Japan is increasingly expanding its operations in the South China Sea. The bilateral relations between the US and China have also witnessed a deterioration over the issue of China's continued ties and support to North Korea, with the US threatening China with more stringent trade protectionist measures.
China's disadvantages have, therefore, contributed to the relative strengthening of India's position in the current impasse.
Even if the two countries are somehow able to find a way around the current standoff, India will need to seriously re-evaluate its strategic and foreign policy choices. It will need to restructure its China policy, by crafting specific strategic as well as tactical military responses to standoffs such as these. The two countries will find themselves embroiled in face-offs more frequently, a situation that is the structural outcome of China's rise and its attempt to achieve a 'great power' status. India will find itself in the position of a reluctant second pole to China in South Asia, something that will further trigger clashes over disputed boundaries; a natural corollary of the battle over establishing regional primacy.
At one point, the Doka La standoff witnessed a drying up of communication lines between the political decision makers in the two countries. Therefore it becomes important for India to pursue the idea of establishing hotlines between key decision makers, at multiple tiers. Unlike in the Doka La standoff when the maximum firefighting was done by diplomats sitting in India, the Indian embassy officials in China should assume a greater role in a crisis such as this. India will need to remember that diplomacy is an important alternative to a military conflict, and therefore, its foreign policy establishment in Beijing must become its first line of defence.
The military, supported by a unified command and control structure for all the three forces and established SOPs in scenarios of a short and decisive war, should form its second line of defence. India's military is in dire need of a major revamp. For this purpose, the government will need to pursue its strategic partnership policies for defence production on mission mode basis. The impending military reforms and consequent military modernisation cannot remain on the back burner anymore.
Thirdly, India will need to strengthen its military and economic alliances not just with countries around the world but also with the countries in its immediate neighbourhood. In trying to find a middle ground between India and China, India's immediate neighbours have drifted too close to the Chinese side; something that has become evident in the recent months. For the smaller nations, India appears to be a far greater geopolitical threat than China does in the South Asian region. The prevailing mistrust between India and its neighbours stem from unresolved territorial disputes, a legacy of the colonial era, but their resolution has found little political will on the Indian side. Instead of correcting historical injustices perpetrated by the colonial rulers, Indian policy makers have found themselves reluctant to initiate dialogue on the issues. The resolution process, instead, has only witnessed incremental changes, something that has worked to dent India's credibility in its neighbourhood. Besides, India's hegemonic tendencies in the South Asian region and its continued meddling in the domestic affairs of smaller countries like Nepal, Bhutan, Sri Lanka and Bangladesh has generated concerns over the issue of political sovereignty in these countries. Hence, in an attempt to balance the threat emanating from India's behaviour as a regional hegemon, the smaller countries appear to have bandwagoned with China; their overwhelming support to the Belt and Road Initiative project, despite India's misgivings, being an important case in point.
India, therefore, faces a battle of narratives in the South Asian region. While China's bullying of a smaller country in its neighbourhood can be raked up to puncture its grander narrative of benevolent hegemony, India's own historical faux pas in the South Asian region will need to be corrected. India will need to employ an optimum mix of soft and hard power to strengthen its ties and recalibrate its image in South Asia.
Historically, the Chinese military forces have always followed their traders; relying on an iron-fist-in-a-velvet-glove kind of a model for pursuing bilateral relations. The lesson for India is to convert its domestic economic successes into robust and meaningful bilateral alliances. One cannot see why the successes of Reliance Jio, for instance, cannot be replicated in smaller countries in the neighbourhood to provide for a cheaper and a more reliable alternative to Chinese telecom companies.
India's attempt at deepening its defence ties with Myanmar under its defence assistance programme can be another important military-commercial cooperation template that India can pursue in its bilateral ties with other neighbours in the region. Nepalese prime minister Sher Bahadur Deuba's recent visit is a good step towards gaining greater leverage with the country's elites and push for a greater people to people and private partnerships. The bottom up rebuilding of relations will need to drive the relations between the two countries, from hereon.
Doka La offers the opportunity for India to re-calibrate, re-structure and revitalise its foreign and domestic policy. The question is if the country's establishment is willing to seize it.
World
Joe Biden has said that rejoining the Iran nuclear agreement is one of his top foreign policy priorities, although his aides have largely downplayed any certainty that a deal will be struck
World
This call for a probe came from a group of countries that include Russia, Belarus, Iran, Venezuela, North Korea and Syria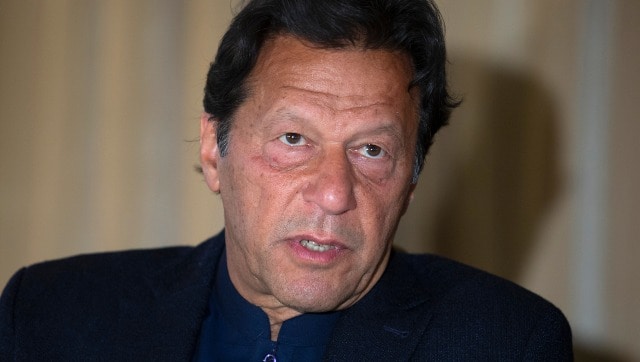 World
In his Axios interview, Imran Khan said, "Our discussions with the Chinese will always be behind closed doors."