Doka La ground report Part I: Amid New Delhi-Beijing mind games, 'patient' Indian Army braces for long haul
Fifty days into the India-China border row over Sikkim, the situation at the tri-junction remains tense.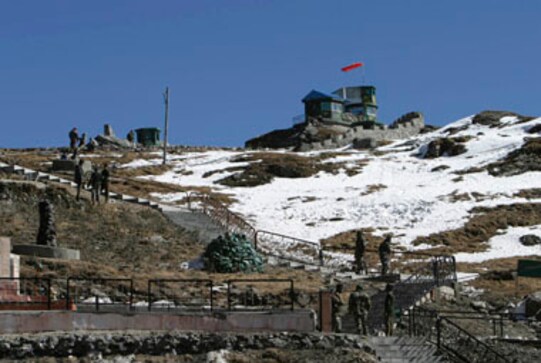 Editor's note: This is the first in a series of three ground reports from Doka La that look at the state of the region in light of the fluctuating animosity between India and China.

Around fifty days into the India-China border row over Sikkim, the situation at the tri-junction remains tense.
Even as Beijing and New Delhi play mind games, a different kind of contest is unfolding in freezing Doka La, where 250 Indian Army soldiers are facing down 250 troops from China's People's Liberation Army (PLA)
On 2 August, China issued a "fact sheet", claiming India had reduced its troop numbers in Doka La from 400 to 40. India, for once, responded. External affairs minister Sushma Swaraj denied any troop reduction and the foreign ministry backed her up.
Firstpost has learnt that 250 soldiers of the battle-hardened Jat regiment have been stationed at Doka La in two layers. A third layer comprising the Bofors guns — artillery that cut its teeth during the 1999 Kargil War – is primed to strike and pummel the enemy.
India and China have a pact: At the Line of Actual Control (LAC), there must be an equal number of soldiers. Hence, the exact number of troops deployed by either side.
A Chinese defence ministry spokesman boasted on 24 July: "It's easier to shake a mountain than the PLA."
Perhaps the Chinese should have noted what British journalist Edmund Candler wrote of the Jats in his book The Sepoy: "It takes earthquakes and volcanoes to turn a regiment of these hard-bitten men out of a position they have been given to hold."
The "position given" to the Jats to "hold" now is Doka La. From all indications, it will be very difficult for the PLA to shake the taller Jats from their perch. More so because the terrain favours the Indian Army, which is proficient in mountain warfare.
Fully prepared
The first layer of the Indian Army has six-foot-tall Jats, all of them, with cameras. Which will only make the shorter PLA troops crane their necks upwards even more. Their marching orders are to keep a sharp eye on the enemy and capture their movements. Some of them are familiar with Mandarin. They will also keep their ears open.
If the PLA attempts to make a move, the first wave of Indian soldiers will bear the brunt of the attack but hopefully not before they warn their heavily armed brethren. The soldiers in the second layer have been warned not to lower their guard and come out all guns blazing at any signs of aggression from the enemy camp.
Patience is the buzzword at Doka La. The image that springs to mind is the hidden hand of the Dragon and the alertness of the crouching tiger.
In their tents, the armies grab a quick bite, a sip of water or even a nap. Sleep is always welcome. Anything to distract from the jangling nerves.
The bulk of the Indian Army is only 10 kilometres away from the tri-junction. A Punjabi soldier tells Firstpost: "At Doka La, we're nose-to-nose with the enemy. Barely 250 metres separates us."
The soldier adds that a Black Cat platoon was the first to reach the spot after the border row kicked off. Then the Jat regiment was called in from the base camp at Nathu La. Another journalist backs up this claim, saying he walked right up to the Indian position at Doka La.
"New bunkers are being built. The ground is being mined to preempt the Chinese attack. Machine-gun nests are being placed at strategic points, and soldiers are performing battle drills at least twice a day. But restraint is still the buzzword," the journalist wrote, speaking about the Indian Army's preparations.
Which could be the reason Firstpost was not allowed entry — beyond a point — at Nathu La. Apparently, the media has been kept out of Doka La because of China propensity to use its state media to distort reports from other outlets.
Stopped several kilometres from ground zero, Firstpost spoke to soldiers at Nathu La. They told us that that the Jat regiment has been told to keep calm and beware of PLA's "creep" strategy.
New Delhi sees Beijing's rhetoric as part of the psychological warfare that it wages against all countries. However, it considers the rhetoric blunted by India's response.
A soldier stationed at Nathu La says that "the PLA were making preparations" much before they tried to extend a Class 4 road into Doka La. He also says while Indian Army bunkers are makeshift, those of the PLA are sturdier. "But we are ready to counter-attack. Our supply line is uninterrupted and our three-tier defence is unassailable," he says.
An army officer tells Firstpost that come September, Doka La will be snowed under. "Bunkers have been cleaned. Extreme cold weather is expected from September to October," he says. "Each bunker can accommodate seven soldiers."
There are an estimated 1,200 bunkers in Nathu La.
Meanwhile, China has been ramping up the rhetoric. On 4 August, it stated that it had run out of patience and demanded the immediate withdrawal of Indian troops from Doka La.
The peace and tranquility of which Sushma Swaraj spoke in the Rajya Sabha on 3 August appears to have withered away.
Nathu La is 14,000 feet above ground. At the tri-junction, the dagger-shaped Chumbi Valley points straight at our slender Chicken's Neck (Siliguri Corridor).
India sees the PLA's efforts to build a road into Doka La, which Bhutan considers "disputed territory", as a direct threat to her national security. India's security apparatus is worried that China's game plan is to cut off India's contact with her North East.
"We were ordered to stop the Chinese penetration into Doka La," a soldier tells Firstpost, speaking on the condition of anonymity. "But before we actually stopped them, they demolished some of our bunkers at Lalten Chowky."
He says the army base camp is just 15 kilometres away from the ugly standoff.
The mind of the soldier
"Not only is the border tense but things are tense at home too. Do we handle the border or our families?" a soldier asks, displaying a string of WhatsApp messages.
To keep spirits up, senior officers give their "boys" deployed at the tri-junction daily pep talks. They are gently reminded that, whatever the cost, they are to keep an even keel.
"Whenever a soldier returns from duty, senior officers make it a point to approach him," an army officer says. "We talk to them and ease their worries. If we spot signs of anger, depression or irritation, we take him off duty. The psychological warfare from both sides can take a toll on even the best of soldiers. In such a tense situation, it becomes crucial that no soldier slips up."
The officer adds that within 48 hours of the 18 June standoff, an entire company based at Gangtok was deployed at Doka La. The company comprised 3,000 soldiers. The Chinese reciprocated India's gesture.
Indian soldiers have constructed helipads on Sikkim's hilly terrain. The "long grass" has been "flattened" with the help of villagers from Kupuk and Julup. Soldiers usually make friends with the locals over a cup of tea.
Mangal Jeet Rai, a resident of Kupuk village tells Firstpost:  "My son is in the army. So I know the difficulties the men in uniform face while serving the nation. They keep us safe."
Rai says three youth from Julup show their appreciation for the soldiers by providing them with chickens.
Village elders say that if war comes, they will stand shoulder-to-shoulder with the army. KB Rai, an ex-servicemen, says that when winter comes, villagers will move to the Gangtok base camp.
However, the Jat soldiers will remain. Braving the cold. Guarding the frontier, right up to the tri-junction. Their eyes peeled for what lies beyond.
​Manoj Kumar is a ​Chandigarh​-based freelance writer and a member of 101Reporters.com, a pan-India network of grassroots reporters.
Sports
With less than 100 days to go to the Games, China is bracing for a major challenge to its zero-COVID strategy as thousands of international athletes and officials descend on its capital after months of strict border controls.
India
Singh will also carry out a review of the security situation with top Army commanders in the backdrop of the lingering border row with China along the Line of Actual Control
World
As Biden deliberates of skipping Beijing Olympics, China says 'Politicising Sports' hurts the spirit making the games a political flashpoint