Was charge against Zakir Naik ignored despite ex-PM Manmohan Singh's instructions to MHA?
Former Prime Minister, Manmohan Singh asked the then home secretary R K Singh to probe Zakir Naik, the controversial televangelist blamed for inciting terror attacks in Bangladesh? It appears so, if old letters — dating February 2013 — from the Prime Minister's Office (PMO) offer any indication.
Editor's Note: This article was originally published on 14 July. It is being republished to reflect former home secretary RK Singh's letter to Firstpost and our contributor's response.
Former Prime Minister, Manmohan Singh asked the then home secretary RK Singh to probe Zakir Naik, the controversial televangelist blamed for inciting terror attacks in Bangladesh? It appears so, if old letters — dating February 2013 — from the Prime Minister's Office (PMO) offer any indication. The PM had even written to Singh on 8 March, 2013, asking him to look into the issue, raised by a blogger, Anand Mathur, from Kolkata. Mathur is an active blogger, does a private business and has been raising issues of both national and international importance. He often writes on these issues to people in power. Some reply, many avoid. But that has not stopped him from writing.
In the letter, Mathur offered details of Naik's conversations and also attached ample documentary evidence to prove what he (Mathur) was saying merited attention from the country's internal security officials.
Mathur got a response on 8 March, 2013 (the letter, dated 8 March, reached him on 11 March).
Anand Mathur's complaint and PMO's reply
"The second letter, this one an acknowledgement from the Home Ministry, came on 30 July, 2013. By then, Singh had retired as the home secretary. And that was the last I heard from the Home Ministry in Delhi," Mathur said in a telephonic interview from Kolkata. In short, it means the then PM Manmohan Singh reacted immediately on the alarm letter sent from Kolkata but the Home Ministry, then under Sushil Kumar Shinde, did not pay attention. Asked if he (Mathur) raised the issue with the state government of West Bengal, he replied in the negative.
"I had a feeling no one will react because Muslims are a strong vote bank in Bengal and no government will react against them," Mathur said.
Mathur said he waited for long for the Home Ministry to revert, even made countless calls, but eventually gave up. "And then the new government came in and Rajnath Singh became the new home minister. And one day, I saw Zakir Naik making headlines. If his speeches were investigated in 2013, Naik would not have grown to his current stature," added Mathur.
Mathur said he followed Naik's speech and also read about nations which banned him. In 2011, Britain's High Court banned Naik from the UK following a number of incendiary statements aimed at Jews and Christians. Naik also had said Osama bin Laden was 'not a terrorist'. The court also found his speeches were among material shared by the perpetrators of the Mumbai terror attacks. Mathur said the Home Ministry should have taken note of his letter. "He is banned from UK but continues to operate from Mumbai."
Interestingly, the home secretary, who retired in three months time in June, 2013, could not even reply to the letter. The one Mathur got was from the office of Anil Goswami, who succeeded Singh as the new home secretary. It's important to note that Goswami was fired from his seat for trying to influence the CBI in the Saradha scam that involved, among others, former minister Matang Sinh. "I have no idea why Singh did not respond to the letter despite an alert from the PMO, I do not know why Goswami fell silent," said Mathur.
Singh, currently a BJP MP from Bihar, said he would not like to comment on the issue which has snowballed into a huge controversy. Senior Congress officials said they were unaware if former PM Manmohan Singh had alerted the Home Ministry about Naik, whose sermons are already banned in Canada and the UK. Naik is now under investigation in both Bangladesh and India, which have both pulled his Peace TV channel from the air. He claims to reach more 100 million people worldwide, with his sermons available via satellite TV and online. He has promised to cooperate with authorities when he returns to India in two weeks' time from Saudi Arabaia.
Internal security expert Arun Bhagat said if probe into Naik's activities is delayed, the consequences could be huge. "India is already feeling the heat, the social media is in uproars over what needs to be done. Why not act on time?" Bhagat told this writer during an interview.
In a 2009 sermon uploaded to YouTube, and still available, Naik was asked if a suicide attack could ever be justified. He said it is normally forbidden, he said, but added: "If the situation demands, like in Palestine … and they cause a damage to the opponent, as a last resort, with guidance from a scholar, so with guidance from the Koran, as a last resort, it can be used".
But he sang a different tune after being banned by Dhaka and India. In a video statement posted on Monday, Naik denied supporting violence. "I'm totally against terrorism. I condemn all acts of terrorism, including killing innocent human beings. Killing innocent human beings is the second major sin in Islam," he said.
Bhagat said though the Indian government has acted against Naik, a crackdown on material posted online would be "more difficult".
"You could troll him or condemn him for (allegedly) spreading hatred through religious preaching but it would be a tough one to prove in a court of law. Over the years, the Supreme Court has meticulously differentiated between public perception and facts. It has insisted on hard facts to substantiate charges of causing communal disharmony under IPC Sections 153A and 295A of IPC." As demands to prosecute Naik, whose speeches allegedly inspired two Dhaka killers, former attorney general Soli Sorabjee has already made a statement: "What is necessary is a fair probe and after that expeditious application of law, not before."
If only the probe had happened earlier.
On 18 July, RK Singh wrote to Firstpost:
Our contributor's response:
Once I received the papers from my sources, I called the office and residence of RK Singh on the following numbers (096-61-399999/096-50-666155/095-55-888395).
I deliberately did not mail him because I did not want to share the letters on mail.
But my telephone records, and those of Singh would show I made all the calls and expended all efforts needed to put a news story in place. 
I repeatedly asked his staff for Singh's comments to the letter sent from the PMO regarding Zakir Naik.
After nearly a week, I was told that the MP has said: "He has no comments".
I asked if I could use this as his quote. I was told, again, that Singh would not like to comment.
World
'It will be difficult, if not impossible, for Pakistan to control the Taliban and other militant groups in Afghanistan as the country spirals into a civil war'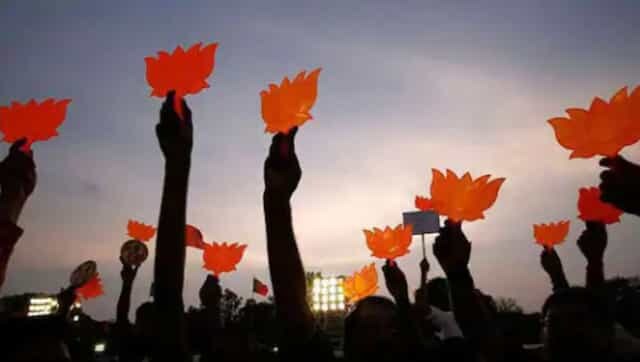 Politics
Jangalmahal is now seen as one of the strongholds of the BJP, and the party claims it will win all seats in the region
India
The crucial third phase of India's COVID-19 vaccination strategy, under which everyone above 18 years of age will be eligible for inoculation, will begin from 1 May