Did India learn its lessons from 26/11 Mumbai attacks? No, acute police shortage part of system-wide malaise
Ten years ago, this day, the world watched as the Lashkar-e-Taiba's 26/11 assault team savagely exposed India's doddering police system. The killers faced police personnel armed with nothing but lathis, lacking even the rudiments of counter-terrorism training.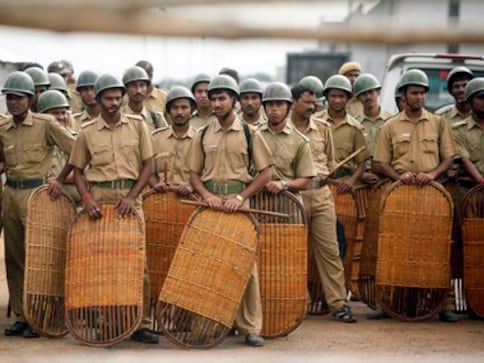 Ten years ago, this day, the world watched as the Lashkar-e-Taiba's 26/11 assault team savagely exposed India's doddering police system. The killers faced police personnel armed with nothing but lathis, lacking even the rudiments of counter-terrorism training. The state's anti-terrorism unit hadn't fired a practice round in over a year, because of shortages of ammunition. The police's command and control system collapsed amidst the chaos, leaving personnel to battle and die.
Even the élite National Security Guards botched the siege of the Taj Hotel — infamously setting alight rooms to flush out terrorists, asphyxiating hostages in the process.
For the last decade, successive governments have claimed they're investing to make sure it could never happen again. From data published by the Bureau of Police Research and Development, it's clear too little has changed.
Bad training
Perhaps the most disturbing numbers are those on police training. In 2016-2017, only five states — Delhi, Rajasthan, Maharashtra, Madhya Pradesh and Uttar Pradesh — saw fit to spend more than 5 percent of their budget on training personnel. In spite of its significant insurgency problem, Chhattisgarh spent just 3.05 percent of its budget; Andhra Pradesh, only 3.18 percent and Odisha 3.54 percent.
Large numbers of states at risk spent next to nothing on training — in spite of the obvious need for specialist counter-terrorism skills, Jammu and Kashmir spent only 0.02 percent of its budget on training; Manipur, hit not only by terrorist violence but zones of near-anarchy, spent not one single rupee.
Jammu and Kashmir, Punjab and Uttar Pradesh all saw significant cuts in police training expenditure in 2016-2017; only Maharashtra saw a stand-out increase in spending, almost doubling its commitment.
In 2016, just 44,083 police personnel across the country received any form of in-service training — a dismal 0.03% of the national police force. "The truth is most police officers aren't likely to get a single opportunity to practice their firearms skills, let alone acquire expertise in new technology, throughout their entire service", a senior officer admitted.
Barring the Maharashtra Police, which has introduced eight-hour shifts and a system of rotating personnel to allow for training, this means India's police forces just aren't working to upgrade their skills. Like on 26 November, 2008, citizens of most Indian cities will be counting on a lucky shot, not a police officer trained to respond and react to crisis.
Dirt Poor
Just like with several many other public-policy problems in India, part of the problem is that there just isn't enough cash. All over the world, modern police forces invest extensively on modernisation — buying technology and building infrastructure to prepare for changing needs. The city of New York will be spending $5.6 billion-$395 billion this year, with $107 million dedicated to training, and another $187 million to intelligence and counter-terrorism.
Put together, India's states and Union Territories spent Rs 90,662 crore on policing in 2016-2017. That might sound impressive, till one considers that Rs 900 billion is not a lot over twice the budget for New York alone — a city with a population of 8.5 million, less than that of Delhi's. The United Kingdom, for its part, will be spending £12.3 billion — this for a country of 65 million, against India's 1.35 billion.
It's true these are rich countries — but it's just not possible to get first-world policing on fourth-world cash.
Police spending in India, moreover, is overwhelmingly swallowed by salaries. In 2016-2017, just Rs 1,546 crore of police budgets were spent on modernisation, marginally up from Rs  1,330 crore in 2015-2016, largely drawn from central grants. That is just 1 percent of the overall spending — a pathetically small amount to invest in upgrading police capacities. The New York police, by contrast, has a separate capital commitment of $2 billion for 2017-2021.
The sad truth is that there are a bunch of things India clearly believes are worth more cash than police modernisation — statues of gods among them.
It's also important to note that police personnel remain grossly underpaid. Even though there is no provision for overtime, and a typical working day runs to over sixteen hours, a constable in most states starts on a basic salary of Rs 5,200 to Rs 25,000 take-home. In cities, there's also a chronic shortage of police housing.
If seen in context, all of this enables corruption, which in turn, erodes the functioning of police institutions.
Growth without planning?
In 2006, India's population stood at 1,123,993,000, and was to be served by 1,632,651 civil and armed police personnel. That meant 145.25 police personnel to serve every 100,000 population. This was well below the United Nations-recommended norm of 250 per 100,000.
Ten years after the 26/11 Mumbai terror attacks, things are somewhat better.
India's projected population, based on the 2001 census, reached 1,277,770,000 in 2016-a growth of 13.68 percent. There are now 2,464,484 police officers, a dramatic growth of over 50 percent. Thus, India now has a police-population ratio of 192.87 per 100,000 citizens, slowly inching towards the desired level.
There's some caveats though to this otherwise impressive story.
For one, there are enormous regional variations, with states hard-hit by insurgency still showing anemic police numbers, especially when one looks at the actual numbers of police personnel they've hired, rather than their theoretically-sanctioned strength — the numbers the state government has committed to hire and pay for.
Though Jammu and Kashmir has a relatively robust 626.98 police personnel per 100,000 population, insurgency-torn Chhattisgarh has 228.60 — well below its the sanctioned number of 269.86. Jharkhand has a pathetic 174.81, well below its sanctioned strength of 251.41
From the numbers, it is also clear some states have hired police personnel in gross disproportion to their apparent need. Arunachal Pradesh, whose only insurgency problem is the spill-over of small numbers of Naga insurgents, has 878.37 police personnel per 100,000 population. Mizoram has 702.15.
Perhaps worse, State Armed Police forces-the corpus from which specialist counter-terrorism and counter-insurgency units are drawn, have grown by only 12.69 percent, slower than population growth. This means that, while there are plenty of personnel in uniform, there isn't enough nation-wide investment in élite units.
The shortages in the police are part of a system-wide malaise. The National Investigation Agency (NIA) has a staff strength of 800, only 600 of whom are executive personnel. The Federal Bureau of Investigation has 34,019 staff, of whom 12,979 are agents, or trained investigators.
Even the Intelligence Bureau, the heart of India's counter-terrorism apparatus, is a third short of its authorised strength of 32,000, with the agency's training facility barely able to cover attrition from retiring staff. The Research and Analysis Wing suffers, too, from a lack of language and area specialists, as well as technical experts.
Explainers
Once touted as the future of money, a challenge to the world's central banks, not to mention a clever investment, crypto now carries the odour of disaster. But some crypto faithful see an upside to the wipe-out of 2022
Explainers
Jacinda Ardern gained international acclaim for her handling of New Zealand's worst mass shooting and her response to the COVID pandemic. But at home Ardern has come under increasing criticism over lockdowns, declining trust in government, and a deteriorating economic situation
Explainers
The brighter prediction comes as a survey showed Europe's economy growing for the first time since June and in the backdrop of lower inflation, improved supply chains, and the recent reopening of China's COVID-scarred economy. However, experts have warned that the UK is in for a rough go in 2023