Deport African nationals in a month, says Goa tourism minister Dilip Parulekar
The protests come in the wake of a string of attacks on African nationals, especially students, which has caused outrage among them.
Several African students on Monday staged a protest at Jantar Mantar in New Delhi against increasing attacks on them and demanded that the Indian government act swiftly to stop such incidents. "We want the government's support as the incidents of attacks on people from African continent are increasing in the city. The Indian government needs to ensure safety of African nationals and act swiftly on such incidents," said a protestor at Jantar Mantar.
The protests come in the wake of a string of attacks on African nationals, especially students, in the national capital and elsewhere, which has caused outrage among them.
Meanwhile, amid brutal attacks, Goa Tourism Minister Dilip Parulekar on Monday said that Nigerian nationals not just "create problems" in Goa, but across the country too. The minister's comment comes even as a group of African students also met Foreign Secretary S Jaishankar in the regard.
Parulekar, asked to comment on accusations of rape and kidnapping against two Africans levelled by a woman at Mapusa police station on Sunday, said that Nigerian students commit crimes on purpose to prolong their stay, sell drugs and indulge in "unwanted things".
He also said that a strict pan-India law should be enacted to deport them within one month.
"Nigerians create problem not just in Goa, but in the entire country. Nigerian students come to Goa and India to study, they get an FIR filed (against them), make it a judicial matter and then try to stay in India or Goa and indulge in drugs and other unwanted things," Parulekar said.
"Two years ago I had heard they had blocked the (national highway 17) highway. India should have a strict law, where the police force can catch them and deport them back. But that law is not in India at the moment, therefore it is a weak point in matters of governance," Parulekar said, adding that those who have been "black-listed" or have committed crimes should be deported within a month.
Interestingly, the same Parulekar, who is passionately talking about police force and "strict law" was hauled up by the High Court for illegal grabbing of Serula comunidade land case involving him, his brother and nine others. The High Court of Bombay at Goa held that his whole conduct including that of others is an illegal expedient to usurp the land of the Comunidade without sanction of law.
On 8 May, the court had observed that Parulekar had "no legal right to put the subject construction as he had no allotment in accordance with the code of communidade". The district and sessions court is also hearing an appeal against criminal proceedings to be initiated against Parulekar in the same case.
Police in Goa are on the lookout for two young Africans, who late on Saturday allegedly kidnapped a woman at knife-point and later raped her at a rented room in Assagao village, 20 km north of Panaji.
The exact nationality of the African nationals is still not confirmed, according to the police.
On 20 May, a Congolese national was beaten to death by three men after an altercation over hiring of an auto-rickshaw in Vasant Kunj area turned violent. On 25 May, a Nigerian student in Hyderabad was allegedly beaten by an Indian over a parking dispute.
On 28 May, four separate cases of alleged assault on African nationals in the national capital was reported, adding to the growing number of such attacks.
The Indian government has assured angry African envoys of protection to their nationals in India, with External Affairs Minister Sushma Swaraj personally monitoring the developments.
As Devparna Acharya of Firstpost argues in this piece that while this nasty game of superior race is being played out in the foreground, the damage it does to India, which is projecting itself as one of the growing regional powers, is unimaginable.
With inputs from IANS
First Cricket News
Follow live score and updates from the second T20I between Ireland and South Africa on our blog.
First Cricket News
The first of three T20s wasn't competitive, surprisingly so after a thrilling one-day international series that was drawn 1-1 last week.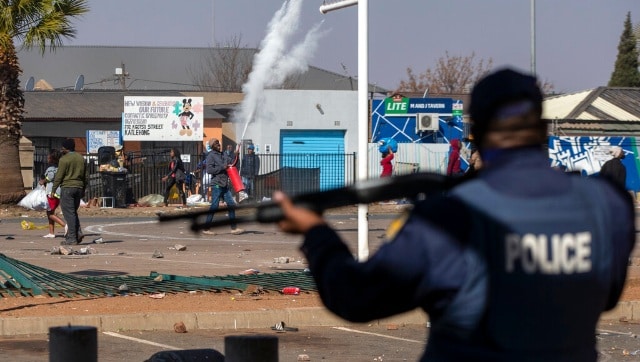 World
The tensions have been particularly high in the sprawling Indian township of Phoenix, north of Durban, and residents of three surrounding Black areas following the deaths of 22 people in Phoenix during the riots and looting last week by vigilante groups