'Denial of self-expression is akin to inviting death': CJI Dipak Misra's key remarks in Section 377 judgment
Terming Section 377 as 'manifestly arbitrary' when it comes to consensual sex between adults, Chief Justice Dipak Misra, reading on behalf of himself and Justice AM Khanwilkar, said that sexual orientation is part of one's Freedom of Self Expression and 'denial of self expression is akin to inviting death'
Chief Justice of India Dipak Misra made some insightful comments while decriminalising consensual gay relationship in a landmark verdict announced on Thursday.
Terming Section 377 as "manifestly arbitrary" when it comes to consensual sex between adults, Misra, reading on behalf of himself and Justice AM Khanwilkar in the landmark verdict said that sexual orientation is part of one's Freedom of Self Expression and "denial of self-expression is akin to inviting death".
The "autonomy, intimacy and identity of an individual are to be protected", the CJI said, adding that "LGBTQ community has the same fundamental rights as citizens. Equality. Respect for individual choice is the basis of liberty."
"Consensual sex has been targeted under Section 377 resulting in discrimination. And it's violative of Article 14," he said, stating that "talking about the importance of individual identity with dignity, individual autonomy and equality for all without discrimination are cardinal corners of our Constitution".
Recognising the struggle of the LGBTQ community, Misra said, "The determination and hope that has allowed them (LGBTs) 'to look for the rainbow in every cloud'."
He said that life with dignity is a recognised right. "In the same vein, at the core of identity, lies self determination," he added while citing the Supreme Court verdict in the NALSA versus Union of India case, which recognised the third gender.
Quoting British musician John Miles, Misra said, "No one can escape from their individuality. One defines oneself."
Stating that majoritarian views and popular morality cannot dictate constitution rights, Misra said, "The concept of constitutional morality urges the organs of the State including the judiciary to protect heterogeneity and prevent imposition of popular perception on the minority. The Fundamental Rights of even a single individual cannot be infringed upon."
The CJI also emphasised on the role of courts while giving judgments on issues that deal with rights of a minority section which has been subject to historical discrimination while also stressing on the importance transformative Constitution.
"The role of courts are more important when rights affected are of a minority subject to historical discrimination," he said, adding, that the interpretation of the Constitution should not be literal. "It should reflect intent and purpose, in consonance with changing times," he added.
"Majoritarian views and popular morality cannot dictate constitutional rights. Majoritarianism in constitutionally is untenable. Constitution is a dynamic document, having the primary objective of establishing a dynamic and inclusive society. We have to vanquish prejudice, embrace inclusion, and ensure equal rights."
Misra also said that "rights should evolve with the evolution of the society".
The issue of Section 377 was first raised by the NGO, Naaz Foundation, which approached the Delhi High Court in 2001. The Delhi High Court had in 2009 decriminalised sex between consenting adults of the same gender by holding the penal provision as "illegal".
This high court judgment was overturned in 2013 by the Supreme Court (Suresh Kumar Koushal vs Naz Foundation case) which also dismissed the review plea against which the curative petitions were filed which are pending.
Misra was also critical of the 2013 Supreme Court verdict stating views such as that "LGBTQ is a minuscule part of the population" and the "mere scope of abuse" of Section 377 were constitutionally impermissible.
"Privacy is a fundamental right under Puttawamy case. Mention of discordant note recognising that the logic of miniscule population is incorrect... Progressive interpretation of constitution and progressive realization of rights. Koushal is incorrect," he said.
A five-judge Constitution bench headed by Misra termed the part of Section 377 of the Indian Penal Code which crimiminalises unnatural sex as irrational, indefensible and manifestly arbitrary.
The bench, which also comprised Justices RF Nariman, AM Khanwilkar, DY Chandrachud and Indu Malhotra, struck down Section 377 as being violative of right to equality.
The top court, in four separate but concurring judgements, set aside its own verdict in the Suresh Kaushal case.
Section 377 refers to 'unnatural offences' and says whoever voluntarily has carnal intercourse against the order of nature with any man, woman or animal shall be punished with imprisonment for life, or with imprisonment of either description for a term which may extend to 10 years, and shall also be liable to pay a fine.
The apex court, however, said other aspects of Section 377 of IPC dealing with unnatural sex with animals and children shall remain in force.
The historic judgement came on a batch of writ petitions filed by dancer Navtej Jauhar, journalist Sunil Mehra, chef Ritu Dalmia, hoteliers Aman Nath and Keshav Suri and business executive Ayesha Kapur and 20 former and current students of the IITs.
They had sought decriminalisation of consensual sex between two consenting adults of the same sex by declaring Section 377 illegal and unconstitutional.
The current writ petitions were opposed by Apostolic Alliance of Churches and Utkal Christian Association and some other NGOs and individuals, including Suresh Kumar Kaushal.
In a concurring judgment, Chandrachud said decriminalisation of Section 377 is of course necessary, but it's just the first step. "Human sexuality cannot be defined narrowly. the LGBTQI peoples have a right to equality of protection under the Constitution. Discrimination against LGBTQI is unconstitutional.
"Constitutional morality will prevail. Society cannot dictate sexuality of an individual. State has no business to intrude into these personal matters. Section 377 is unconstitutional to the extent it penalises consensual sex between two adults."
Stressing that homosexuality is not a mental disorder, Nariman concurred with Misra's opinion, and stressed the need for the Union government to broadcast the constitutional rights of homsexuals in regular intervals to reduce and eliminate stigma surrounding homosexuality while also suggesting periodic sensitisation lessons for the police.
Arts & Culture
The 35-year-old Teigen, with more than 13 million followers on Twitter, was in her mid-20s when she harassed Stodden. That included tweets urging Stodden to end their life.
Entertainment
The SCBA Chief, in a letter to Raveena Tandon, said that the oxygen cylinders will be utilized to save the lives of its members and their families who are unable to get admissions in hospitals.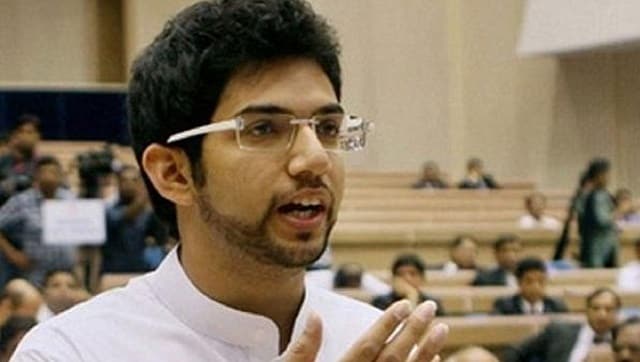 India
Aaditya stated that as the virus mutates and targets different age groups, the response to it should also evolve