Demonetisation: Watch Narendra Modi discuss note ban and 1971 war
LIVE NEWS and UPDATES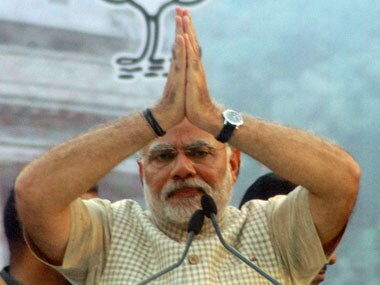 13:12 (IST)

Arun Jaitley to addres media at 5 pm today

13:09 (IST)

Specified bank notes (SBNs) cannot form part of banks' cash balances from the close of business as on 31 December, 2016 to deposit the same in any Issue Office of Reserve Bank or a currency chest on 31 December, 2016 itself, RBI said.

SBNs (Specified bank notes) cannot form part of banks' cash balances from the close of business as on December 31, 2016: RBI

— ANI (@ANI_news) December 30, 2016

(Cont) to deposit the same in any Issue Office of Reserve Bank or a currency chest on December 31, 2016 itself: RBI

— ANI (@ANI_news) December 30, 2016

12:40 (IST)

Veteran journalist R Jagannathan on 50 days completion of note ban

The cash crunch in cities seems to be easing. Just for a lark i went to 5-10 different ATMs on diff days and all yielded cash Queues shorter

— R Jagannathan (@TheJaggi) December 30, 2016

12:32 (IST)

Brand RBI takes a beating as brand Modi flourishes

The brand Modi might have received a good boost after the demonetisation drive, however, the brand RBI, the monetary authority in charge of the Indian currency, may have taken a huge drubbing, brand experts told Firstpost's Sulekha Nair.

The common man is in the mood to forgive the prime minister as he realises that demonetisation is a big task that irritants like more than 60 policy flip-flops after the announcement of the scheme can be 'tolerated', says Harish Bijoor, chief executive officer of brand and business strategy firm Harish Bijoor Consults Inc.

The man who is complaining the most is the one who is affected and that is not the 'common man', believes Bijoor. He places Modi's popularity on a ratio of 80:20 with 80 percent having welcomed the bold move of the PM.

Meanwhile, the RBI's image seems to have been dented significantly during the period. Post the announcement, the action mostly happened in Delhi and the central bank was relegated to the background. Moreover, the frequent rule changes, mostly dictated by the political bosses in Delhi, unfairly affected the central bank's image.

11:43 (IST)

PM Modi could launch massive campaign in his address on New Year

Post #DeMonetisation Govt. to roll out massive campaign. PM's address to the nation on Dec 31st will be beginning of this campaign: Sources

— ANI (@ANI_news) December 29, 2016

11:41 (IST)

Today's the last day to deposit scrapped notes

The deadline to deposit old Rs 500 and Rs 1,000 notes in banks ends today. From next week onward, those still holding the scrapped currency can deposit it only with the Reserve Bank of India till 31 March, 2017. After 31 March, holding demonetised notes would be illegal and could invite hefty fines and even jail, according to an ordinance passed by the Union Cabinet on Wednesday.

Prime Minister Narendra Modi is expected to address the nation on Saturday after his self-imposed deadline of 50-days for the situation to return to normal ends. While some people are hoping for an extension in the deadline, the government maintained it had no plans to do so.

With inputs from IANS

09:57 (IST)

MP chief minister Shivraj Chauhan aims salvo at Opposition

Vipakshi dal kuch karne laayak bache nahin, sapne mein bhi PM dikhaayi dete hain unhe, neend mein uth ke chillate hain PM isteefa do: MP CM pic.twitter.com/sJbaRp2btd

— ANI (@ANI_news) December 30, 2016

08:51 (IST)

Deadline to deposit junked notes arrives

The 50-day deadline to deposit the old Rs 500/1,000 notes in banks comes to an end today, but the cash crunch and queues before ATMs are likely to continue for some more time as currency printing presses have failed to meet the huge demand for new bills.

People, however, will still have time to exchange the currency notes at designated RBI counters till 31 March after giving valid reasons for not depositing defunct notes in their accounts by 30 December.

The government is also planning to come out with an Ordinance making possession of old Rs 500/1,000 notes beyond a specified limit for numismatic purposes illegal and punishable.

- PTI

08:13 (IST)

Demonetisation, explained in cricketing terms

As (Narendra) Modi gets ready to address the nation on 31 December in a stock-taking speech, sober watchers of the game may find no nail-biting finish or clear winner. We might need to use something resembling the Duckworth-Lewis method that cricket scorers use when rains or disruptions mar a match.

Read the rest of Narayanan Madhavan's piece here

08:09 (IST)

Narendra Modi's 8 November speech (excerpt)

Brothers and sisters,

To break the grip of corruption and black money, we have decided that the 500 rupee and 1,000 rupee currency notes presently in use will no longer be legal tender from midnight tonight, that is 8th November 2016.

This means that these notes will not be acceptable for transactions from midnight onwards. The 500 and 1,000 rupee notes hoarded by anti-national and anti-social elements will become just worthless pieces of paper.

08:02 (IST)

After demonetisation, there's more to come

Post #DeMonetisation Govt. to roll out massive campaign. PM's address to the nation on Dec 31st will be beginning of this campaign: Sources

— ANI (@ANI_news) December 29, 2016

08:00 (IST)

Movement towards digital transactions spells the end of corruption, which adversely affects dreams & aspirations of the poor & middle class.

— Narendra Modi (@narendramodi) December 29, 2016

07:54 (IST)

Narendra Modi's 8 November speech (excerpts)

There comes a time in the history of a country's development when a need is felt for a strong and decisive step. For years, this country has felt that corruption, black money and terrorism are festering sores, holding us back in the race towards development.

11:39 (IST)

Narendra Modi did what Indira suggested was not for her to do

When Prime Minister Narendra Modi, in a televised address on 8 November, told the nation that the existing Rs 500 and 1,000 notes can no longer be used for transactions and they are now mere pieces of papers, he very well knew that a huge number of zero-balance accounts were going to witness sudden activity from the very next morning.

Modi is not Indira Gandhi and 2016 is not 1974 when TA Pai, the then Union Minister for heavy industry told Gandhi: "Currency has no complexion and it is neither white nor black." (Declassified black money files of prime minister's office, no 37 (465)/74 PMS).

Unlike Gandhi, who in a letter dated 24 August, 1974, to all chief ministers, sought 'selective action' against 'bigger people' that could be publicised to counter the perception in the public mind and in Parliament, Modi and his officers were well prepared in advance to scrutinise the shades of unaccounted stash in the country, even if that meant severe criticism of his government.

Read the full article here.

11:26 (IST)

It's ironic that parties which opposed Congress are now supporting it: Venkaiah Naidu

'It's ironic to see that government is fighting corruption, and the opposition is opposing it. Many people are shaken because vested interests are shaken. They are trying to create panic in the public. And therefore, they are trying to tarnish Prime Minster's image,' Venkaiah Naidu said.

'It's a pity that this opposition party, who fought against the Congres both inside the Congress and outside the Congress are ready to work with Congress. Trinamool Congress, CPI (M) are with Congress. Even DMK who had taken talaq from Congress are rallying behind it. They don't even know what their leader is going to talk about. The congress regime was filled with scams. They will have to explain it to the people," he added.

11:15 (IST)

PM said in meet Indira ji told YB Chavan that don't you want to contest polls? This was Congress plank but they did not implement:Sources

— ANI (@ANI_news) December 16, 2016

11:06 (IST)

PM said Congress had chance to clean the system in 1971, but it didnt | ANI

PM said in meeting that Wanchoo committee had given recommendation of #Demonitization to Indira Gandhi ji,but she snubbed the report:Sources

— ANI (@ANI_news) December 16, 2016

10:48 (IST)

PM ne kaha pehle satta paksh ghotale karta tha, aaj ke din satta paksh black money ko lekar kaam kar raha hai: Ananth Kumar

— ANI (@ANI_news) December 16, 2016

10:48 (IST)

PM ne kaha aaj 16 tarikh Bangla vimochan diwas hai, tab vipaksh ne saboot nahi manga tha,lekin aaj vipaksh saboot mangta hai:Ananth Kumar

— ANI (@ANI_news) December 16, 2016

10:47 (IST)

PM said Digital Economy a way of life: Ananth Kumar, BJP leader

Speaking to the press after the BJP Parliamentray meet, BJP leader Ananth Kumar said that the demonetisation was one of the key things discussed at the party meet. He also said that the Prime Minister discussed few key issues including that digital economy should be a way of life. Kumar also said that there will be a review of the demonetisation sheme.

PM appealed to people of India that digital economy should be a way of life,it will be transparent and effective: Ananth Kumar pic.twitter.com/OMw5x45HxA

— ANI (@ANI_news) December 16, 2016

10:34 (IST)

Rahul Gandhi and Congress leaders to meet Narendra Modi

Congress leaders including Rahul Gandhi to meet PM Narendra Modi shortly

— ANI (@ANI_news) December 16, 2016

09:49 (IST)

The Opposition has disgusted the Parliament: GVL Narsimha Rao, BJP Spokesperson | CNN-News18

'What the Opposition is saying is basically a charade. They have dishonoured the mandate of the people,' GVL Narsimha Rao told CNN-News18

09:47 (IST)

It's an ominous episode for Parliament: Congress leader Adhir Ranjan Chowdhary | CNN-News18

Whether it's rejected or accepted we want a discuss in the Parliament. The Congress Party has come down on its demand including voting, Congress MP Adhir Ranjan Chowdhary said

09:36 (IST)

PM Narendra Modi and Amit Shah arrives at the venue | CNN-News18

​

Senior BJP leaders including Prime Minister Narendra Modi and Amit Shah, have already arrived at the venue.

Delhi: PM Narendra Modi arrives for BJP Parliamentary Party meeting pic.twitter.com/Yjr16durWU

— ANI (@ANI_news) December 16, 2016

09:00 (IST)

BJP to hold party meet on Thursday, PM Narendra Modi to address nation | CNN-News18

The Bharatiya Janata Party has announced that it will hold a party meet at 9.30 am on Thursday. According to CNN-News18, the party meet will discuss demonetisation and will be broadcast live. Prime Minister Narendra Modi will be addressing the nation as well, the news channel said.

The Opposition parties will meet with BJP leaders as well at around 12 pm on Thursday to discuss demonetisation.

17:23 (IST)

Banks prefer supplying cash via branches than through ATMs

"Total number of notes in lower denominations of Rs 100 and below supplied in last five weeks is three times of what RBI supplies in an year," Das said. The Economic Affairs secretary also said that there are 2 lakh 20 thousand ATMs and more than 2 lakh ATMs have already been re-calibrated.

There are 2 lakh 20 thousand ATMs and more than 2 lakh ATMs have already been re-calibrated: Shaktikanta Das,EA Secy #Demonitization

— ANI (@ANI_news) December 15, 2016

Total number of notes in lower denominations of Rs 100 & below supplied in last 5 weeks is 3 times of what RBI supplies in an year: S Das pic.twitter.com/MzYTndiShq

— ANI (@ANI_news) December 15, 2016

Banks prefering supplying cash via branches to their customers than through ATMs: Shaktikanta Das,EA Secy #Demonitization

— ANI (@ANI_news) December 15, 2016

Banks prefering supplying cash via branches to their customers than through ATMs: Shaktikanta Das,EA Secy #Demonitization

— ANI (@ANI_news) December 15, 2016

17:02 (IST)

Surgical action, if you may: Das

The Economic Affairs Secretary also said that airlifting of currency will continue "wherever possible". "And emphasis will be on rural areas to ensure enough cash."


Das also said that actions enforecement agencies are taking on illegally accumulated money is based on specific inputs, "surgial action you may call it."

Airlifting of currency to continue wherever necessary, emphasis on rural areas to ensure enough cash: Economic Affairs Secy Shaktikanta Das

— ANI (@ANI_news) December 15, 2016

Actions enforecement agencies are taking on illegally accumulated money is based on specific inputs, surgial action you may call it: S Das pic.twitter.com/1ahOt59ikf

— ANI (@ANI_news) December 15, 2016

17:00 (IST)

13 percent of ATMs loaded with cash in December

Shaktikanta Das said that only 13 percent of ATMs loaded with cash in December.

"Number of notes with lower denomination that RBI supplies over a year, has been supplied in last five weeks," Das added.

16:58 (IST)

Process of distribution streamlined; Airlifting of notes continued where necessary, emphasis on more cash to rural areas: Shaktikanta Das

— News18 (@CNNnews18) December 15, 2016

16:55 (IST)

Shaktikanta Das said that the intial focus was to supply Rs 2,000 notes to replace value that was taken out of the market. "Now focus is on printing more of Rs 500 notes."

Intial focus was to supply 2000 notes to replace value that was taken out of the market. Now focus is on printing more of Rs 500 notes:S Das pic.twitter.com/QdPZrwlDVo

— ANI (@ANI_news) December 15, 2016

16:54 (IST)

Shaktikanta Das, Economic Affairs Secretary, speaking on US Fed rate hike

Our markets had already factored in the rate hike and they would remain fairly stable:Shaktikanta Das,EA Secy on US Fed rate hike pic.twitter.com/dP3YXQ1cnm

— ANI (@ANI_news) December 15, 2016

Possibility of counterfeiting new 500 & 2000 notes is very very less. Also,they are completely indigenous:Shaktikanta Das #Demonitization

— ANI (@ANI_news) December 15, 2016

First time notes were indigenously designed in house with security features,makes notes more secure with less chance of counterfeiting:S Das pic.twitter.com/W3HxJpMEaT

— ANI (@ANI_news) December 15, 2016

13:52 (IST)

So its understandable that they are uncomfortable with this strong step by Modi Government: FM Jaitley on Congress #DeMonetisation

— ANI (@ANI_news) December 13, 2016

13:50 (IST)

We are now rapidly completing the #DeMonetisation scheme, significant amounts will be injected in next 3 weeks: FM Jaitley

— ANI (@ANI_news) December 13, 2016

13:44 (IST)

Arun Jaitley hits back at Congress on demonetisation

Future transactions will be substantially digital and once they are substantially digital they get caught in the tax net: FM Jaitley pic.twitter.com/7O85fGIq78

— ANI (@ANI_news) December 13, 2016

13:44 (IST)

Congress should rise up above sloganeering, we are ready to debate: Arun Jaitley

Corruption scams peaked in Congress period. Given this scandalous record it is uncomfortable with anti-corruption steps: FM Arun Jaitley pic.twitter.com/9g97WNMyo5

— ANI (@ANI_news) December 13, 2016

11:38 (IST)

You can't trivialise a major blow to India's economy. I'm sorry that PM is trivialising a major development in Indian economy: P Chidambaram

— ANI (@ANI_news) December 13, 2016
Following the ruckus inside and outside Parliament over the past couple of weeks on the topic of demonetisation, the Bharatiya Janata Party seems to be ready to answer all questions about the move that rendered all old Rs 500 and Rs 1,000 notes illegal on 8 November. The Bharatiya Janata Party has organised a party meet on Thursday where key issues related to demonetisation are being discussed.
According to CNN-News18, after the party meet, Prime Minister Narendra Modi will address the BJP MPs, the news channel said. The latest reports said that senior BJP leaders including Prime Minister Narendra Modi and Amit Shah, have already arrived at the venue.
Reports also said that the Opposition parties will meet with BJP leaders and Prime Minister Modi at around 12 pm on Thursday to discuss demonetisation.
Updated Date: Dec 30, 2016 13:12:39 IST