Demonetisation: Narendra Modi's dream of a 'cashless' economy is far-fetched
The PM's dream of a cashless economy is just an expression of his customary haste to rush through reforms without creating the necessary conditions for it first.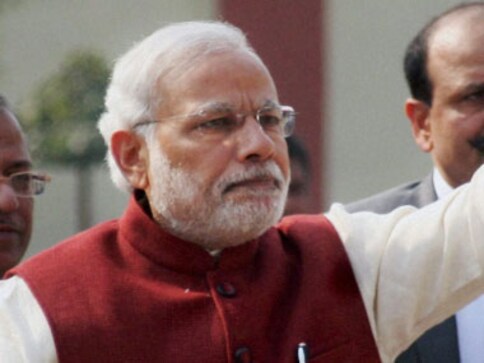 First it was a war on black money. Then against terror funding.
Then against counterfeit currency. And now it is about cashless transactions.
Next, it would be a drive to save trees by using less paper for printing notes.
Then to make everyone lose a bit of weight, of the cash in their wallet.
And finally, to ensure nobody calls 'Sonam Gupta bewafa' on currency notes.
In some form of political games, once a shot is fired, a good player always hopes that the goalpost would keep changing to ensure the ball hits the target, any target. Sometimes even a self-goal is acceptable — it gives a sense of achievement.
But, even by the Prime Minister's lofty standards, the dream of a 'cashless economy' has the 'Sonam-Gupta bewafa' feel to it: It sounds both unbelievable and amusing.
Connectivity
The dream of a 'cashless economy' has a ring of absurdity in a country where last-mile connectivity is still a project in progress.
In a country of 1.34 billion, just about 34 percent population has access to internet. This means for 86.5 crore Indians, internet is something that exists in speeches and promises of the government. How does the government expect these people to move around with digital wallets? The point here is that a radical shift cannot happen in a large economy overnight, that too without preparing the groundwork. It takes time.
To be sure, even this figure of 34 percent connectivity might be misleading. Many Indians may be getting partial access to the net while in urban areas, towns, and perhaps in some villages where it is accessible. But deep inside rural India, crores of Indians live their life beyond the world of the wide web. How does the PM expect these people to forget cash and go plastic? It is like Marie Antoinette asking Parisians to go eat cake.
Access to banks
To be able to use digital money, people need access to bank accounts. A 2015 study of global banking practices by the World Bank found that around 53 percent of adult Indians have bank accounts. Out of these accounts, 43 percent were dormant. They had reported no transaction — no deposit, no withdrawal, leave alone digital — over the past 12 months. How does the government aim to migrate two-thirds of Indians with either AC
-in-india-in-three-years-world-bank/article7109166.ece" target="_blank" rel="nofollow" data-saferedirecturl="https://www.google.com/url?hl=en&q=http://www.thehindu.com/business/Industry/175-million-new-bank-ac-in-india-in-three-years-world-bank/article7109166.ece&source=gmail&ust=1480491934188000&usg=AFQjCNHXdxC64ZzW9rEVBsl0i5bn8GsT-A">no access to banking or dormant accounts to plastic?
This is like asking people to queue up for water near a well that will be dug up after a year. When a significant number of people in the far-flung areas of the country still needs to get familiar with basic concepts of formal banking, pushing them to use plastic money at this stage is premature and will be putting the cart before the horse. The whole process needs to be done in a gradual manner.
There are, of course, the other issues: literacy levels in villages among women, tribals, Dalits. In a country that is still struggling to provide access to healthcare, schools and basic infrastructure, the idea of a cashless economy sounds as far-fetched as a promise of a colony on the moon.
Perhaps, the PM actually wants people to go to Hades but believes in making the journey sound so adventurous that many would actually look forward to it.
Lessons from developed economies
Cash, like any other commodity in the world, circulates in India because there is demand for it. Had it been useless, the RBI would not have been required to print currency notes worth in excess of 17 lakh crore. By creating an artificial shortfall, the government thinks people would be forced to look for alternatives in places where none exist.
It is like asking people to stop breathing oxygen and instead try carbon dioxide or nitrogen. In the end, it will choke the economy.
This is evident from the experience of many other developed countries. Cash in circulation is around 10.5 percent of the Indian GDP. As these charts show, sucking them out of the system is impractical, it would lead to a lot of pain unless the government and the central bank have the contingency plan ready to put cash back into the system without delay. In this case, there wasn't any such plan ready.
If demonetisation were so easy, wouldn't countries like the US with higher ratings on all development indices pull it off by now? Would Japan be still printing its Yens, US its Dollars and the EU its Euros?
The PM's dream of a cashless economy is just an expression of his customary haste to rush through reforms without creating the necessary conditions for it first. He should note that Kenneth Rogoff, the most vociferous proponent of the idea of a cashless economy had propounded it for developed economies and over a period of 6-7 years, not at the stroke of one November midnight.
People would, of course, buy some of it. In a country where Lord Ganesha can be made to sip milk, in an age where Whatsapp messages and Adobe Photoshop are the priests of borrowed and shared stupidity, even suicide can be sold as an act of infinite pleasure.
Writing for The Telegraph, Mukul Kesavan says Indians would queue up, fall in line as long as they think their pain and sacrifice is for nation building. "Scrabbling for cash alone won't turn people against the government if they believe that their hardship is shared, if they are persuaded that demonetization brings a criminal underworld to book, if they see hoarders and black marketers suffering along them, if only because the undeserving rich have more to lose," he argues.
But, what if in the end it turns out that all those hardships ended up serving just two objectives — making our wallets lose some weight and Sonam Gupta, her tag of being 'Bewafa'?
World
Narendra Modi is the first Indian prime minister to see the diaspora as allies, benefactors, and unofficial ambassadors
India
In a major road accident on Sunday, nine people were dead in a head-on collision between a lorry and a minivan in the Kamareddy district of Telangana while 17 others sustained injuries
India
The government told the Supreme Court on Monday not to invest time in examining the validity of the sedition law as it has decided to reconsider the provisions by a 'competent forum'