Demonetisation: Kudos to Modi but the clean-up drive, like charity, should start at home
A senior politician in Telangana was a relieved man on the evening of 8 November, when Prime Minister Narendra Modi declared 500 and 1000 rupee notes were no longer legal tender.
A senior politician in Telangana was a relieved man on the evening of 8 November, when Prime Minister Narendra Modi declared 500 and 1000 rupee notes were no longer legal tender. He was to receive Rs 2 crore that morning in cash but the person had delivered only Rs 30 lakh. The neta ji immediately called up the person and asked him to give the rest in new currency notes only.
Another phone call and the process of converting Rs 30 lakh given in 1000 rupee notes into 100 rupee notes also was taken care of.
"It is only the common man who is troubled by having to spend hours just to withdraw Rs 4500 from a bank. Politicians know how to deal with big amounts,'' said a politician. "Modi is wrong. The rich are sleeping peacefully while the poor are queuing up in front of ATMs from 5 am, with their quilts,'' said another.
Another neta is mulling over whether to get his Rs 2 crore cash converted with a 30 percent commission or use the hawala route to send it out and get it back sometime next year.
These are voices from different ends of the political spectrum — BJP, Congress and regional parties. Some of them may take a minor hit, some of their money will come into the banking system. But anyone telling you that India will be 'Swachh Bharat' post 30 December, is only pulling wool over your eyes.
"Ba ba black sheep, have you any wool?

Yes sir, Yes sir, three bags full.''
Frankly, anyone who understands how political parties operate in India knows that distributing money among say, 200 cadre is not a big deal for a politician. Political parties are most organised when it comes to distribution of money, with loyalty an obvious corollary of the caste factor, and greed because of personal gain.
A survey conducted by In Shorts among 2.69 lakh app users reveals that 82 percent of Indians support Modi's demonetisation move. But Narendra Modi cannot become 'Robinhood' Modi unless he cleans up the political system. Because the black buck stops at the political party table.
Remember a comment made by former RBI governor Raghuram Rajan, a month before the assembly elections this summer? He red-flagged a massive surge in cash circulation during the elections in Tamil Nadu, Bengal, Kerala, Assam and Puducherry. Rajan said money in people's hands had gone up by over Rs 60000 crore. He noted that this is "not normal'' and needs to be probed.
Let us not forget that in a dubious first for Indian elections, assembly elections to two constituencies in Tamil Nadu were cancelled by the Election Commission because of rampant use of money power to bribe votes.
Jayaprakash Narayan of the Loksatta Party who espouses clean politics says the election system is to blame for the black economy that thrives in India. "A Lok Sabha election costs close to Rs 20000 crore. An assembly election costs double the amount and the same goes for local bodies. And a bulk of that amount is towards buying of votes,'' says Narayan.
So while Modi talks of serving a kadak (strong) chai, he should serve it to his brethren first. The political ecosystem of which he is a part, is no Surf Excel washed. Funding to political parties is most opaque. Every MP and MLA starts with a lie about the crores he or she has spent to win the election. And the Modi government, filed an affidavit in August 2015 in the Supreme court opposing bringing political parties under RTI.
But I am turned into a pauper of sorts, made to run from bank to ATM, for Rs 4500 producing my PAN and Aadhaar cards and told, "Bhai, tum line me khade hoge ya nahi?''
In a couple of months from now, the election campaign in Uttar Pradesh and Punjab will be in full swing. Does the BJP want the people of India to believe that every penny spent on its choppers, advertisements, rallies, food is accounted for, given by cheque and not sourced with black money? If so, put it out in the public domain.
I am all for Modi ensuring a more clean India. But the clean-up drive, like charity, should start at home.
Today the small trader indulges in petty sales tax corruption because the system encourages him to do so. He has to ensure he has unaccounted for cash because when a candidate at the local ward level or an assembly election comes knocking at his door soliciting election funds, he has to shell out the moolah. It is this compromised system, blessed by the seedy political culture that encourages black money.
It would have been far more effective an assault on black money if the prime minister had started with going after the benami land deals. That is where most of Modi's political brethren, cutting across party lines, have parked their ill-gotten wealth. The advance warning would only help them find a way out of the mess.
India
Putin, who was speaking at the BRICS summit hosted by Prime Minister Narendra Modi in virtual mode, was the only leader to have raised the issue of Afghanistan directly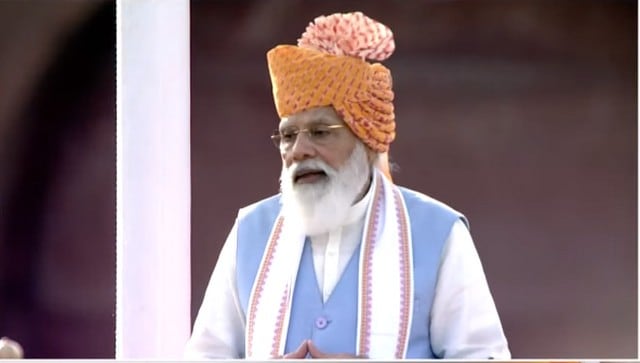 India
At the same time, Modi said, we should not forget the mantra of "Davai Bhi, Karai Bhi' (get vaccinated, strictly follow COVID protocols).'
India
As part of the celebrations, Union Health Minister Mansukh Mandaviya requested people to get themselves vaccinated and also help others to receive their jab