Demonetisation: Jewellers say wedding season ruined as sales fall 80% but hope for brighter future
A result of demonetisation could be a boom in jwellery parks. Jwellers hope this will create more jobs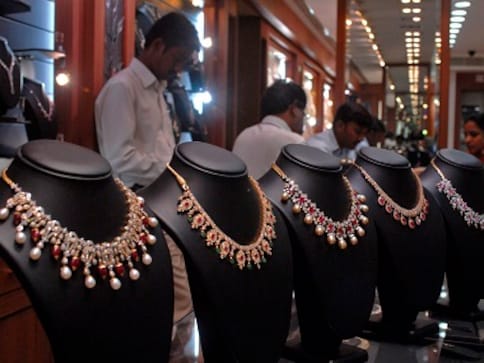 Demonetisation has dealt a body blow to the demand for gold, a must-have accessory in Indian weddings. Demand for gold jewellery has dropped down as much as 80 percent with gold stores seeing drastically reduced footfalls and low volumes."Yeh season toh gaya," said Sumeet Anand, proprietor, of Indore-based Punjabi Saraf Jewellers, a 70-year-old store. This is the sentiment that is being echoed by most jewellers whom Firstpost spoke to.
When Prime Minister Narendra Modi announced demonetisation late on 8 November, there were many who rushed to their family jewellers and made big ticket purchases. There were reports that some jewellers were willing to backdate bills to enable those with black money and annulled notes to convert it into jewellery.
With the government raiding many jewelers subsequently who helped people buy jewellery and also reports of gold being sold at a premium against black money has since stemmed the tide towards buying of jewellery.
Since 9 November, the rush for gold has petered down to a trickle. The demand is down to almost 80 percent now, said the jewellers.
The reason for the fall can be pinned down to the prevailing circumstances in the country with availability of limited cash from banks and ATMs, said Sreedhar GV, chairman, All India Gems and Jewellery Trade Federation. "We are witnessing a drop of around 75-80 percent. If there is not much circulation of money in the country due to demonetisation, business cannot be buoyant," he said.
Cash crunch
On 8 November, when the PM announced the demonetisation in his televised address, he had said, "From 10th November till 24th November the limit for such exchange will be 4,000 rupees. From 25th November till 30th December, the limit will be increased." The limit was then reduced to Rs 2,000 and then completely discontinued from Friday (25 November).
The cash crunch with flip-flops of the government announcement has severely affected people's daily lives. In such a situation, the priority of most would not be to shop for gold ornaments. For jewellers, this is particularly painful as November is the start of the high-demand wedding season in several parts of the country.
The big-ticket jewellery shopping has been slashed and even gifts for close relatives have been pruned substantially. "Earlier, customers would buy jewellery amounting to Rs 15-20 lakhs. But now that has come down drastically to a couple of lakhs for the bride. There is no scope to buy gifts for relatives in these circumstances. That has become a luxury," said Sreedhar.
The major change in the buying pattern is that cash is being replaced largely by cheques or online payment methods. The cash component earlier would be 80:20 with the latter being cheque or online payment modes, which has now become almost equal at 50:50, said a jeweller from Mumbai.
Anand, proprietor, Punjabi Saraf Jewellers, has witnessed a slow rise in footfalls after November 15. He said that being the wedding season people are forced to buy jewellery as it is a tradition in the Indian weddings.
"After Diwali, which, incidentally, was a very good season for us this year, the wedding season is the next big highlight for us. But post demonetisation, we are seeing very few gold sales," said Anand.
The pattern of gold shopping for this season too has undergone a change. Earlier, weddings meant buying of new jewellery through cash and online payments. But now, old gold is being sold and new ones are being purchased in exchange. Though bridal jewellery is being bought in smaller quantities, the quantum has been reduced for everyone else in the bride's family, and in some instances done away with unless avoidable. "Earlier, buying chain and pendant sets of Rs 50,000 for close relatives was a norm, but now that is not to be seen so far this season," said Anand.
Jewellers admit there is indeed black money in the sector, but while flushing it out lock, stock and barrel, there are certain concerns. "We have housewives coming to us with their savings over the years for a special occasion and are now in a fix with the annulled notes in their possession. They are dazed and worried about what to do with that money. But there is nothing we can do to help them," said a jeweller from Chhatisgarh.
With no surplus cash in hand to buy jewellery, the wedding season in the country has lost its sparkle. "When people are finding it to run their daily requirements on limited cash, they are not in a mood to even think about jewellery shopping. Gold is not an essential commodity after all," reasons Asok Minawala, partner in the 80-year-old store Mumbai-based Danabhai Jewellers and Sons. He has seen only small ticket buyers in the range of Rs 8-10 this wedding season.
In the south, the wedding season is on only until December and then mahurats or auspicious days begin post-January 15 till mid-March. But demonetisation has brought down business to almost 90 percent in the South. "We thought there would be hardly any business post-demonetisation," said Ananthapadmanabhan, MD, NAC Jewellers, a 43-year-old jewellery chain with nine stores in Chennai, but is thankful that the wedding season has brought in a business of 20-25 percent.
"Usually, the big ticket buyers purchase their jewellery months in advance. It is the middle and lower middle classes who make their purchases closer to the wedding dates," he said, adding that the latter's purchases have been negligible so far. The footfalls to the store has begun to pick up to almost 20-25 percent because of small ticket purchases. After mid-December, non resident Indians arrive in the country to attend weddings or to buy jewellery, said Ananthapadmanabhan. He was worried wondering how their shopping behaviour would turn out to be under the prevailing circumstances post-demonetisation in the country.
In the East in Calcutta too, limited shopping and footfalls have watered down the otherwise bright time of wedding season buys. P C Jewellers said the demand for wedding jewellery has fallen up to 60 percent due to the demonetisation. The company expects the pent-up demand to drive revenue growth in the coming months.
Fall in prices
At the beginning of October, gold prices had tumbled to Rs 30,020 per 10 grams, after a month of steady run at around Rs 31,000. The price on Dhanteras, an auspicious day for buying gold, was at Rs 30,590 per 10 grams in the national capital, about 16.6 percent higher than price on the corresponding day in 2015.
With prices currently further down at Rs 29,000, jewellers say the current sentiment should change once people are able to access their money in banks.
What the market is witnessing is a course correction, say jewellers and are confident that though the marriage season sales have been impacted by demonetisation, the business will peak in the next quarter.
India's gold exports were up 10 percent and diamond exports 15 percent in the last two months, said Praveenshankar Pandya, chairman, Gems & Jewellery Export Promotion Council. The total diamond exports were around Rs 1,900 crore and is expected to clock Rs 2,000-2,100 crore next year, he said. With regard to gold jewellery exports, it was lower at Rs 3,800 crore this year against over Rs 4,000 crore last year, he said.
Pandya said the good impact of demonetisation on the trade would be for the traditional clusters like Zaveri Bazaar in Mumbai, for instance, and other such gold bazaars in the country to move into jewellery parks so that around 15 million NRIs too can shop more easily. "It will also generate more employment upward of 5 billion if more parks are set up across the country," said Pandya.
The trade is hopeful that with the course correction in the industry, the 'temporary slump in demand' will see growth and better sales next quarter.
also read
Explainers
The Rs 2000 note will remain legal tender but citizens have been asked to deposit or exchange these notes by 30 September. Analysts say this time the move is expected to be less disruptive as a lower value of notes is being withdrawn over a longer period of time
Explainers
The RBI has decided to withdraw Rs 2000 denomination of banknotes from circulation under the clean note policy. People have been advised to deposit the currency, which was introduced six years ago, into their bank accounts or swap them for notes of other denominations at any bank
Explainers
Confusion prevails over the RBI's decision to withdraw Rs 2000 notes. While the 30 September deadline has been set, the currency will continue to be valid even after. Then why do we have to exchange the notes? Is it a crackdown on black money and fake currency?