Demonetisation: IT sleuths begin crackdown on 'Pakistan money laundering model'
This brewing scandal to dodge demonetisation policy is just the tip of 'rent an account' iceberg.
New Delhi: For the next one month, Income Tax and economic intelligence sleuths will be out in force across the country looking for real beneficiaries of around 771 accounts that they fear was hired from small depositors on monthly rent to wire unusually large sums following the government decision on 8 November, to withdraw high value currency notes to tackle black money.
Top sources said the inputs on Cash Transaction Reports (CTRs) and Suspicious Transaction Reports (STRs) have detected sudden activities in 298 bank accounts from Uttar Pradesh, 137 from West Bengal and 121 from Bihar, besides some alleged 'rented accounts' in at least 11 more states. And, this brewing scandal to dodge demonetisation policy is just the tip of 'rent an account' iceberg.
It is a far reaching, organised scam, observed senior officials privy to the ongoing investigation. They suspect a deep rooted conspiracy is being hatched by a well-oiled network to pile huge unaccounted wealth in zero balance account to turn the illicit stash into legit. The transactions, officials said, are in fact shocking and as per the details provided by the reporting entities-banks- it definitely warrants additional scrutiny.
Since the announcement of demonetisation policy on 8 November, the government has directed all the public and private banks to detect and report all potentially illegal and suspicious transactions that may flow through zero balance and Jan-Dhan accounts, which officials believe is the most favoured tool for black money hoarders to deposit large amounts of cash.
A government source confirmed to Firstpost that the government recently launched manual transaction monitoring system, targeting specific types of transactions, conducted across the 371 District Central Cooperative Banks (DCCBs) and a letter was shot off on 15 November after reports that some cooperative banks accepted large amounts of cash, the day Prime Minister Narendra Modi announced the game-changer move at 8 pm.
"We have asked for the two reports. One is specifically about deposits on 8 November till midnight and second report is on cash deposited during 10-14 November. All the cooperative banks have been told to file a daily report on cash deposits from 15 November. The direction is very clear not to harass farmers and genuine customers in the rural areas. The investigation will take up the cases only linked to hiring and misuse of someone's account by black money hoarders," he said further adding that similar instructions have been issued to regional rural banks and state-cooperative banks. However, the government direction is very clear. The whole exercise should not bring discomfiture to the farmers preparing for Rabi crop season.
Rent an account — Pakistan model of money laundering
For seasoned spies in external spy agency — Research & Analysis Wing (R&AW) — and the domestic spy agency — Intelligence Bureau (IB), the hiring a bank account post Modi's demonetisation, is a grim reminder of 'Pakistan model of money laundering' they had recently unearthed and had dismantled with the arrest of several key players.
A secret communication reviewed by Firstpost shows that a Pakistani named Akram was involved in creating and running an India based elaborate network that was involved in hiring bank accounts from poor account holders to carry out money laundering activities. Sources said the black money hoarders are perhaps using the similar pattern to dodge tax sleuths and now layering the money through bank accounts that hardly witness major financial transactions and thus not yet on the radar of central agencies.
The secret intelligence note gives out details of at least 3 cases that were unearthed by the agencies including one in July 2014 when Ranjit Kumar, a native of Rikhiya Village in Deoghar, Jharkhand was arrested for renting bank accounts from poor families in lieu of attractive returns. Similarly, in June 2014, three persons-Brajesh, Dharmedra Kumar Prajapati and Rajiv Patel were picked up from Bhopal and at least 37 bank account details with ATM cards were seized from them.
The biggest breakthrough to decode the Pakistan Model of hiring bank account was busted in Roorkee in February 2013, when Jai Prakash, a native of Shamli in Muzaffarnagar was caught with 132 bank account passbooks and debit cards of various banks. Maximum state owned banks were targeted by the network which used to hire bank accounts and their debit cards on rent from different individuals and subsequently provided the details to their Pakistani associates for laundering.
But, since the high value currency has been turned into mere piece of papers by the government now, the money being deposited by the black money hoarders in rented account, cannot escape the close scrutiny of bank and tax officials.
"We have already interrogated certain individuals, who allegedly allowed the use of their bank accounts by suspected black money hoarders. The notices under relevant sections have been issued for further probe," senior government officials said.
The Income Tax notification on 'hiring bank account' to convert black money into white makes it amply clear that both-the account holder and tenant - will be punished as per the new law introduced in the Prohibition of Benami Property Transaction Act, 1988. "The Benamidar, beneficial owner and any other person who abets or induces the benami transactions shall be punishable with rigorous imprisonment from 1 year to 7 years and shall be liable to fine."
India
The prime minister has closely monitored the Kedarpuri reconstruction projects worth Rs 250 crore in Uttarakhand.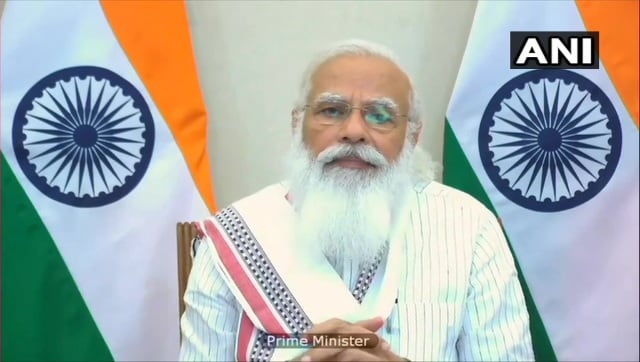 India
Modi cited the government's success in privatising loss-making public airline Air India to assert that this shows its commitment and seriousness.
India
Modi tweeted, "I pray for the good health and speedy recovery of Dr. Manmohan Singh Ji."