Demonetisation: If this is a moral crusade, why wasn't Janardhana Reddy shown his place?
It is not for nothing that Narendra Modi is known as an astute political strategist; one who can simultaneously wage a war against black money and look the other way when his minions make peace with a black money baron.
Mining mafioso Janardhana Reddy is a typical example of hoarder of black money: he has, in his inimitable way, cocked a snook at the prime minister and has made it look as if Narendra Modi is not a great moral warrior against black money, but an astute political strategist who takes a pragmatic view of money, black or white.
When the Prime Minister delivered the nation-wide address to announce the demonetisation of Rs 500 and Rs 1,000 notes (8 November), he said that this was a move to bring the corrupt to book. He projected himself as an uncompromising crusader against corruption.
Barely a week later, when millions of Indian citizens were forming queues in front of the banks and ATMs to draw a few thousand rupees (as per the limits set by the government to ease the currency crunch situation), here is a politician, a former BJP minister and the biggest player amongst the mining mafia in Karnataka, making the most vulgar display of wealth to celebrate his daughter's marriage at Bengaluru.
A report in The Indian Express (17 November) said: "The wedding venue was designed to look like a scene from the Vijayanagar empire, designed by a film art director on 35 acres of land at the Bangalore Palace grounds."
The Hindu reported (November 17): "A dazzling array of diamonds, massive ornate replicas of elephants befitting grand Dasara celebrations and rows of luxury cars decorated with the priciest orchids waiting outside the main hall [sic]."
The invitation cards for the marriage were delivered in decorated boxes with an LCD screen inside it — the screen announcing the marriage, followed by a song and dance sequence by the Reddy family. Eight priests from the Tirumala temple in Tirupati were brought in to perform the wedding rituals (it must be noted that Reddy had donated a diamond-studded crown worth over Rs 40 crore to Lord Venkateshwara in Tirupati in 2009).
Reddy had a guest list of over 50,000 people: seven helipads were created to facilitate the arrival of VIP guests in special jets, 3,000 bouncers were deployed to keep the hoi polloi under discipline.
"After the glittering ceremony, lunch for non-VIP guests was served in a separate hall… with a 50-item menu, while the VIPs had a more lavish spread of 100 items," The Hindu reported, adding, "It was an expensive wedding in Bengaluru and it stood out in the present cash-strapped times."
What needs to be stressed is that it was a vulgar display of black money. After all, where did Reddy get the money from? He is an accused in the mining scam, he was in jail for three-and-a-half years after the CBI chargesheet (he got bail in January 2015 after the Narendra Modi government came to power and the CBI withdrew its objection to Reddy's bail application); his bank accounts remain still frozen. Obviously, he delved deep into the black money reserve to hold the function on such a grand scale.
But what is alarming is that he had no qualms about making such an ostentatious display of wealth (media reports suggest that the total estimate of the wedding expenses might have touched a staggering figure of Rs 500 crore), even though he is supposed to be a chargesheeted man, accused of illegal mining operations; during a CBI raid in his house in September 2011, the investigative agency had found Rs 3 crore cash and 30 kgs of gold.
That was clearly black money; this is the kind of black money that the prime minister wants to make a thing of the past. If it is a moral crusade with the prime minister, he would have ensured that Janardhana Reddys are shown their place. The party and the administration that he commands should have refused to touch him with a barge pole.
But what did we witness on 16 November? Vajubhai Vala, the governor, and BS Yeddyurappa, a former BJP chief minister of the state (who is again set to become the chief minister if the BJP comes to power in Karnataka in 2018 assembly elections) were there to rub shoulders with the mining mafia don at the wedding.
The governor is supposed to be an independent functionary, but as we know today, most governors are political appointees and they carry out the diktat of the party in power at the Centre. And Vala, the incumbent governor, has been a Modi disciple for long years; Narendra Modi had made Vala the Speaker of the Gujarat Legislative Assembly when he was the chief minister of the state.
Vala and Yeddyurappa would not have ventured to attend the vulgar show, if they would have felt that the prime minister would not take to it kindly especially when he has positioned himself as the commander-in-chief of the war against black money.
But, having been close political associates of Narendra Modi for decades, Vala and Yeddyurappa know our prime minister very well. They understand that if they are questioned about their presence in the glittering function in which black money is written all over in golden typeface, they would be able to convince the party leadership that Janardhana Reddy's black money had played a stellar role in the BJP (Yeddyurappa) assuming power for the first time in Karnataka in 2008; and if they had taken the moral high ground and stayed away from the marriage function, then Reddy's hundreds of crores would not reach them again in 2018 elections. And this explanation would settle the matter once and for all.
Yeddyurappas and Janardhana Reddys are there to stay in a cosy relationship to make Narendra Modi's dream of conquering Karnataka again in 2018 come true.
It is not for nothing that Narendra Modi is known as an astute political strategist; one who can simultaneously wage a war against black money and look the other way when his minions make peace with a black money baron.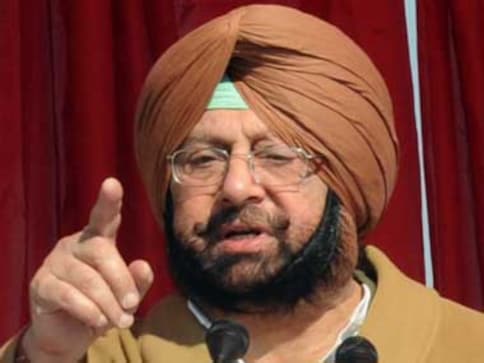 Politics
Amarinder, who was one of the Congress' powerful regional satraps, also said he had never experienced "this sort of interference ever as a chief minister"
India
Indian and Pakistani troops in February reasserted their commitment to uphold the ceasefire agreement and hold fire along the LoC, which was welcomed by both the separatist and mainstream leaders
India
Chaudhary was the first politician to have met the family of a slain farmer in a village in Lakhimpur on 4 October