Delhi's air quality dips to 'severe' category as volume of pollutants spike due to falling wind speed, moisture
Air quality in the National Capital Region (NCR) worsened to 'severe' on Saturday with a drop in wind speed and lowering of effluents' mixing height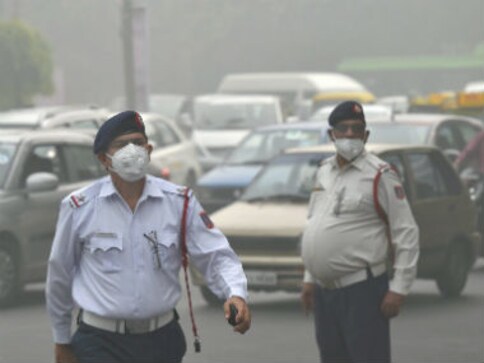 New Delhi: Air quality in the National Capital Region (NCR) worsened to "severe" on Saturday with a drop in wind speed and lowering of effluents' mixing height, officials said.
According to the Central Pollution Control Board (CPCB), the air quality across 16 active monitoring stations of Delhi was severe, with major pollutant PM2.5 or particle with diameter less than 2.5 micrometres recorded at 274 units at about 8.00 pm — about 11 times the international safe limit.
The Air Quality Index (AQI) of Delhi on Saturday was 395 points, on a scale of 0 to 500, considered "very poor" and on the verge of turning into "severe". On Friday, the AQI was 364 points in Delhi.
"The mixing height is 130 meter and the wind speed was 2.2 mps," a CPCB official said.
The mixing height is where the effluents get mixed with the air, and the air pollution increases with lower mixing height.
On Saturday, eight regions saw "severe-plus or emergency" level air quality, with PM2.5 ranging between 320 to 410 units — 12 to 14 times the international safe standards.
Anand Vihar in east Delhi with 410 units of PM2.5 and Vasundhara in Ghaziabad with 379 PM2.5 were the most polluted areas.
Six other areas, including Lodhi Road, Dwarka, R.K. Puram and Siri Fort, saw a "severe" air quality, with PM2.5 ranging between 263 to 292 units.
The national safe limit for PM2.5 is 60 microgrammes per cubic metre, while the international is 25 units.
also read
India
The skull of the girl was ruptured after it was smashed with a blunt object, the preliminary post-mortem findings suggested
India
A 16-year-old was brutally stabbed 20 times and bludgeoned with stone to death by 20-year-old Sahil Sarfaraz in Delhi's Shahbad Dairy area
India
After a fight with his 16-year-old girlfriend, a 20-year-old stabbed her at least 20 times and then struck her head with a slab in Delhi. He reportedly told the police that he has no regrets and that the victim wanted to break up with him