Delhi sealing drive: Traders to present roses to officials of civic bodies on Valentine's Day ahead of 15 February mega rally
Traders in the national capital on Valentine's Day would present roses to officials demanding an ordinance by the Centre to end the sealing drive in Delhi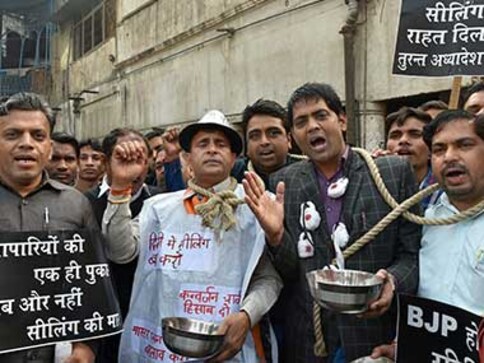 New Delhi: Traders in the national capital on Valentine's Day would present roses to officials demanding an ordinance by the Centre to end the sealing drive in New Delhi.
This would be followed up by a mega rally against the drive at the Ramleela Maidan on 15 February, traders' body Confederation of All India Traders (CAIT) said on Friday. Thousands of traders from across the city would participate in the rally, CAIT, general secretary, Praveen Khandelwal told reporters.
"We will press for our demand for an ordinance by the Centre to end the sealing drive," he said. Khandelwal also said that traders would also give roses to civic agency officials under the 'My Valentine-My Shop' campaign on 14 February .
The civic bodies are conducting the sealing drive against commercial units, under the supervision of a Supreme Court-appointed monitoring committee, since December last year. Scores of commercial units have been sealed and fines have been imposed on traders over violations of Delhi Master Plan 2021 and non-payment of conversion charges.
Khandelwal alleged that the sealing drive was going on in "violation" of the laws. "The so-called guilty are being punished without following the due process of the law," he said.
The confederation will approach the Supreme Court against conducting of the sealing drive by the monitoring committee. A meeting with the Union Home minister Rajnath Singh is also planned, he said
India
The Congress's Jammu and Kashmir unit on Sunday asked the Central government to explain why it has offered talks with separatists now, while rejecting a dialogue for three years when all mainstream political parties demanded it.
India
The Confederation of All India Traders (CAIT), which represents 70 million traders, said it would burn Chinese goods on 19 March to "teach a lesson" to China
Business
e-lala initiative is aimed at promoting interests of 5.77 crore small businesses in the context of rapid expansion of e-commerce in the country