Delhi sealing drive: Shops to reopen after 48-hour trade bandh, AAP demands immediate de-sealing of shops
Shops in Delhi will reopen on Sunday after a two-day shutdown headed by Confederation of All India Traders (CAIT) as a protest against the ongoing sealing drive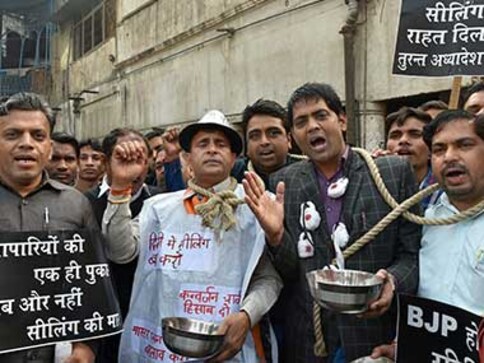 New Delhi: Shops in the city will reopen on Sunday after a two-day shutdown headed by Confederation of All India Traders (CAIT) as a protest against the ongoing sealing drive.
While on Friday, the Delhi Development Authority (DDA) had approved proposed amendments to the city's Master Plan, which are aimed to provide relief to traders hit by the sealing drive, the traders continued the shutdown even after the DDA's decision.
On Saturday, CAIT sent a 12-point traders' charter to Union Housing and Urban Affairs Minister Hardeep Singh Puri, urging him to take necessary steps to mitigate problems of traders due to the sealing drive.
Meanwhile, the ruling Aam Aadmi Party (AAP) demanded immediate "de-sealing" of sealed shops.
AAP chief spokesperson Saurabh Bharadwaj said: "The Bandh continued in spite of pressure from BJP to call off the strike after the DDA meeting. Traders believe that the DDA meeting had no visible impact on the ongoing sealing drive. Aam Aadmi Party again demands immediate de-sealing of shops in the capital."
The sealing drive was being carried out against business establishments using residential areas for commercial purposes without paying conversion charges.
Politics
That AAP has 'out-Congressed' the Congress in letting down its biggest cheerleaders says something about its cynical and obsessively self-centred politics
India
Delhi Development Authority has challenged the Forest Department's decision to impose curbs on several projects in the morphological ridge area, saying the term "morphological ridge" neither has "legal sanctity nor any scientific background to it
Politics
Arvind Kejriwal has announced a political front, People's Welfare Alliance, in Kerala with Twenty20. The small party is the CSR wing of the Ernakulam-based Kitex Group, the second-largest producer of children's apparel in the world