Delhi-NCR air pollution is a wake-up call for reformation in urban governance
In another 45-60 days, Delhi will be covered under a sheet of fog. It is imperative to treat at least the top 6 metro regions as individual and empowered units of development. Their urban local bodies which are the lowest in the administrative hierarchy in most cases have not managed to deliver results thus far.
As the capital of the world's largest democracy gasps for breath under a shroud of smog, the now too familiar drama has been unfolding all over. A few key elements of the narrative are playing themselves out – the State blames the Centre and vice-versa; the citizens and the corporates blame the government; political parties troll each other endlessly to try and score few points; television channels and social media go on an overdrive with India's elite shouting themselves hoarse and NGOs and agencies release reports discussing the problem threadbare and exhorting us to act.
News like these surface all over but nothing changes. No, wait. It does.
In another 45-60 days, Delhi will be covered under a sheet of fog which is not entirely nature's doing and normal life in the capital will again be thrown out of gear. People will be stranded in trains, airports and railway stations and migrants will succumb to the inclement weather on the streets of the country's northern cities.
Also, it's not like we have recovered from the dengue and chikungunya outbreaks plaguing large parts of our country especially our metros after the monsoons receded.
A couple of months back, our metros – NCR, MMR, Bengaluru, Chennai, Kolkata and Hyderabad – had come to a grinding halt as the much-awaited monsoons lashed out on our cities and flooded streets and homes.
We should also not forget that just before the monsoons arrived, most metros faced a severe water crisis like the rest of the nation. We were fighting for every drop of water as the less privileged lined up for single water bucket and the more privileged discussed cutting back on the 'not so essential' uses of the essential commodity.
So, the point is (and is being made repeatedly by many) that we are facing a mammoth crisis in our metros and in other cities which are the engines of our growth. The crisis is worsening at an alarming and unprecedented rate, as 2016 has proven beyond doubt, and it will not be surprising if India's urban infrastructure crises throw cold water on all our fancy ambitions of growth and development. History proves that large cities just disappear or shrink dramatically for various reasons – think of Mohenjodaro, Harappa, Rakhigari, Pataliputra, Takshila – we can go on and on. While times have changed and the reasons may change, the outcome may not change.
The deadly smog enveloping Delhi is a wake-up call. If India has to jump on to its desired growth and development trajectory, a sweeping reform in urban governance and development (not just limited to pollution and infrastructure), especially of the top 6 metro regions, are urgently needed today. The problems and challenges are well documented and so are some of the investment requirements. The solution eludes us.
It is imperative to treat at least the top 6 metro regions as individual and empowered units of development. Their urban local bodies (ULBs) which are the lowest in the administrative hierarchy in most cases have not managed to deliver results thus far. We may not be able to do a complete Singapore model that many favour, but it's tough to implement in India for many reasons. However, these metro regions need a separate treatment; governance structure and continuity. The ULBs need to be reimagined and reconstituted so that they can deliver results and are accountable for the same. They have to be conceptualised as professional and yet as publicly accountable institutions. There has to be a mechanism for resolving the conflict of interests among various administrative and government arms. If the Planning Commission can be done away with and the Niti Aayog can be established; if we can form and implement a framework for the GST council; we can definitely form ULBs and evolve a scalable framework for our metro regions.
Urban development is not just about the government and administration. Of course, the administration and government will have to bear a disproportionate part of the blame, but it is unacceptable that citizens like you and me and the corporate bodies believe that we are absolved of our responsibilities by merely paying taxes. That is profane in a democracy and in an urban system which is also conceived as a complex adaptive system by some urban theorists. Citizens – individual and corporate – are the most important cogs in the wheel of a metro region. No amount of good governance can eradicate our problems or even make a dent if we continue to be apathetic to our cities. The unfortunate truth is that while many of us yearn for the comforts of Singapore, we do not act as responsible and compassionate citizens of our withering cities which is worsening the problem.
There are no easy answers but they will evolve. There are complex issues like financing of the ULBs among others. But a major problem seems to be that in the case of urban governance, we seem to be living from event to event. In markets and life, one can mitigate event risks or live with them if they are far and few in between but not if they become a matter of routine. These one-off events have become routine in our metros today. When that happens, only systemic solutions work. While we all hope that the Delhi pollution subsides, our hunger for reimagining and implementing urban governance should not.
The author is an experienced business leader. She is now an independent business and strategy consultant and mentors startups. 
Find latest and upcoming tech gadgets online on Tech2 Gadgets. Get technology news, gadgets reviews & ratings. Popular gadgets including laptop, tablet and mobile specifications, features, prices, comparison.
India
Singh, who was in New Delhi on Friday, said he will visit Lucknow on 20 September and surrender himself to the Uttar Pradesh Police
long reads
In her latest book, Dialects of Silence: Delhi Under Lockdown, fine art photographer Parul Sharma captures her closest encounters with the sighs, sorrows and consolations of a city in despair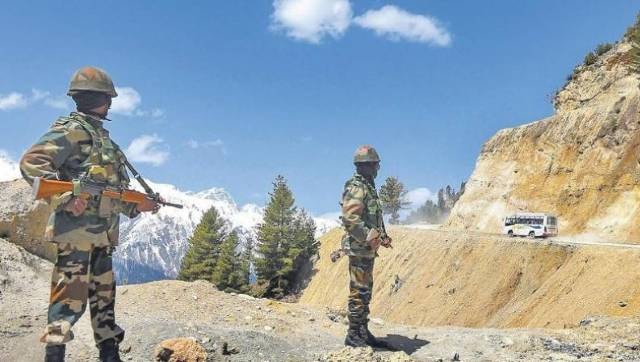 India
As per the statement, both sides also agreed to take practical measures to properly solve problems on the ground, and jointly safeguard peace and tranquillity in the border areas.