Delhi minor's rape: Protests take on political colour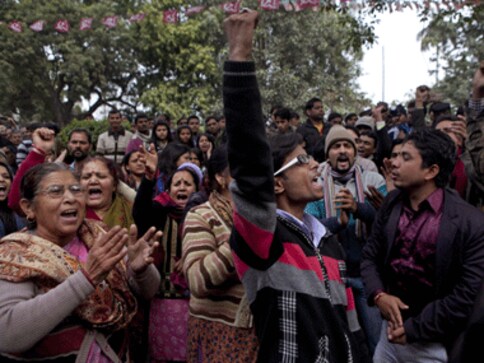 New Delhi: The brutal rape of a five-year-old, which sparked outrage across the country, however, didn't see an overwhelming number of protesters spilling out to the streets. While the scenes were similar, the number of people weren't half as many who took to the streets after the December 16 rape in Delhi last year.
Political outfits mostly dominated the protests with its workers taking forefront. On Sunday evening, India Gate looked like a fortress with heavy police deployment. The security arrangements followed a protest organised by the BJP's Mahila Morcha in front of Sonia Gandhi's residence earlier in the day. The women protesters had broken all barricades and threatened to storm Gandhi's house.
However, at India Gate, 100 odd students from JNU, DU and Jamia, many of them from the ultra-left-wing student group AISA, were held back with a barricade. The protesters demanded 'azadi' and exhorted the government to take action against police inaction.
At least 10 AAP supporters including three girls were detained from outside Delhi police headquarters (PHQ).
More than 150 JNU students had also laid siege on the ITO intersection, one of the busiest crossroads in the national capital, to protest the rape of five-year- old-girl in East Delhi.
Brandishing  red flags and placards, they blocked the crossing, shouting anti- Delhi Police slogans.
Had it not been a weekend, it would have resulted into a nightmare for around the ITO intersection.
They demandinged the release of Sucheta De, former JNU students union president who was detained earlier in the day at India Gate.
Protesters also demanded the sacking of Delhi police commissioner Neeraj Kumar and arrest of the ACP who slapped one of the protesters on Friday.
"JS Verma committee report says that action should be taken against a policeman who refuses to lodge an FIR. In this case, we have seen blatant violation of this recommendation," said Om, a JNU student.
India
Abhijit Mukherjee, through his fabulous words of wisdom, has told us all about what is wrong with our men and why our society is endemic to violence against women.
Life
From the chief minister to minister wannabes, there's this one breed of Bengalis who will never forgive the disco for being the Pandora's Box they think it is. Abhijit Mukherjee, the President's son, is just one of them.
India
The assistant commissioner of police of Khajuri Khas, Delhi, who was suspended after he slapped a protester in front of the AIIMS hospital, has been booked under IPC section 323 (voluntarily causing hurt).