Delhi Metro Green Line extension from Mundka to Bahadurgarh becomes operational, will facilitate travel to industrial units
Delhi Metro's Green line gets an extension, Mundka-Bahadurgarh corridor. The new section is operational from Sunday and will facilitate travel to industrial units.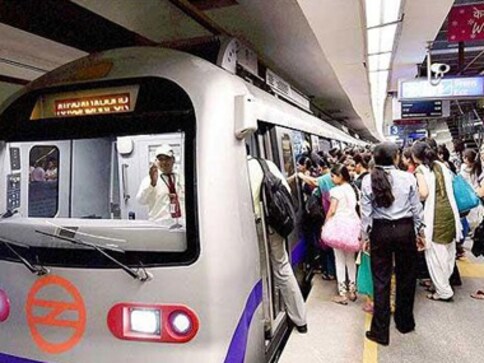 New Delhi: The 11.2-km-long fully elevated Mundka-Bahadurgarh section of the Delhi Metro's Green Line, which was operationalised on Sunday will facilitate travel of people employed in industrial units along the corridor, besides catering to the city youth studying in Haryana's upcoming educational hub.
This is Delhi Metro Rail Corporation's (DMRC) third foray into the neighbouring state of Haryana. Metro services are already operational in Gurgaon (Yellow Line) and Faridabad (Violet Line).
With seven stations, the Mundka-Bahadurgarh stretch is an extension of the existing Green Line (standard-gauge tracks) from Inderlok to Mundka.
Prime Minister Narendra Modi inaugurated the corridor on Sunday via video conference and said his government's priority is to build convenient, comfortable and affordable urban transport systems.
Passenger services on the City Park, Bahadurgarh–Mundka metro corridor will begin from 4 pm on Sunday. City Park is the name of the station that falls in the satellite city of Bahadurgarh, a bustling urban settlement in Haryana's Jhajjar district.
"After the opening of this corridor, the entire Inderlok-Bahadurgarh section has become 29.64-km long," the DMRC said.
The span of the Delhi Metro network has reached 288 km with 208 stations.
Bahadurgarh has a population of about 1.7 lakh and besides having industrial units, it is also an upcoming educational hub, with many universities and colleges.
"Mundka too has industrial units, and therefore the new corridor will facilitate to-and-fro travel for people employed there and students who have to travel from Delhi," a senior DMRC official said.
"According to the time table for the entire Inderlok/Kirti Nagar–City Park section, a total of 20 trains will be put into service," the official said.
"Every alternate train from Mundka will go up to City Park in Bahadurgarh and a frequency of around eight minutes will be maintained between Mundka and City Park. The total running time between Inderlok/Kirti Nagar and City Park (Bahadurgarh) will be about 50 minutes," he said.
In Delhi, the stations are Mundka Industrial Area, Ghevra, Tikri Kalan and Tikri Border, while in Haryana, the stations are Modern Industrial Estate, Bus Stand and City Park.
Haryana already has over 21 km of lines under the DMRC network. With this section, the Delhi Metro section in Haryana has expanded to 25.8 km.
"This entirely elevated section will not only connect the national capital with Bahadurgarh, but also provide connectivity to many outer Delhi areas in the western fringes of the city, such as Mundka, Ghevra and Tikri Kalan," the DMRC said.
The facade of the Mundka Industrial Area station has been decorated with beautiful terracotta designs. All other stations on the line also have vibrant colour scheme with bright yellow pillars on the platforms.
"The elevators have been done in an eco-friendly way with terracotta tiles at all stations. The rooftops of the elevated stations have been redesigned for better aesthetics," the DMRC said.
All the seven stations have been equipped with the latest energy-efficient systems and rated as "platinum" by the Indian Green Building Council for adherence to green building norms, it added.
"With the opening of the Mundka-Bahadurgarh corridor, the span of Phase-3 network expands to nearly 98 km," the official said.
"Also, the total network of the DMRC outside Delhi has reached to 39.33 km with 27 metro stations. Another 49.17 km of new lines with 36 stations (including Noida-Greater Noida corridor) is being built," he added.
Sources said after the Green Line extension corridor another stretch of Pink Line is likely to be opened in July.
The 21.56-km-long Majlis Park-Durgabai Deshmukh South Campus section of the Pink Line was inaugurated on 14 March.
The recently-opened section, which has 12 stations, is part of the 59 km-long Majlis Park-Shiv Vihar corridor (Pink Line - Line 7) of Delhi Metro's Phase-3 project.
Test runs were held in April on the 8.1-km-long stretch between Lajpat Nagar and Sir Vishweshwaraiah Moti Bagh section of the Pink Line.
A small segment of the Pink Line in the Trilokpuri area in east Delhi is also awaiting clearance due to some land issues and other related matters associated with the locals.
"As far as Trilokpuri issue is concerned, resolution has been reached on paper, but implementation will take time," a source said.
Politics
After the meeting with the Trinamool Congress chief, Swamy said they discussed the political scenario in West Bengal. The duo even posed for photographs after their meeting
Politics
Sukhendu Sekhar Roy, Santanu Sen, Kalyan Banerjee, Derek O'Brien, Mala Roy and 11 other MPs were part of the delegation that met Shah
India
When medieval incised plaster motifs send out contemporary vibes and a blue dome is called green, there is clearly more to the restored Sabz Burj than what meets the eye