Delhi govt schools deny admission on flimsy grounds, claim parents in petition to Arvind Kejriwal
A child in Delhi's Kapas Hera area was denied admission because he couldn't submit a copy of transfer certificate duly signed by an official from the education department of Bihar as necessitated by the school
The All India Parents Association (AIPA) has accused Delhi government schools of violating the Right to Education Act by denying admission to many students from weak financial backgrounds on frivolous grounds. The association submitted a memorandum to Delhi Chief Minister Arvind Kejriwal on Friday complaining of the issue.
The allegations have come at a time when the Aam Admi Party government is claiming to have ushered in a revolution in the education sector in the national capital by increasing the education budget to a hefty 25 percent of the total allocation.
Ashok Agarwal, a lawyer and president of the All India Parents Association told Firstpost that some of the government schools are denying admission to students on flimsy grounds of non-production of transfer certificate, report card, Aadhaar card, residence proof, age related problem, or for not having a bank account.
"Denying admission to a child is illegal and unjustified and violates the child's rights to education provided under the Right to Education Act, 2009," he said.
He also said that the RTE Act also holds the principle that education should have no fetters, and the act of denying admission violates this very principle.
The right to education is a Fundamental Right in India which can never be compromised by any authority. It provides for free and compulsory education for every child from six years to 14 years of age.
The human resource development ministry of India interprets the term compulsory education as one that "casts an obligation on the appropriate government and local authorities to provide and ensure admission, attendance and completion of elementary education by all children in the 6-14 age group." Denying admission to children from families with weak financial background by Delhi government schools is being seen as a violation of this right by activists.
The AIPA mentioned a number of such incidents where students were being denied admission in various Delhi government schools in the Kapas Hera area of the city.
One such example is Anjali Kumar who has been refused admission to a Delhi government school for not being able to produce the original transfer certificate from her previous school.
Her father Vikas Kumar, who is a tailor by profession, told Firstpost about the plight his daughter faced while seeking admission in a Delhi government school. "I went to the school to seek for my daughter's admission in Class VI. The only document she did not possess was the original copy of the transfer certificate."
Anjali had her schooling till Class V in Bihar. She has all the documents to prove her educational qualification. The only document that she lacked was the original copy of her transfer certificate.
Kumar was told to bring the document from Bihar before admission, which he could not and her admission was denied.
"I am a tailor by profession and earn Rs 10,000 to Rs 12,000 a month. I cannot afford to leave for Bihar whenever required. So, I told the school authorities to provide her with admission provisionally until I get the transfer certificate from Bihar. But they would not listen," he said.
"Now I am not able to provide education to my daughter. I do not know what to do now," he added.
Sonu Kumar, another resident of Kapas Hera area who recently moved to Delhi was given an even difficult condition to get admission in a Delhi government school. He was asked for a copy of the transfer certificate duly signed by an official from the education department of Bihar, where his child studied till Class VII. No wonder, he could not do that and his child met the same fate as Anjali.
"I somehow managed to get a fax copy of the transfer certificate. But they wanted the original one. I told them that it would take time. The school authorities did not listen and his admission was denied," he said.
The petition submitted to the Delhi chief minister also mentioned a case where a student was denied admission because she did not have a residence proof.
"Roshni, daughter of Bhola Ram seeks admission in Class VII. Her father works in a private company and earns a salary about Rs 8,000 per month. Roshni studied in a government school in Bihar. She is now being denied admission on the ground that she is unable to produce a residence proof," the petition said.
Agarwal told Firstpost that if these students do not get admission to schools, they will either lose an academic year or drop out from schools.
He also said that these students sought admission in government schools because they are from financially weak families and could not afford education in private schools.
Anita Rampal, an educationist with the University of Delhi told Firstpost that education is the only medium by which the financially weak in India can get themselves out of the vicious cycle of poverty.
"Hence, the provisions of Right to Education should be applied in letter and spirit," she said.
Firstpost tried to contact various officials of Delhi Education Department including director Soumya Gupta, and Aatishi Marlena, advisor to the Delhi Deputy Chief Minister Manish Sisodiya, but they did not respond.
Find latest and upcoming tech gadgets online on Tech2 Gadgets. Get technology news, gadgets reviews & ratings. Popular gadgets including laptop, tablet and mobile specifications, features, prices, comparison.
India
The National Capital recorded a minimum of 6.9 degrees Celsius on Sunday, the lowest in the month of November in 17 years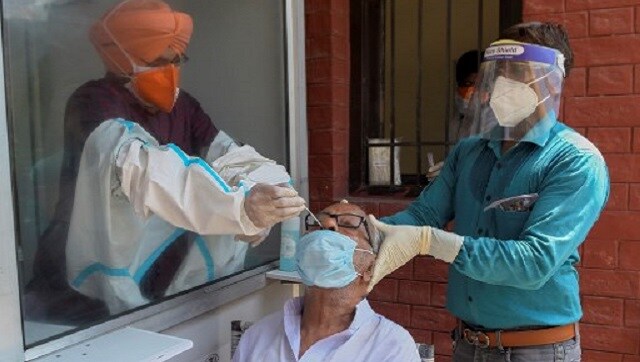 India
With 44,489 more testing positive in a day, India's coronavirus caseload on Thursday increased to 92,66,705 while the toll mounted to 1,35,223 with 524 new fatalities, said the Union health ministry.
India
Farmers Protest LIVE Updates: Meanwhile, traffic congestion was seen at the Delhi-Gurugram border as Delhi Police conducted the checking of vehicles, in view of farmers' 'Delhi Chalo' march protest