Delhi air quality improves due to rains, moves into 'satisfactory' category; AQI stands at 97 as of Friday morning
According to System of Air Quality and Weather Forecasting And Research, the overall Air Quality Index AQI of Delhi docked at 97, which falls in the 'satisfactory' category, at nine in the morning with PM 10 at 56 and PM2.5 at 62
People residing in the national capital heaved a sigh of relief as air pollution levels improved significantly on Friday

According to SAFAR, the overall AQI of Delhi docked at 97

Tomorrow also, the AQI is expected to further improve in the 'satisfactory' category with PM 10 at 164 and PM2.5 at 96
New Delhi: People residing in the national capital heaved a sigh of relief as air pollution levels improved significantly on Friday. According to System of Air Quality and Weather Forecasting And Research (SAFAR), the overall Air Quality Index (AQI) of Delhi docked at 97, which falls in the 'satisfactory' category, at nine in the morning with PM 10 at 56 and PM2.5 at 62.
Tomorrow also, the AQI is expected to further improve in the 'satisfactory' category with PM 10 at 164 and PM2.5 at 96. It is believed that the improvement in the air quality is because of the rains in Delhi-NCR in the evening on Thursday.
"The pollution level has drastically reduced. I am able to do the morning walk. Earlier I used to feel suffocated, " Vicky, a local. "The pollution has decreased...wind speed is also high. I am happy now," said Satya Narayan Kesari, another local.
SAFAR after weeks of reporting about poor air quality today asked people to 'ENJOY YOUR DAY' in its advisory. However, the organisation has predicted that the AQI is likely to deteriorate marginally to the 'poor' category from today until 30 November.
Politics
In his address at his party's 'Chintan Shivir" (brainstorming camp) in Udaipur, Rahul had claimed that regional parties cannot fight the BJP-RSS as they lack ideology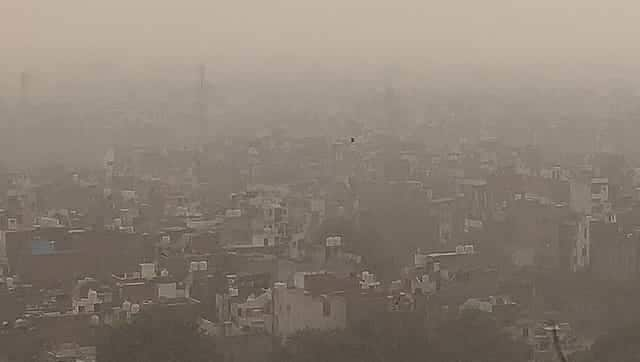 World
Pollution kills about the same number of people a year around the world as cigarette smoking and second-hand smoke combined, the study said
India
Pakistan's foreign minister referred to the 5 August 2019 decision to abrogate Article 370 in Jammu and Kashmir as well as the recent decision by the delimitation commission