Decoding why mafiadom rules from Mamata's Bengal to Akhilesh's UP
Our states are effectively lawless and run by muscle-power and murder. Time for liberals to get out of Delhi and do some real work
An Uttar Pradesh freelance journalist is set on fire and dies in hospital for allegedly angering a minister by posting stories about illegal mining and land-grab on Facebook. His family, after raising a banner of protest, has now accepted a compensation of Rs 30 lakh, two jobs for family members, and promises of a fair probe by the Chief Minister. Their protest has ended.
We now know what the maximum price for murder is in Akhilesh Yadav's Uttar Pradesh.
In April this year, a cop was run over and killed by a dumper allegedly run by the sand mafia in Morena, Madhya Pradesh. Saying the "guilty will not be spared," Chief Minister Shivraj Singh Chouhan ordered a SIT probe, Rs 10 lakh as compensation, Rs 1 lakh for the family, and free education to his two kids.
The lives of Madhya Pradesh cops can apparently be priced lower than freelance journos in Uttar Pradesh, it seems. Or maybe the media did not make enough of a fuss in Madhya Pradesh.
In Didi's Bengal, the Chief Minister's nephew makes no bones about how the state is run: by threats of physical terror. Abhishek Banerjee, who is head of the party's youth wing, offered this colourful warning to opponents. "Those who dare to glare at us, we can gouge their eyes out and throw them on the road. Show us your hands and we can cut them off, but remember, it is the common man who will have the last word."
One wonders what the common has to do with all these threats to life, limb and --yes -- eyes.
Nor was Banerjee's graphic description of what happens to opponents an exception to the rule in Trinamool's political lexicon. Party MP Tapas Pal was last year caught on camera promising rape and mayhem against those who threaten his party's workers. "If any one touches any TMC person I will make sure they are dead. I walk around with 'maal'," he pointed out. "Maal" is not contraband, but a gun.
These three events of actual and verbal violence sum up the state of out states.
India's Scotch-swigging liberal elite, ensconced happily in the metros and addicted to statement-mongering about free speech and liberalism, should take a look at the places where there is actually very little evidence of the rule of law. Out of sight of the English-language media, various state-level political parties run their fiefs in ways that may not be very different from how Dawood Ibrahim may be running his. Rough and ready methods are the norm whenever the powerful are threatened by exposure or defiance by weaker members of the population.
The Left Front ran 33 years of heavy-handed rule in West Bengal, and the only thing that has changed after Mamata Banerjee came to power is that the thugs have changed sides and joined Trinamool Congress.
Uttar Pradesh's criminal-politician nexus is a byword in Indian folklore, and the Samajwadi party epitomises this rule by ganglords and mafia dons who are also ministers.
Nitish Kumar's Janata Dal (U) criticised Lalu Prasad's Bihar as "jungle raj", but the two are now joined at the hip in an unholy alliance to keep Narendra Modi out.
The scene is no different in the other states, whether it is AIADMK-ruled Tamil Nadu, the divided Andhra Pradesh, Punjab, Kerala, Gujarat or any other state.
In Punjab, a 13-year-old girl died when she was pushed out of a moving bus in which she was allegedly being molested by the staff. The public outcry forced the Badals to act, for the bus was owned by them. The family, after initially declining compensation, accepted a payment of Rs 24 lakh from the bus company, and the offer of a job for one of the family members of the girl.
If the UP journo's family and the Punjab girl's kin willy-nilly accepted cash in lieu of murder, it can only mean one thing: they know that if they have to survive in their states, they had better take the money and shut up. Or even that may not be on offer.
This sums up the state of human rights and the absence of the rule of law in most states of India. So Abhishek Banerjee is only telling his people what they already know: the rulers have the upper hand, as they have state power and the requisite street-level muscle-power to make their writ run.
Our civil libertarians are wasting their time trolling the centre and metropolitan areas from Delhi and Mumbai. They should shift their bases to India's lawless states. That's where the real threats to life, liberty and freedom exist.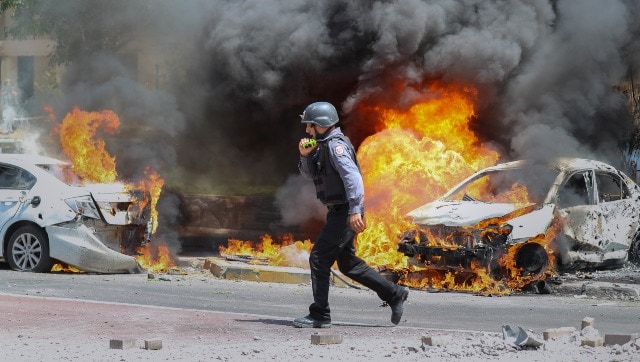 World
The recent nightly clashes began at the start of Ramadan, when Israeli police placed barriers outside the Damascus Gate of Jerusalem's Old City
Lifestyle
From amplifying COVID-relief resources for oxygen, ICU beds, plasma, and medicine on Instagram to donating up to 100 percent of their sales to organisations working on the ground to provide aid to those affected, fashion is positioned to help.
Politics
It won't hurt the 'liberal' order to criticise its own for their egregious mistakes. Trying to cover them up, however, will snatch defeat where victory is eminently in sight