Has India turned into a democracy of cracked pipes, where both the State and civil society are crying about how to soak dry the spillage without even attempting to first seal the cracks on its own body? Here's how: Two of Jyoti Singh's rapists had a history of substance abuse and all were high on alcohol, then shouldn't any protest around women safety also address the need for more de-addiction centres amid the drug crisis that breeds convicts in the capital? When governor of Puducherry and retired Indian Police Service officer Kiran Bedi instituted the Delhi Police Foundation, an NGO working on drug de-addiction in 1988 in nine police stations in north Delhi, she did it with the realisation that most convicts had an addiction history and unless the vicious circle of drugs-crime-jail-bail-crime is broken, the number of criminals will only increase. Last year, Firstpost had reported a series on drug addiction in the capital and one of the pieces in the series had explored the link between crime and drug addiction.
Vinay, a former Tihar jail inmate who runs the Charitar Nirman Sewadar Trust, revealed that 80 percent of the nearly 16,000 convicts in Tihar are addicted to tobacco or ganja, smack or alcohol. He has worked with Jyoti Singh's rapists in jail and had told Firstpost that one of them had dropped out of school and got into drug abuse at the age of seven.
Outside Tihar, on Delhi's wide roads, thousands in the grip of substance and alcohol abuse walk free. The Women and Child Development Department and AIIMS conducted a survey in 2016 that revealed that there are nearly 70,000 addicts on Delhi's streets and their initiation into drugs happens as early as age nine.
These days, Swati Maliwal, chief of Delhi Commission for Women is on an indefinite hunger strike demanding fast-tracking of justice for rape victims in the capital as part of a campaign titled Rape Roko, in the light of the Kathua and Unnao incidents. Her demands from the Central government are a stricter law that inflicts the death penalty on sexual offenders of juveniles within six months. She demands that cases against sexual offenders reach a conclusive end within six months through the setting up of fast-track courts and the filling up of 66,000 vacancies in the Delhi Police. Maliwal also wants a high-level committee comprising the Union home minister, Delhi's chief minister, Delhi's Lt Governor and police commissioner and head of the Delhi Commission for Women to be set up to discuss crimes against women and that these meetings be broadcast publicly. Speedy justice and a more rigorous commitment of the state towards the safety of women is a fair demand but what about preventive measures taken up by the state to reduce social risk. Alcohol and drugs impair cognitive behaviour and blur inhibitions and redefine the rationale of acceptable behaviour deep within the mind of the addict, putting everybody else at risk. An addict doesn't require love or sympathy but the potential threat he or she is capable of causing cannot be ignored.
The one big problem is the lack of de-addiction centres in the capital. Delhi has six de-addiction establishments funded by the government and operated by NGOs. The most recent ones opened last year, one was a centre for women addicts in Parda Bagh, in Old Delhi, and another in Alipur near Jehangirpuri, a slum area home to hundreds of rag pickers. There's also one centre for child addicts in Amberhai, in Dwarka, South West Delhi. Some of these centres have 15 beds, others only twice that number. The relapse rate despite the three-week detox programme prescribed by the Ministry of Social Justice and Family Welfare has been on the higher side. On one side, there is a lack of a state-funded and effective cure for addiction. On the other hand, the Municipal Corporation of Delhi is cracking down on private addiction centres after a Delhi High Court order on 30 October 2017 in response to a writ petition filed by a patient. The court passed directions to the police to inspect these centres and if found running without the authority of law, the centres be immediately shut down. In a more recent order on 23 March 2018, it is stated 'The court is informed that pursuant to its earlier orders, all de-addiction centres which were operating without proper permission or authorization, have been shut down. Since a large number of persons are in need of de-addiction facilities, there is an urgent need for the state to expedite the process of finalising and notifying the rules under the NDPS Act.'
Rakesh Masih, whose 17-bed centre in Wazirabad has been shut down, says the municipalities are reacting to the court order and disregarding the older, accepted method of registration. He told Firstpost that nearly 40 centres in North Delhi's Wazirabad, Nathupura, Burari and Swaroopnagar have been shut down in the last couple of months. He shared a copy of the certificate of registration under 'Societies Registration Act of 1860'.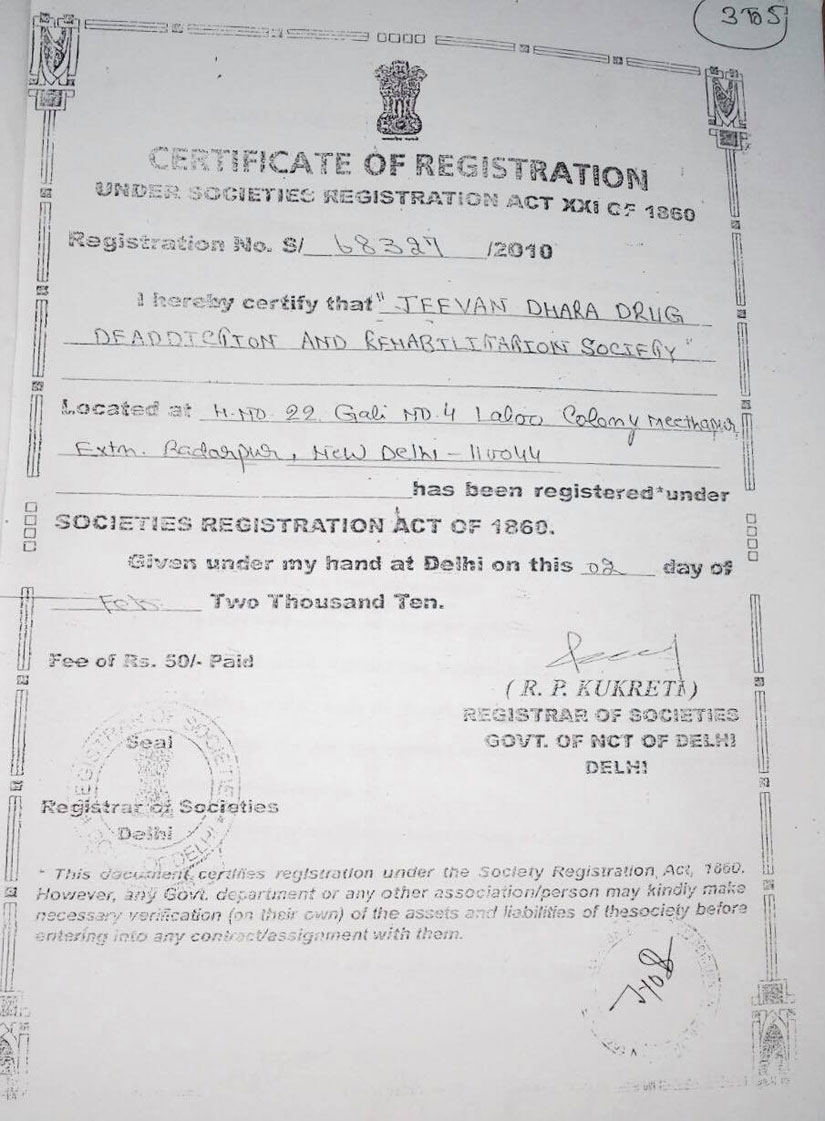 Since 1988, there was a Central government scheme for prevention of alcohol and drug abuse, offering a grant to NGOs across the country. Today, nearly 400 NGOs are being financially supported by the Ministry of Social Justice and Empowerment under this scheme. There are only six NGOs covered under this scheme in the capital. The prerequisite for receiving this grant is that these centres must follow the guidelines prepared by the ministry 25 years ago in order to maintain minimum standards of care. "Even the drug de-addiciton centres that receive government grants have never been asked to show any other registration certificate aside from the one issued under the Societies Registration Act 1860. Since the last 30 years, this has the accepted method of opening and running a de-addiction centre in the capital, then where are these new rules coming from?" asked Bharat Bhushan, who runs the state-funded Muskaan Foundation in South West Delhi.
Regarding the new draft rules that are now being sent out for approval to stakeholders, he said that there are six NGOs that receive a government grant and doctors from state and Central government hospitals and the police and other agencies involved in de-addiction were asked for their opinions on the new draft rules. This he said is a good move and a result of the intersectoral committee formed under the chairmanship of the chief secretary of the Delhi government last year. Here, stakeholders from the departments of Education, Social Welfare and Health and Family Welfare, and the Delhi Police and Narcotic Control Bureau pool in their resources and mental faculties to counter the complicated problem of addiction. But he feels the new draft rules will require intensive refining. He pointed to the segment in the draft rules about admission, which states – 'Admission to the Centre shall be made only with informed consent of the patient, after discussing risks, benefits and alternatives of the rehabilitation services, to be recorded in writing. A copy of the Consent Form shall be provided to the patient. The patient shall have the right to refuse and discontinue treatment at any time.' This, in his opinion, will never work because the addict is in denial and far removed from the realisation of the need for treatment.
Meanwhile, in the small tent near Rajghat where Maliwal was collapsing from hunger on the sixth day of her hunger strike, women from 88 mahila panchayats from the capital were also present. This model was conceptualised by NGO Action India and adopted by DCW. It offers crisis intervention and legal aid at the community level. In 2016, the 181 women's helpline number was integrated with these decentralised bodies. While the women are content with the energy DCW has shown towards women's issues under Maliwal's charge, they said that the problem of drug addiction deserves greater attention.
Seema Malik, from an NGO called Sakaar Outreach said she had been working in Badarpur in South East Delhi and since 10 years in Badarpur's Jaitpur village, the consumption of charas and ganja has been on a steady rise and has negatively impacted the safety of women. "We received a case recently wherein a man consumed drugs and beat up his sister and mother, the police didn't register the ladies' complaint and they came to us," she said. Bindu, who works on women empowerment in Bhati Mines, Sanjay Colony, an urban village on the edge of South Delhi, said that the boys in her area overdose on painkillers that have a numbing effect on them, after which they commit petty theft and eve-tease girls. She feels it is necessary for a campaign like Rape Roko to incorporate drug addiction in its concerns. Rehmani, a Rape Roko volunteer works in Majnu ka Tila, famous for its Tibetan refugee colony in North Colony. Her worry is that alcohol is available for as less as Rs 20 a bottle in her neighbourhood and in a state of intoxication, only after the heinous acts are committed does the realisation kick in. Raj, who works on women empowerment in West Delhi's Raghubir Nagar, said she recently noticed an old man molesting a young boy in a night shelter in the area. Another woman spoke about how she had been compromising her personal safety to fight a case against the drug mafia in Bawana, a satellite colony off North East Delhi. She said that a population of nearly 2.5 lakh is trapped in the mesh of addiction in Bawana and this has led to adversities against women who find it hard to move about freely and speak up against injustice for the fear of losing their lives.
Unless the state and the Centre hold firmly the reins of de-addiction, crimes against women will only gallop ahead.
Your guide to the latest cricket World Cup stories, analysis, reports, opinions, live updates and scores on https://www.firstpost.com/firstcricket/series/icc-cricket-world-cup-2019.html. Follow us on Twitter and Instagram or like our Facebook page for updates throughout the ongoing event in England and Wales.
Updated Date: Apr 19, 2018 17:27:10 IST