Day after Mekunu rampage, coastal Karnataka assesses damage caused by deluge; citizens blame municipal bodies
Indian Meteorological Department in its warning issued for 30 and 31 May predicted heavy to very heavy rains over coastal Karnataka and heavy rains over south interior Karnataka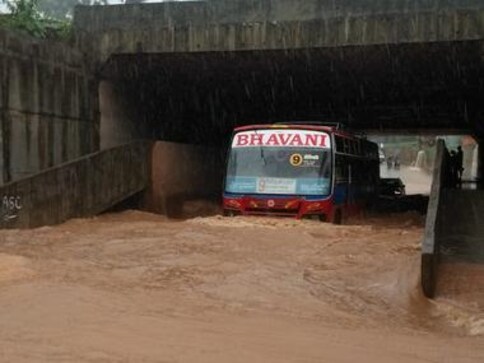 Mangaluru/Udupi/Karwar: A scene of chaos enveloped coastal Karnataka as Cyclone Mekunu hit the region on Tuesday evening. Heavy rains accompanied by storm left many people stranded on flooded roads across parts of the state.
Mangaluru city witnessed 200 millimetres of rainfall in 36 hours with most of the city's low-lying areas inundated with water levels running as high as one metre. An unprepared administration as well as the residents were jolted by flooding and thunderstorms across the city.
The district administration of Dakshina Kannada beamed weather warnings over the last three days, but it failed to declare a holidays for schools. School children started off from their homes on Tuesday, but by mid-morning the heavens opened up and rains continued in several parts until late evening. Thousands of parents rushed to schools despite the city's transport system coming to a standstill, the resulting chaos made it worse for the traffic in the city. The neighbouring Udupi district, however, was quick enough to declare holidays for both Tuesday and Wednesday.
While the Uttara Kannada district administration had warned fishermen not to venture in the sea, two fibre fishing boats from Tamil Nadu, Angel-1 and Angel-2, were carrying out fishing activity off Karwar's Honnavar coast in the Arabian sea. One of them capsized 12 nautical miles away around 5.30 am on Tuesday. A total of six persons were occupying it.
Two crew members, Pushparaj 44, and Arunaraj 25, who jumped into the sea are missing. Others were saved by fishermen on the boat FB Karmada, which was in the vicinity. They have been admitted to a hospital in Honnavar. The Indian Coast Guard has launched a search operation for the missing fishermen, sources said.
IMD warns of rough weather until 3 June
Indian Meteorological Department in its warning issued for 30 and 31 May predicted heavy to very heavy rains over coastal Karnataka and heavy rains over south interior Karnataka, Kerala, Lakshadweep, Andaman and Nicobar Islands, and parts of northeast India. Uttar Pradesh, Himachal Pradesh, Uttarakhand, Delhi, Punjab, Haryana, Bihar and sub-Himalayan West Bengal and Sikkim have been warned of thunderstorms accompanied with gusty winds in next 48 hours. IMD states that rains accompanied by gusty winds are expected to continue in these regions until 3 June. The South West Monsoon has arrived in Kerala three days ahead of schedule, bringing more rains on the Western Coast.
At Kottara, traffic between Mangaluru-Mumbai was affected for about four hours on National Highway-66 on Tuesday. The intersection of NH-48 and NH-66 at Mahaveera Circle was cut-off due to flooding, and traffic to Kerala was also obstructed. Traffic police had made alternative arrangements for the movement of vehicles but even flood escape roads have been badly affected by the rainwater.
Poor state of infra exposes city corporations' callousness
Nayana Rao and her family who live in near the Kodialguthu ward of Mangaluru city had a harrowing time on Tuesday. Their house was flooded with drainage water that flows inside one of the main storm water drains. "This water entered our house and all our furniture, kitchen and other household articles were rendered useless. The family has shifted to a relative's house in a different locality," she said.
UT Khader, Congress MLA from Mangaluru city Assembly constituency, attributed the flash floods in Mangaluru to the failure of Mangaluru city corporation. He said, "In many parts of the city, the storm water drains have been blocked due to faulty construction and encroachment. They have not been desilted during the summer." Khader said the city corporation is administered by Congress, "but this is beyond politics, as one person has died and much damage to property has happened."
Civic activists complained that the Mangaluru City Corporation and the district administration were callous to let natural storm water drains collect silt and be blocked with municipal waste.
In Kottara chowki, where NH-66 enters the city, the civic body has been unable to check the building of unauthorised buildings by unscrupulous builders. Activist Ajoy D'Silva squarely blamed the city corporation for forgetting monsoon preparedness in the melee of the Assembly elections.
Chief minister HD Kumaraswamy in an early morning teleconference with deputy commissioner of Dakshina Kannada and Udupi has assured relief to coastal areas on a war footing. He said in a press release issued on Wednesday that the National Disaster Relief Force (NDRF) team has been rushed to Mangaluru and Udupi with equipment, and will arrive in Mangaluru by afternoon.
Deputy Commissioner of Dakshina Kannada Sasikanth Senthil said on Wednesday morning that the NDRF team had started relief work in affected areas and the administration was assessing the losses caused due to rains.
One Mumbai-Mangaluru Air India flight got diverted to Thiruvananthapuram in the afternoon. "All other flights took off and landed safely at the Mangaluru International Airport," said airport director Vasamsetti Venkateswara Rao.
Several organisations have also engaged their volunteers into relief work. While the regional headquarter of Rashtriya Swayamsevak Sangh (RSS), Sangha Niketan at Mannagudda, has been turned into temporary relief accommodation for affected people, the Popular Front of India is also distributing relief material in affected areas.
With inputs from Deepak Kumar Shenvi
Authors are Karnataka-based freelance writers and members of 101reporters.com, a pan-India network of grassroots reporters