Dawood Ibrahim's brother Iqbal Kaskar arrest brings focus to politician-underworld nexus as NCP neta comes under scanner
The arrest of Iqbal Kaskar on Tuesday seems to have uncovered an alleged underworld-politician nexus in the Thane region of Maharashtra.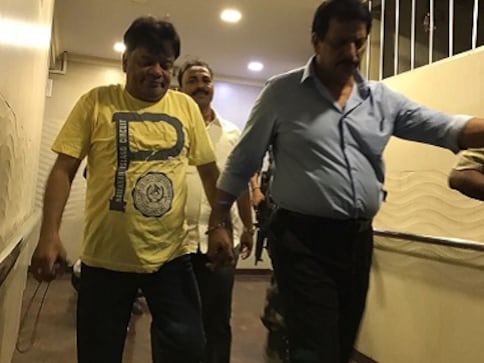 The arrest of Iqbal Kaskar, brother of fugitive don Dawood Ibrahim, on Tuesday seems to have uncovered an alleged underworld-politician nexus in the Thane region of Maharashtra.
Detained by the crime branch of the Thane Police in connection with an investigation into an extortion case, Kaskar is believed to have extorted close to Rs 100 crore from developers and jewellers in the Thane region over the last three years, The Times of India quoted a police source as saying.
Kaskar was taken into custody from his house in Nagpada area in central Mumbai by a team led by encounter specialist and the anti-extortion cell's senior police inspector Pradeep Sharma, police said.
According to the report, the names of several local politicians and corporators have also cropped up in the course of the police investigation. A line of enquiry in this direction will also be pursued, the police said on Tuesday.
Thane police commissioner Parambir Singh said that a few local politicians who were aiding Kaskar in his extortion activities were under the radar.
"Kaskar and his aides threatened prominent builders demanding cash or the surrender of flats in their complex. The gangsters with the help of some politicians were also indulging in landgrab. We have tried to persuade most victims to report these threats," Singh said, as per The Times of India.
NCP corporator believed to be working with Kaskar
A Nationalist Congress Party (NCP) corporator from Thane is believed to be one of the politicians being probed for his involvement in the racket. According to an India Today report, the corporator, who was in the news in 2015 after a leading Thane-based builder Suraj Parmar shot himself dead, passed on information to Kaskar and his men.
A senior police officer privy to the investigation in the Kaskar case confirmed that one of the four corporators' name came up during the questioning of Kaskar and two others who were arrested with him, the report revealed.
Dawood's involvement being probed
The Thane Crime Branch on Tuesday said that they were investigating Dawood's involvement in Kaskar's alleged extortion racket.
"It is being examined by the crime branch if they should be booked under MCOCA (Maharashtra Control of Organised Crime Act). This extortion racket was being operated under the name of Dawood Ibrahim. His involvement will be investigated. If we figure out his involvement, he will be booked," Singh said.
"One of the persons arrested is also a drug addict. It will be one of our angles of investigation whether the drug dealer was there for dealing or supplying," the police official said.
According to a Financial Express report, Singh said: "Whether Dawood had an indirect or direct involvement in this extortion racket run by Kaskar will be probed."
On Tuesday, PTI quoted sources that revealed that some extortion calls were made in Kaskar's name to a Thane-based businessman. The businessman then approached the Anti-Extortion Cell of Thane Police with a complaint. Acting on the complaint, Sharma's team went to Nagpada and took Kaskar into custody. He was being questioned till late night by the police officials.
Kaskar, who was deported from the United Arab Emirates in 2003, is said to be operating his brother's real estate business in the city, the police said. He was wanted in a murder case and the Sara Sahara illegal construction case. However, he was acquitted in both the cases in 2007.
Sharma, who led the team that detained Kaskar, was suspended in Lakhan Bhaiya encounter case and was recently reinstated in the police force.
With inputs from PTI
Environment
Mangroves lie at the edge of coastal zones and serve as the first line of defence against extreme coastal weather events such as cyclones
India
Prateek Prakash Gurav, a resident of Rabale, had allegedly molested the woman on Wednesday when she was waiting to catch a suburban train to Ambernath
India
Noida-based politician Shrikant Tyagi, came in the limelight after the video of him misbehaving with the woman went viral on social media