Darjeeling blast: GJM urges Rajnath Singh to constitute high-level enquiry committee
GJM chief Bimal Gurung on Saturday night also requested the minister to expedite talks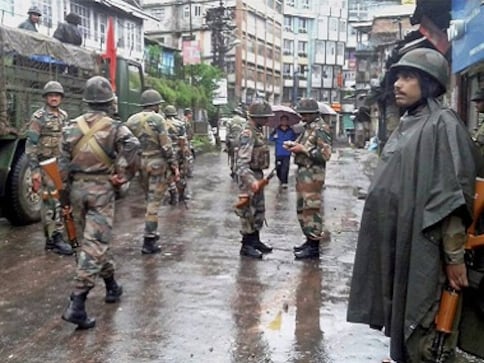 The Gorkha Janmukti Morcha has urged Union Home Minister Rajnath Singh to constitute a high level enquiry committee involving the National Investigative Agency under Supreme Court monitoring into the Darjeeling blast.
"Since the blast is a national security issue, we request you to constitute a high level enquiry committee immediately, comprising National Investigative Agency, with a Supreme Court judge monitoring the entire investigation, so as to ensure fairness of the investigation," said the missive.
Referring to the FIR filed against him following the Darjeeling blast that took place early on Saturday in the heart of the hill town that damaged a few shops, Gurung wondered: "How is it possible that an FIR is filed so early, in such a serious matter, while the investigation has not yet begun?"
The letter pointed out that the blast took place close to the Darjeeling Sadar police station, and claimed that it was "either a case of gross incompetence" on the part of the police, or "a case of fake blast planted by state agents to frame the GJM leadership".
Gurung in the letter also called for talks on the Gorkhaland issue.
"I also request you to expedite the talks on the Gorkhaland issue, so that a permanent resolution to our issues in the form of a Gorkhaland state is arrived at the earliest,a he said.
GJM has been spearheading the Gorkhaland movement, and is the main sponsor of an ongoing indefinite shutdown that began on June 12 in the hills, severely hitting the mainstays of the region's economy -- tea, timber and tourism.
Police have slapped charges under various sections including the stringent Unlawful Activities Prevention Act (UAPA) against Gurung, and two other GJM leaders Prakash Gurung and Praveen Subba in connection the blast.
India
In Murshidabad district at least, the Congress has been handed a ray of hope thanks to veteran 'bahubali' leader Adhir Chowdhury
India
The delegation comprised MPs Sudip Bandyopadhyay, Derek O' Brien, Saugata Roy and Sukhendu Sekhar Roy, and discussions were held on better air connectivity to West Bengal
India
The accused youth have reportedly told the police that they threw a bomb at the school as a joke. The incident took place at Free India High School on South Station Road, Titagarh, North 24 Parganas