Dance is an art: SC slams Maha for imposing preconditions on granting licences to dance bars
The SC said the condition for getting dance bar licence that dance area should be separate from restaurant presumes that performance would be 'obscene'.
New Delhi: The Supreme Court on Wednesday came down on Maharashtra government for putting certain conditions for granting licences to dance bars across the state like providing live CCTV feed of performances to police and segregating the dance area from the restaurant.
"Why the stage should be covered from all sides? Why there should a non-transparent partition between dance area and restaurant area? The dance is an art," a bench comprising justices Dipak Misra and Shiva Kirti Singh said.
The bench was critical of some pre-requisites fixed by the state police for granting licences to dance bar owners and said the condition that there should be segregation of dance area from that of restaurant presumes that performance would be "obscene".
"Why are you imposing the condition? As long as nothing obscene is happening...why," it asked Additional Solicitor General Pinky Anand, appearing for Maharashtra, and told her to clarify the stand on some contentious conditions on 1 March, the next date of hearing.
"We never expect a CCTV in a bar.It is highly embarrassing for anybody to be seen drinking. Some people even object to be being photographed while eating in restaurants. There is a right to privacy everywhere," Justice Singh was quoted as saying according to a report on Deccan Chronicle.
The dance bar association, represented by senior advocate Jayant Bhushan, has red flagged certain conditions.
"This licence is valid for only one stage of 10ft x 12 ft. in size in restaurant area as per approved plan of the excise department for ... with non transparent partition between restaurant and permit room area," one of the conditions reads.
The dance bar owners would be permitted to keep only four "dancers/artists to remain present on permitted stage", another contentious condition said.
The owners will not be allowed to "add or alter" anything in the premises except "without the written permission of the Competent Authority ie DCP(HQ-1) for Mumbai or concerned DCP/SP for other areas," the condition said.
Bhushan said that these are "regressive ones" and needed to be amended.
Bhushan also objected to the condition that makes it compulsory to dance bar owners to "ensure that adequate number of CCTV cameras which will live feed continuously to police control room be installed to cover the entire premises which will record the entire daily performance and the same would be monitored by a specially appointed person on a monitor/ display.
"The daily recording of last 30 days would preserved and will be made available to any competent authority as and when required for viewing."
The apex court had in November 2015 pulled up the Maharashtra government for not complying with its 15 October, 2015 order, asking it to consider granting licences of dance bars to hoteliers and had ordered it to process such pleas within two weeks.
It had also raised questions over the state government laws banning dance bars and said as to "how individual morality, perceptive morality and selective morality can merge into collective and legal morality".
It had allowed Vinod Patil, president of RR Patil Foundation, to intervene in the matter. Patil had in his plea claimed that reopening of dance bars would increase crime.
On 15 October, 2015, the apex court had stayed the operation of 2014 amendment in Maharashtra Police Act that had banned dance performances at bars and some other places, paving the way for reopening of dance bars across the state.
The order had come on a petition filed by Indian Hotel and Restaurant Association challenging the amendment and sought contempt of court action against the Maharashtra government.
The court had noted that the provision was brought back in Maharashtra Police Act in 2014 after being held ultra vires in 2013 by the top court.
(With inputs from PTI)
India
The apex court asked the chief secretaries of Andhra Pradesh and Bihar to explain why disbursals - Rs 50,000 ex gratia for COVID-19 death - have been so few in their states
India
The ministry said that "it's duly advised, advertised and communicated through print and social media platforms that all citizens should get vaccinated. However, no person can be forced to be vaccinated against their wishes".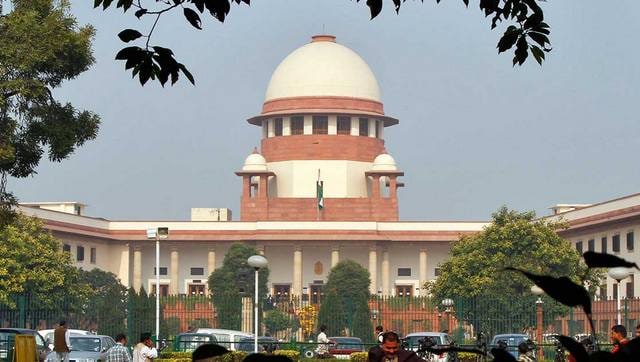 India
The suit said that as the general consent given to the central agency by the Trinamool Congress government has been withdrawn, the FIRs lodged cannot be proceeded with