With a Dalit yet to make it to the top of civil service, can Tina Dabi break the glass ceiling?
While Dalis have held the top posts in legislature, judiciary and political-executive, Indian bureaucracy is yet to have a Dalit person as a top bureaucrat.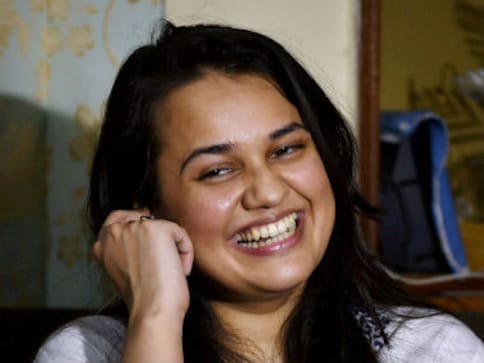 She is just 22 and Tina Dabi has more than 40 years in the civil service ahead of her. Her age and her rank give her an advantage in her career and she may one day even join the league of NR Pillai, CR Krishnaswamy Rao and TSR Subramanian, all of whom had illustrious tenures as cabinet secretaries. While one can hope that Dabi, the first Dalit girl to top the UPSC exams, will one day become India's cabinet secretary, history tells us to temper optimism with caution.
In 1998, the appointment of GMC Balayogi as the Speaker of the Lok Sabha became a matter of celebration. The fact that he was the youngest person to assume that office and a 'first class magistrate' who quit the secured and respected government service to join politics was overshadowed by the talks of his humble Dalit background. Balyogi was the first Dalit Lok Sabha speaker. Just a year before that, India had got its first Dalit president in KR Narayanan and less than a decade later, in 2007, KG Balakrishnan became the first Dalit to be appointed chief justice of India (CJI).
While the top posts in legislature, judiciary and political-executive witnessed the ascendance of people from the Dalit community — the lowest rung on the caste hierarchy — the most open and assumingly merit-based Indian bureaucracy failed to have a Dalit person as a top bureaucrat. Of the 31 cabinet secretaries India has had till now, none of them have been from the Dalit community. That gives rise to the question: is there a glass ceiling?
In a written reply to a question asked in the Lok Sabha, Minister of State for Personnel, Public Grievances and Pensions Jitendra Singh said that there are 431 officials at the secretary, special secretary, additional secretary and joint secretary levels in various central ministries and departments. Only 28 officials belong to the SC category and 12 to the ST category
The reply read, "The representation of SC & ST officers in the higher echelon of bureaucracy has been indicated in the table below. As far as OBC officers are concerned, the reservation for officers belonging to OBC started w.e.f 1994. The officers who qualified under OBC reservation system are yet to gain the requisite seniority for appointment as additional secretary, special secretary and secretary. The appointment of officers depends on their empanelment to hold the post at the relevant level and willingness to come on Central deputation".
The condition was even worse a few years ago. In 2011, in a reply given by V Narayanasamy, it was stated that out of a total of 149 secretary-level officers, there were four ST officers and no SC officers.
Out of the total seats in civil services, 15 percent is reserved for Scheduled Caste and 7.5 percent for Scheduled Tribes. That brings the total to 22.5 percent. Yet, the corresponding figure of those from these categories assuming top offices, is dismally low.
In January 1998, Mata Prasad, one of the senior-most serving secretaries in central administration, was given a one-year extension. A 1962 batch IAS officer of the Uttar Pradesh cadre, Prasad was due to retire on 31 January, 1998 from the post of water resources secretary. He was seen as a strong contender for the cabinet secretary post which was falling vacant on 31 March with the retirement of TSR Subramanian. However, 1963 batch Uttar Pradesh (UP) cadre IAS officer Prabhat Kumar was elevated to the post. It led to a debate as to whether Dalits are discriminated against.
TSR Subramanian, however, rejects the assumption that Prasad was senior most but was denied the top post, "When the post fell vacant on 31 December, 1997 there were around 10 people who were in the service who were senior to Mata Prasad. That list includes KS Nambiar, RR Sundaram, CP Nair, Yogesh Chandra, Pashupati, MR Shivraman, Samar Singh, PR Vasudevan, Kamlakar Mishra and V Prasad".
Explaining the reason why an IAS officer from SC/ST category could never make it to the top post Subramanian says, "There is usually a time lag of two to five years between the candidates from reserved category and general category as the former have age relaxation and this places the people from reserved category in a position where their chances of getting to top office becomes difficult".
The age limit for a general candidate for UPSC is 32 but that is relaxed for upto a maximum of five years if a candidate belongs to the Scheduled Caste or Scheduled Tribe categories.
According to Subramanian, "Usually nobody below the tenth rank goes on to become cabinet secretary and in the last few decades, few candidates from reserved category have been able to get a place in the top 10."
Talking about Dabi, Subramanian says, "However this girl has a fair chance of becoming a cabinet secretary. She is the first ranker and she is just 22 years old and can surely make it to the top service."
Unlike judiciary where the senior most judge assumes the office of chief justice, getting the top place in bureaucracy is guided by many other factors. "One in 10 IAS officers becomes secretary in state. It is difficult to say what is the merit required for that. You have to choose between equals on basis of their career record and rank they got,"says Subramanian.
While arguments made by Subramanian hold ground, data on the miniscule presence of top bureaucrats from Dalit background shows proves that there indeed is a glass ceiling.
Firstpost spoke to Tina Dabi's teacher Shubhra Ranjan as to what makes someone a topper. Read the interview here.
India
Unity in diversity is the fundamental ethos of Indian culture, land and people but the education system seems to be heading in the opposite direction
India
The admit cards for UPSC NDA/ NA II exam are expected to be issued in the month of August on upsconline.nic.in as well
India
Dr Siddalingaiah was 'a warm and compassionate human being, with a delightful sense of humour,' said Ramachandra Guha of the poet.