Dalit stands for annihilation of caste, not substitute for 'Schedule Caste': VCK's D Ravikumar on govt's diktat to media houses
Viduthalai Ciruthaigal Katchi general secretary D Ravikumar has long held the view that the term 'Dalit' is subjective – as in, an ideological position taken consciously by one.
The Ministry of Information and Broadcasting has asked private channels to refrain from using the word Dalit. "…media may refrain from using the nomenclature 'Dalit' while referring to members belonging to Scheduled Castes, in compliance with the directions of the Hon'ble Bombay High Court, and the Constitutional term 'Scheduled Caste' in English and its appropriate translation in other national languages should alone be used for all official transaction," it has said in an advisory.
Even as caste-related atrocities continue to hog headlines, Dalit intellectuals face threats to their life and have been arrested and branded 'Urban Naxals' across the country, this diktat has left many in the media as well as Dalit activists with a feeling that the government is wading into an unnecessary controversy.
On this new directive to not use the word Dalit, former MLA and Viduthalai Ciruthaigal Katchi (VCK) general secretary D Ravikumar says, "When Buta Singh was the chairperson of the National Commission for Scheduled Castes, he told the government to not use the word Dalit, ten years ago. That fizzled out after disapprovals from within and outside the system. SC is a nomenclature issued by the government. Maybe they can use it for their own legal purposes. Even within the legal framework, the scope of the word SC is limited. Let's take the example of the Atrocities Act, for instance. If someone uses a caste name as a slur against an individual, they do not call that person, "Hey SC", they use the sub-caste name."
Ravikumar adds, "It shows a clear lack of understanding of the word Dalit on their part. Dalit is not a substitute word for 'Schedule Caste'. It stands for the annihilation of caste. It is not a caste identity but the identity of casteless persons."
Of late, the VCK general secretary has also been receiving a threat to his life. "Intelligence agencies have told me that my name figures in a diary belonging to Amol Kale," he says. Kale is said to be the mastermind behind the murder of Gauri Lankesh.
He has long held the view that the term 'Dalit' is subjective – as in, an ideological position taken consciously by one.
In 2008, in fact, he wrote a note for the then Reader's Editor of The Hindu, K Narayanan when the newspaper was at the receiving end of a legal notice asking it to stop using the word 'Dalit'.
In the note that he shared with me for this interview, Ravikumar had said, "It is true that the National SC/ST commission has suggested that the word Dalit not be used in official communication and a few state governments have acted on this. The commission's view is that the term is 'unconstitutional'. What we must realise is that the Constitution is not a lexicon. It cannot delimit social and cultural usage… In India, the bureaucracy and administration have to keep pace with the times. The use of the official term Scheduled Castes does not in any way clash with the social/ academic/ literary/ media use of the term Dalit. The two are independent. Some observations in this context: statutes are enacted to maintain law and order not to interfere in the affairs of language. So looking at the statutes to decide the fate of a word is incorrect… Dalit leaders have used many words to call themselves.
"Pandit Iyothee Thass (1845-1914) a leader of Tamil Dalits had used "casteless Dravidians" and "Original Buddhists". He criticised the usage of the word 'depressed class' in his writings. Ambedkar used several words – depressed class, untouchables and minorities, and also on a few occasions the term 'Dalit'. A well-known scholar of the Dalit movement and literature Eleanor Zelliot has stated in her introduction to Vasant Moon's autobiography Growing up Untouchable in India: "The most recent nomenclature for ex-untouchables is 'Dalit'; a term meaning downtrodden or broken down but used with pride as self-chosen name that reflects no idea of pollution and can include all who identify themselves as oppressed by the caste system.' Dalit' came into currency in the 1970s in movements that took names such as Dalit Panthers and Dalit literature and now is the preferred name for those (such as Vasant Moon) who want to free themselves from the concept of pollution and from the patronage of Gandhian ideology". So the etymological meaning of the word 'Dalit' is not important here as much as it's functional meaning. It is a 'subjectivity' chosen by those who want to annihilate caste system; it is not an 'identity'. Choosing subjectivity is a conscious act. But the Hindu caste system wants to reduce the subjectivity into an identity by making the word as a mere replacement for Scheduled Caste or Untouchable… We must oppose any attempt to ban the word 'Dalit'. At a time when the Australian prime minister apologised to the nation for the atrocities perpetrated on the aborigines, and at a time when in Canada the state has apologized for the oppressive policies Native Americans (First Nation people) were subjected to till as late as the 1970s, we in India seem to be involved to be quibbling over non-substantive issues."
The VCK general secretary finds the government advisory bizarre.
"It is very strange that they don't want us to use a word we want to call ourselves," he adds, "The government cannot create a lexicon and tell us what word we can use and can't. Yes they can issue directives to not use hateful speech, but this is not an abusive word. It doesn't spread hatred. That's like saying women can't call themselves feminists, how ridiculous does that sound? Not all women are feminists. Being a woman is an identity, but being a feminist is a subjective ideological position adopted by women."
Ravikumar also thinks that it's impractical to implement an order like this anyway and sees this as an attempt to encourage the sub-caste identity, not just among dominant castes but even among the marginalised castes.
Find latest and upcoming tech gadgets online on Tech2 Gadgets. Get technology news, gadgets reviews & ratings. Popular gadgets including laptop, tablet and mobile specifications, features, prices, comparison.
World
Pompeo has been tagged by a number of officials and analysts with the dubious distinction of the worst secretary of state in American history
India
It is time for the stakeholders to formulate a plan that will keep principles of sustainable tourism upfront. The pandemic has forced consumers to be more cautious and focus on sustainability and local communities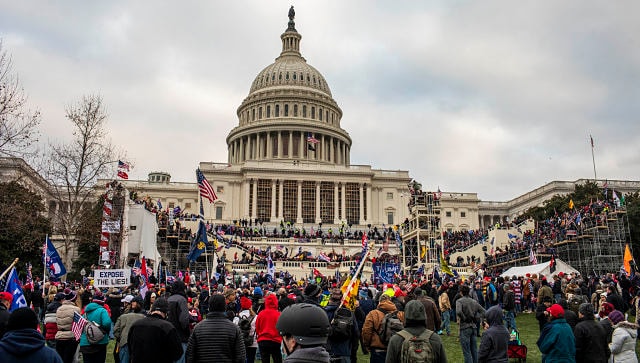 World
A full reckoning will take months or even years, and many lawmakers have called for a formal commission to investigate