Daily bulletin: TDB to seek amicable solution to Sabarimala row, Vikas Bahl hearing; today's top stories​
Travancore Devaswom Board will meet on Friday in Thiruvananthapuram to find an amicable solution to the Sabarimala row, Narendra Modi to hand over keys of houses to PMAY beneficiaries in Maharashtra's Shirdi, Zika cases rise to 106 in Rajasthan - day's top stories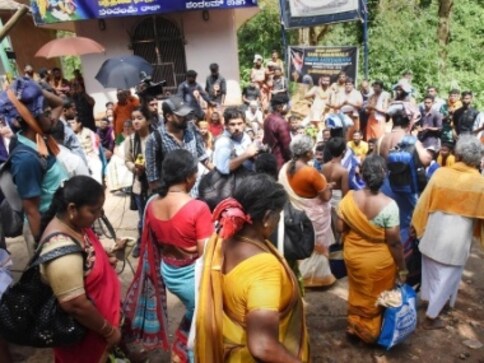 Sabarimala temple row: TDB to meet to find amicable solution
Amid mounting protests in Kerala against the entry of women of menstrual age into Sabarimala temple, the Travancore Devaswom Board will meet on Friday in Thiruvananthapuram to find an amicable solution to the row. Ahead of the meeting, the TDB, which administers the hill shrine, on Thursday said it was ready for any sort of compromise to end the stand-off. TDB president A Padmakumar said the board has always taken a stand that it was ready for any sort of compromise to end the protest and bring normalcy. "We are not for any politics over the issue," he told reporters in Pamba. Seeking to reach out to devotees opposing entry of women of all age groups, he asked if the protests would end if the TDB files a review plea in the Supreme Court against its verdict.
Narendra Modi to hand over keys of houses to PMAY beneficiaries in Maharashtra's Shirdi
Prime Minister Narendra Modi will hand over keys of houses to some beneficiaries of the Pradhan Mantri Awas Yojana (PMAY) and interact with them at the temple town of Shirdi in Maharashtra on Friday, an official said on Tuesday. Modi will be present at the e-griha pravesh ceremony for 40,000 beneficiaries of the affordable housing scheme of the government, he said. The prime minister will also participate in functions to mark the conclusion of the year-long Saibaba Samadhi centenary programme organised by the Sai temple trust. Modi is also expected to perform ground breaking ceremony for some projects of the trust, including the new "darshan" queue shelter to be constructed in the Sai temple, the official said.
Vikas Bahl hearing today
The Bombay High Court during a hearing on Wednesday directed Filmmaker Vikas Bahl, accused of sexual assault by a former employee of Phantom Films, to make the woman employee a respondent to the suit and adjourned the hearing to Friday. Bahl has filed a Rs 10-crore defamation suit against Anurag Kashyap and Vikramaditya Motwane, his former partners in the production house. Bahl, the director of Kangana Ranaut-starrer Queen, has sought interim direction from the court seeking to restrain Kashyap and Motwane from making any statements, either to the media or on social media platforms, against him. Justice SJ Kathawalla directed Bahl, Kashyap, Motwane and the woman to appear in person in his chamber on Friday when the matter would be heard. The unidentified woman employee alleged that Bahl sexually assaulted her in Goa during a promotional tour for the movie Bombay Velvet in 2015.
Uddhav Thackeray targets Narendra Modi over delay in construction of Ram temple
Making a strong pitch for construction of a Ram temple in Ayodhya, Shiv Sena chief Uddhav Thackeray Thursday said he would visit the Uttar Pradesh town on 25 November and "question" Modi on the issue. Addressing the party's annual Dussehra rally in central Mumbai, a few months before the 2019 Lok Sabha polls, Thackeray said a "2014-like wave" is not prevailing in the country. The BJP had attributed its 2014 electoral success to the "Modi wave".
"I will go to Ayodhya on 25 November. I will ask questions to the prime minister (over alleged delay in constructing the temple)...We are not enemies of the prime minister, but we don't want to play with the emotions of the people," Thackeray told a huge gathering of the party workers.
Zika cases rise to 106 in Rajasthan
The number of people infected with Zika virus rose to 106 in Rajasthan on Thursday. Of the total affected people, 25 are pregnant women, said a Union health ministry official. The six new Zika cases confirmed on Thursday were from Jaipur and two neighbouring districts, he added. In view of the rising cases, the Centre on Wednesday rushed an Indian Council of Medical Research (ICMR) team to the state to intensify vector control measures. The team of experts from ICMR has changed the insecticides which are being used in the city and neighbouring districts to kill mosquitoes that spread Zika, dengue, and chikungunya viruses as a part of the integrated mosquito management programme, the official said. Zika virus has been found in some mosquitoes taken as samples from Sindhi Camp and densely-populated Shastri Nagar.
Fuel prices drop in three months
Prices of petrol and diesel fell in Delhi, Mumbai, and Kolkata by 21 paise and 11 paise respectively. This is the first price cut arising from a drop in international oil prices. Petrol was being sold at Rs 88.08 per litre in Mumbai while a litre of diesel cost Rs 79.24. In the National Capital, petrol was being sold at Rs 82.62 paise per litre as against Rs 82.83 a litre previously. A litre of diesel now costs Rs 75.58 as compared to Rs 75.69 previously. Before the 5 October price cut, petrol in Delhi had hit an all-time high of Rs 84 per litre and diesel was at a record Rs 75.45. This came down to Rs 81.50 per litre for petrol and Rs 72.95 in case of diesel.
If you can't support the #MeToo movement fine, but please don't mock it: Honey Irani
Veteran writer Honey Irani, maternal aunt of director Sajid Khan who has been accused of sexual harassment, says it's important not to "mock" the #MeToo movement. "It's sad that now that women are talking, most people don't listen, and ask why did you not speak up then? Well this is exactly why, when you can't deal with it now, imagine how could you 10 or 15 years back. If you can't support this movement fine, but please don't mock it," the Kaho Naa... Pyaar Hai writer tweeted. Sajid has been named by multiple women for sexual misconduct. The actor-director stepped down as Housefull 4 director, saying he was doing so "till the time I can allay the allegations and prove the truth".
Apple iPhone XR pre-orders go live
Apple's cheapest new iPhone, the iPhone XR is now available for pre-order at a price of Rs 76,900 for the 64 GB base model. The XR bears the same internals as the iPhone XS and XS Max and features the same notch with Face ID, Apple's blisteringly quick A12 Bionic chip and one of the two rear 12 MP cameras. On the other hand, you only get an LCD display and an aluminium frame. The display is a 6.1-inch IPS LCD panel with a resolution of just 1792x828. Unlike its more expensive brethren, the XR is available in a lot more colours, which include Red, Yellow White, Coral, Black and Blue. Those who pre-order the phone should expect delivery by 26 October, which is the time at which the phone will go on sale at retail locations around the country.
World
Narendra Modi, who is visiting Germany to attend the G7 Summit, made the remarks while addressing thousands of members of the Indian community at a grand event held at the Audi Dome stadium in Munich
World
S Jaishankar is in Rwanda to attend the 26th Commonwealth Heads of Government Meeting (CHOGM) from 22-25 June. He will represent the prime minister of India at the Commonwealth Summit on 24-25 June
Business
Passengers will have to shell out at least 15 per cent more for air fare after oil companies raised the price of Aviation Turbine Fuel by a record 16 per cent. ATF makes up half of the operational costs of airlines in India