Daily bulletin: Rape-accused Franco Mulakkal's questioning continues; BSP declares candidates for 22 seats in MP; day's top stories
Questioning of rape accused Bishop Franco Mulakkal to continue for the third day today, BSP declares 22 seats in Madhya Pradesh, Amit Shah to visit Chhattisgarh, meet local BJP leaders today - here are the day's top stories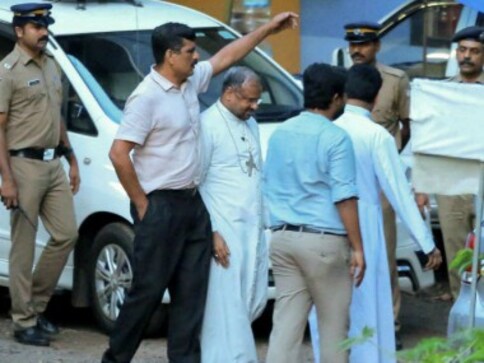 Questioning of rape-accused Franco Mulakkal to continue for third day today
The questioning of rape-accused bishop Franco Mulakkal will continue for the third day on Friday, the police said. The Vatican has, meanwhile, divested Mulakkal of his pastoral responsibilities "temporarily", the Catholic Bishops' Conference of India (CBCI) said. Mulakkal was the bishop of the Jalandhar diocese of Missionaries of Jesus and had shed his administrative role following criticism from activists. Kottayam Superintendent of Police Hari Sankar termed the questioning on Thursday as "positive". He said that Mulakkal has been issued a notice to appear before the SIT at 10.30 am.
Activists of the All India Youth Federation, the students front of the CPI, also held a protest demanding his arrest. They had also staged a protest Wednesday. DGP Loknath Behera had earlier said that investigating officer will decide on whether to arrest him once the examination got over. When asked whether Mulakkal can be arrested before 25 September, the day his anticipatory bail plea will come up for hearing in the high court, the top police officer said, "I think, legally there is no problem. There is no such law (that bars arrest during pendency of bail plea). That we will discuss with the legal team."
BSP decides to go solo in Madhya Pradesh, declares candidates for 22 seats
Dealing a blow to the Congress' plans to sew up an alliance in poll-bound Madhya Padesh, the Bahujan Samaj Party (BSP) on Thursday announced 22 candidates for the state Assembly elections and said it will contest all 230 seats. State Congress president Kamal Nath had said earlier that his party wants to join hands with like-minded parties such as the BSP for taking on the ruling BJP. Nath had also met BSP supremo Mayawati on 15 July. However, the BSP said Thursday that it will contest all 230 Assembly seats on its own in the state where elections are due by year-end.
Amit Shah to visit Chhattisgarh, meet local BJP leaders today
BJP president Amit Shah will be visiting the BJP-ruled Chhattisgarh on Friday, a party spokesperson said. Among other events, he will address a regional meeting of BJP leaders and workers in Raipur. He is also slated to visit Shadani Darbar, a prominent religious place of the Sindhi community on the outskirts of Raipur. Assembly elections are due in the state by year-end. Shah's visit could also be significant as it is taking place a day after the Bahujan Samaj Party (BSP) announced an alliance with former Chhattisgarh chief minister Ajit Jogi's party, Janata Congress Chhattisgarh.
Punjab minister Tript Rajinder Singh Bajwa raps Navjot Singh Sidhu, tells him to say sorry to martyrs' families
Punjab cabinet minister Tript Rajinder Singh Bajwa Thursday suggested his ministerial colleague Navjot Singh Sidhu to "say sorry" to the families of slain soldiers for upsetting them by hugging the Pakistan Army chief. He asserted that the families of soldiers who died in the line of duty were justified in expressing their displeasure over the cricketer-turned-politician's hug. Sidhu was widely criticised for hugging the Pakistan Army chief during his visit to Pakistan to attend the swearing-in ceremony of Pakistan prime minister Imran Khan.
Developing cyclone off Odisha to bring rains in Maharashtra
The developing cyclone off the coast of Odisha is set to bring heavy to moderate showers in Vidarbha and north central Maharashtra, an IMD official said on Thursday. The official added that the state's Konkan region, which includes Mumbai, will receive isolated downpour Saturday onwards. Sunday, incidentally, would see massive crowds in Mumbai as well as other cities in Maharashtra as people flock to water bodies to immerse Ganesh idols. When asked about the possibility of cyclone, AK Srivastava, head of the Climate Monitoring and Analysis Group, IMD, Pune said, "The possibility cannot be rejected. The current developments are conclusive enough that there is going to be a cyclone on the east coast. It will bring heavy rains to Odisha, Telangana and Andhra Pradesh. But it will also cause some heavy spells in Maharashtra."
Four dead, including suspect, after Maryland warehouse shooting
An employee at a Rite Aid warehouse in Maryland, US, opened fire at work, killing three people before taking her own life, authorities said. Several other people were wounded. The suspect was a 26-year-old temporary employee at the Rite Aid distribution centre in northeastern Maryland, Harford County Sheriff Jeffrey Gahler told a news conference. Krystal Watson, 33, said her husband, Eric, works at the facility and told her that the suspect had been arguing with somebody else near a time clock after a "Town Hall meeting". "And she went off," she said.
Watson also said her husband told her the shooting started in a break room. "She didn't have a particular target. She was just shooting," Watson said as she drove away from a fire station where relatives tried to reunite with loved ones. "She didn't aim. She just shot," Watson said.
Petrol prices soar across country
Petrol was being retailed at the national capital at Rs 82.22 litre while diesel was sold at Rs 73.87 per litre on Thursday. The surge in fuel prices has affected people in Mumbai the most, with petrol retailing inching closer to the 90-mark at Rs 89.60 per litre mark — a record high, according to a price notification issued by Indian Oil Corporation (IOC). Petrol prices are the highest in Parbhani district in Maharashtra where it was being retailed at Rs 91.35 while diesel was sold at Rs 78.91 per litre.
Amazon unveils brand new Echo line of products
Amazon held a surprise hardware event last night, unveiling over a dozen new products and updates. The list of new products includes a brand-new Echo Dot, Echo Auto for your car, Echo Input for speakers, a second generation Echo Plus with local voice control, an Echo Sub for pairing with your Echo Plus, a second generation Echo Show, Echo Guard for home protection, an Amazon Basics Microwave Oven, an Echo Wall Clock and a whole lot else besides. Clearly, Amazon is hoping to infiltrate our homes with what is possibly the largest ecosystem of connected devices available today.
Director Aanand L Rai defends decision to delete scenes from Manmarziyaan
Director-producer Aanand L Rai on Thursday defended the decision to cut three smoking-related scenes from the film Manmarziyaan, saying their non-inclusion does not "compromise" with its genre. His response came after director Anurag Kashyap took to Twitter and expressed a strong displeasure over the move, indicating that he was not consulted about the decision.
India
A priest whose rituals failed to provide desired results gets beaten up by a man and his sons in MP's Indore.
India
The incident from Madhya Pradesh's Rewa district shows a cow resting inside an ATM with its excrete all over the place
India
The accident happened when the bus spun out of control. There were more than 50 children in the bus