Daily Bulletin: President's Rule in J&K from tomorrow; ISRO satellite to launch today; rights groups seek Facebook board overhaul; day's top stories
Today's top stories: Governor's Rule ends in Jammu and Kashmir; Satya Pal Malik recommends President's Rule; MNS chief Raj Thackeray gets bail in 2008 case; ISRO's new communication satellite to launch today; and more.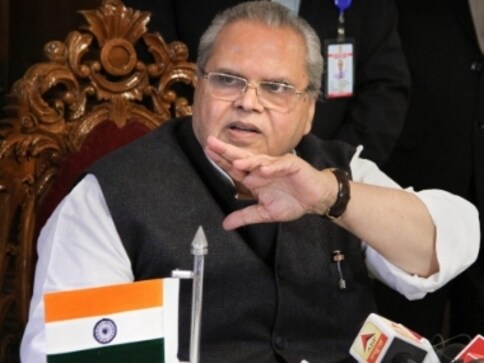 President's Rule to be imposed in Jammu and Kashmir from tomorrow
Jammu and Kashmir is set to come under President's Rule from Thursday with the six-month Governor's Rule expiring in the state on Wednesday, said government sources. The Centre is learnt to have recommended imposing President's Rule in the state on the basis of a report submitted by Governor Satya Pal Malik, officials said on Tuesday.
A home ministry official was quoted as saying by IANS that the Union Cabinet had given its go-ahead to impose President's Rule in Jammu and Kashmir after Wednesday, 19 December. The governor's office had sent a communication to the Centre on Monday, which was then forwarded to the Union Cabinet for its approval. The home ministry official said President Ram Nath Kovind will have to issue a proclamation declaring that the powers of the legislature of the state shall be exercisable by or under the authority of Parliament.
ISRO's new communication satellite to launch today
In the third launch in just over a month, the Indian Space Research Organisation (ISRO) will launch the GSAT-7A — a dedicated communication satellite for the armed forces — from Sriharikota on Wednesday at 4.10 pm. The countdown for the mission began at 2.10 pm on Tuesday. The satellite will take off from the second launch pad of the Satish Dhawan Space Centre in Sriharikota.
Hamid Ansari returns
Indian national Hamid Nehal Ansari, who was detained and imprisoned in Pakistan for six years on espionage charges, is likely to continue making headlines on Wednesday after he crossed into India via the Attari-Wagah border on Tuesday after his release from jail in Peshawar earlier in the day.
The 33-year-old from Mumbai was sentenced to three years' in prison in 2015 on charges of being an "Indian spy". A military court sentenced Ansari for allegedly possessing a fake Pakistani identity card when he entered the country from Kabul.
Ansari's family members, including father Nehal and mother Fauzia, a large number of India-Pakistan friendship activists, officials and political personalities welcomed him at the border.
Record shale output stokes worries about oversupply
US oil prices fell 1 percent on Tuesday after slipping below $50 a barrel in the previous session, with reports of a big climb in US inventories and forecasts of record shale output stoking worries about oversupply. Concerns around future oil demand amid weakening global economic growth and doubts on the impact of planned OPEC-led production cuts were also hurting prices, traders said.
The US Federal Reserve is widely expected to raise interest rates again, at the end of its two-day meeting on Wednesday, affecting the dollar, which in turn may usher in a major move in oil prices, according to analysts.
MNS chief Raj Thackeray gets bail in 2008 case
A court in Nashik district's Igatpuri in Maharashtra on Tuesday granted bail to Maharashtra Navnirman Sena (MNS) chief Raj Thackeray in connection with a 2008 case of an attack on a hotel by his party workers. Thackeray appeared in the Igatpuri court for the hearing at which Judge KI Khan granted him bail.
As part of MNS' strident protest against North Indians in 2008, party workers had attacked a North Indian-owned hotel in Igatpuri. The police had booked six persons, including Thackeray, in connection with this incident.
Although the court had acquitted the other accused in the case earlier, it had issued a summons against Thackeray as he had not appeared before it.
Civil rights groups call for Facebook board overhaul
Dozens of civil rights groups on Wednesday called on Facebook to purge Mark Zuckerberg and Sheryl Sandberg from its board for blunders, including "weaponising anti-Semitism". Advocacy and rights group took direct aim at Zuckerberg and Sandberg for Facebook enlisting Definers Public Affairs to conduct research on company critics.
"You retained the services of Definers Public Affairs to investigate, undermine and attack our allies, mimicking the tactics of the worst, disreputable political operatives and hate groups," read the letter. "It's an absolute disgrace that Facebook sought to deflect criticism and discredit advocates by exploiting anti-Semitic campaigns against philanthropist George Soros."
The letter called on Zuckerberg and Sandberg to step down from the Facebook board as long as they serve as top executives and to expand the board with members reflecting the social network's diverse global community.
The 32 groups signatory to the letter included the Arab American Institute, Bend the Arc Jewish Action, Freedom From Facebook, Media Matters for America; MomsRising, MoveOn NAACP, National LGBTQ Task Force, Southern Poverty Law Center, and The Sikh Coalition.
Film delegation meets Narendra Modi in Mumbai
A delegation representing the Indian film and entertainment industry met Prime Minister Narendra Modi on Monday evening and pitched for lower and uniform rates of Goods and Services Tax for the industry. Actors Akshay Kumar and Ajay Devgn, filmmakers Karan Johar and Rakesh Roshan, censor board chief Prasoon Joshi and president of the Producers' Guild of India Siddharth Roy Kapur were part of the delegation that met the prime minister.
According to a statement from the Press Information Bureau, the delegation gave Modi an overview of the vast growth potential of the media and entertainment industry in India, saying that this sector is poised to contribute to the economy in a significant way.
Modi said the Indian entertainment industry enjoys immense popularity across the world, adding that it is one of the key elements of India's rising soft power status globally.
India
The Union minister also said that the StartUp culture in Jammu and Kashmir is now evolving with women seen building their startups in every sector which is a positive thing in itself and will enthuse others towards StartUps
India
IGP Kashmir Vijay Kumar said that the Jammu and Kashmir police will continue counter terrorism operations in all Kupwara, Pulwama and Kulgam and won't let terrorists deter security forces efforts to bring peace in valley
India
On Thursday, PSLV-C53 placed three Singapore satellites -- DS-EO, NeuSAR and SCOOB-1 -- in intended orbit of 570 km