Daily Bulletin: Narendra Modi in Telangana today; Sunil Arora picked to be new CEC; NASA 'InSight' lands on Mars; top stories of the day
Sunil Arora to succeed OP Rawat as the new CEC, NASA's spacecraft 'InSight' lands successfully on Mars; Cyclone Gaja aftermath leads to farmer suicides in Tamil Nadu; and other top stories of the day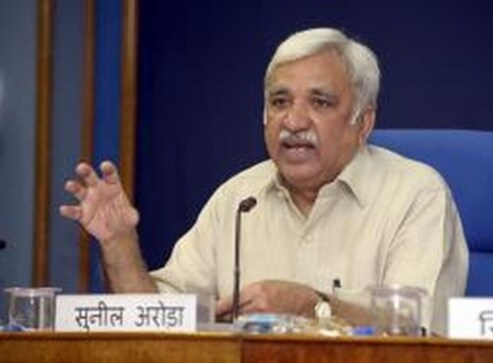 Sunil Arora to succeed OP Rawat as Chief Election Commissioner
President Ram Nath Kovind on Monday appointed Sunil Arora as the new Chief Election Commissioner, who will take over the post from Om Prakash Rawat on 2 December. The announcement comes amid the ongoing Assembly elections in five states as Arora's accession will be immediately followed by elections in Telangana and Rajasthan on 7 December and the counting of votes on 11 December. Arora, who holds the position of an Election Commissioner, was appointed to the Election Commission in August 2017. The former bureaucrat earlier held the posts of information and broadcasting (I&B) secretary and secretary of the Ministry of Skill Development and Entrepreneurship.
Modi to address rallies in Telangana
Prime Minister Narendra Modi will address rallies at Nizamabad and Mahabubnagar in Telangana on Tuesday, ahead of the Assembly elections scheduled for 7 December. Continuing his hectic campaign rally, Modi will reach Telangana on Tuesday and has rallies scheduled through the week. Modi will address rallies at Nizamabad and Mahabubnagar on 27 November, state BJP president K Laxman said. He will address another campaign meeting at the Lal Bahadur stadium in Hyderabad on 3 December, he said. BJP president Amit Shah, who will be part of the campaign on Sunday, will visit Telangana again on 28 November and 2 December. The BJP is going solo in the state Assembly polls while the Congress is leading a 'grand alliance' of opposition parties including the Telugu Desam Party (TDP), the Communist Party of India (CPI) and the Telangana Jana Samiti (TJS).
NASA's 'InSight' lands on Mars
After a 205-day journey through space that covered 300 million miles, NASA's three-legged 'InSight' spacecraft descended safely on Mars in the space organisation's first attempt to land on Mars since 'Curiosity' in 2012. 'InSight' is designed to burrow beneath the surface of Mars and crack open crucial secrets held deep inside the planet's rose-hued atmosphere. The lander touched down near Mars' equator on the western side of a flat, smooth expanse of lava called Elysium Planitia just moments before 3 pm EST.
Cyclone Gaja aftermath gives rise to suicides in Tamil Nadu
The devastation caused by Cyclone Gaja that ravaged parts of Tamil Nadu two weeks back has given rise to a spate of suicides with the farmers seeking urgent compensation measures to lift their falling morale in the face of calamity. Meanwhile, the Tamil Nadu government has sought a relief package of Rs 15,000 crore from the Centre towards rehabilitation measures in the state.
Venkaiah Naidu talks peace, Amarinder Singh warns Pakistan
Punjab Chief Minister Amarinder Singh on Monday used the foundation stone-laying event for Kartarpur Sahib corridor across India-Pak border for Sikh pilgirms to warn Pakistan to stop terror activities against India and said "we have a large army and we are prepared". Vice-President M Venkaiah Naidu, who laid the foundation stone for the much-awaited corridor, access to which is seen as a goodwill gesture by Pakistan, called it "beginning of a new chapter" in bilateral ties and said it will act as a "unifier" to build bridges across old chasms. However, Naidu also lamented that it was unfortunate that some people made terrorism their policy and India would not allow terrorism and killing of innocent on its soil. However, he didn't name Pakistan.  While Punjab chief minister turned down Pakistan's invitation to participate in the inauguration there on Wednesday, his cabinet colleague Navjot Singh Sidhu, who described the Pakistan Prime Minister Imran Khan as an "angel" for accepting the long-pending demand of Sikh pilgrims, will be going.
Supreme Court to hear final responses on petitions challenging ban on cryptocurrency exchanges
The Supreme Court will hear final responses on petitions challenging the ban imposed by the Reserve Bank of India (RBI) on cryptocurrency exchanges on Tuesday. In April 2018, the RBI had asked regulated entities to not get involved with cryptocurrency traders imposing a virtual ban. The RBI decision was challenged by cryptocurrency exchanges initially in the High Court and then escalated to the Supreme Court.
CBI interim director declines to reopen alleged corruption case against I-T officials
CBI Director (in-charge) M Nageswar Rao has "turned down" a proposal conveyed "orally" by the then director Alok Verma to re-open a case of alleged corruption against Income Tax officers and a middleman, saying it was a policy decision which he could not take in light of a Supreme Court order.
In 2016, the CBI had registered a case against nine senior Income Tax officials and three private persons, including Chartered Accountant Sanjay Bhandari, for allegedly indulging in corrupt practices. The case was closed on the instructions of the then director Alok Verma, on 13 March, 2018, Additional Director (in-charge) Praveen Sinha had noted in the case file.
Sensex soars 373 points; Crude oil prices remain moderate
Breaking its three-session losing spree, the Sensex surged over 373 points on emergence of buying mainly in autos, FMCG and banking stocks as a sustained recovery in rupee and moderate crude oil prices buoyed investor sentiments. The Sensex finally settled at 373.06 points or 1.07 percent, higher at 35,354.08 points.
Similarly, the NSE Nifty rose nearly 102 points to regain the 10,600 level. Also, the benchmark indices gained tracking positive global cues and improving the macroeconomic scenario. Analysts said that markets likely reacted to the positive backdrop, as well as indications that the NBFC credit squeeze is abating.
The rupee appears to have stabilised a bit after recording a string of heavy losses in October. This recovery is driven by a sharp drop in global crude oil prices and improving prospects for the domestic economy.
Saif Ali Khan wanted me to lend voice for Kaa in Netflix's 'Mowgli- Legend of the Jungle': Kareena Kapoor Khan
While Priyanka Chopra had lent her voice to the Hindi version of Jon Favreau's 2016 film 'The Jungle Book', Kareena Kapoor will be the voice of the shrewd snake in Netflix's 'Mowgli: Legend of the Jungle'. Kareena told ANI, "When the project was just offered to me, Saif (Ali Khan) said he hoped that I was offered Kaa only. Because it's a very powerful and unique character. So I am very honoured to be playing and lending my voice to this character". She added, "Everybody has grown up watching The Jungle Book. I think it's amazing that now we are getting to see them on a global platform like Netflix," she said.
Education
The recruitment drive is being held to fill up a total of 444 vacancies, of which 399 vacancies are for the position of Sub-Inspectors of Police (Taluk)
Entertainment
KJo wrote in the caption, "An entire lifetime of memories, in a heartbeat! This film gave me so much more than just that - it gave me joy, unbreakable bonds, a different lens for storytelling, and of course - the last film set I could be on with my father."
Entertainment
Saif continued by saying that while it was certain that the movie with two big stars in it is going to open terrifically, he has "no idea what's happening."