Daily Bulletin: Karnataka's Shivakumara Swami's last rites at 4.30 pm; Narendra Modi to inaugurate Pravasi Bharatiya Divas; day's top stories
Today's top stories: Narendra Modi will inaugurate the 15th Pravasi Bharatiya Divas in Varanasi; Lingayat seer Shivakumara Swami's last rites will be performed with full state honours in Tumakuru; and more.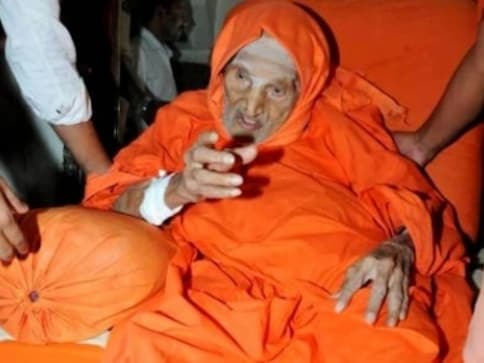 Narendra Modi will inaugurate the 15th Pravasi Bharatiya Divas in Varanasi

Lingayat seer Shivakumara Swami's last rites will be performed with full state honours at 4.30 pm at Tumakuru in Karnataka

Sabarimala review pleas in Supreme Court unlikely to be heard today
Modi in Varanasi for Pravasi Bharatiya Divas
Prime Minister Narendra Modi will inaugurate the 15th Pravasi Bharatiya Divas on Tuesday in Varanasi and hold talks with his Mauritian counterpart Pravind Jugnauth after the inaugural session. External Affairs Minister Sushma Swaraj inaugurated the Youth Pravasi Bharatiya Divas on Monday, along with Uttar Pradesh chief minister Yogi Adityanath, and said the Indian diaspora has dramatically changed the world's perception of Indians and India.
Mauritian premier Jugnauth arrived in Varanasi on Monday afternoon and was received by Minister of State for External Affairs VK Singh. Later, Swaraj called on the Mauritian prime minister and exchanged views on a range of issues, including strengthening bilateral cooperation.
For the first time, the three-day-long convention is being organised from 21 to 23 January instead of 9 January to allow participants to visit the Kumbh mela in Allahabad and attend the Republic Day parade in the temple town.
Lingayat seer Shivakumara Swami's last rites to be held at 4.30 pm

Karnataka's 111-year-old revered seer, Shivakumara Swami of Siddaganga mutt in Tumakuru, the most influential leader of the Lingayat community, died on Monday following protracted illness.
As a mark of respect to the socio-religious icon, the state government has declared a three-day mourning till Wednesday and holiday for schools, colleges and its offices on Tuesday across the state.
The National flag will fly at half-mast during the mourning period at government offices and designated places, said an official statement. The last rites of the seer will be performed with full state honours at 4.30 pm at Tumakuru.
Amit Shah to kickstart BJP's West Bengal campaign
The BJP will kick-start its campaign in Bengal for the national elections with a public meeting by party chief Amit Shah in Malda on Tuesday, three days after Mamata Banerjee's mega rally featuring Opposition leaders from across the country.
Malda, a border district in north Bengal, was a Congress stronghold for decades with its politics being dominated by party veteran ABA Ghani Khan Chowdhury and his family. However, ruling Trinamool Congress have built a strong presence there after regime change in the state in 2011.
The series of rallies were originally scheduled to begin on Sunday, however had to be postponed after Shah was taken ill and was admitted at the AIIMS in Delhi with swine flu.
Sabarimala review pleas unlikely to be heard today
The hearing of pleas seeking a review of the Supreme Court's historic judgment permitting women of ages between 10 and 50 to enter the Sabarimala temple in Kerala is likely to be delayed further. Chief Justice of India Ranjan Gogoi had said last week that the Constitution bench of the apex court may not take up the hearing on 22 January.
The chief justice said the delay is likely as Justice Indu Malhotra, the lone woman in the five-judge constitution bench that had delivered the verdict in the Sabarimala case, is on medical leave.
Review petitions are usually listed before the same bench that has heard, decided and pronounced a judgment on the main matter. "We will see," Gogoi said last week, when the matter was taken up in court by advocate Mathews J Nedumpara, who sought live streaming of the hearing.
Fuel prices rise for 5th straight day
Petrol prices have continued to soar with the fuel up Rs 1.02 per litre on Monday. For the first time in 2019 petrol price has crossed Rs 71 per litre in Delhi. On Sunday, petrol was sold in Delhi at Rs 70.12 per litre.
On Monday, petrol was sold in Mumbai at Rs 76.77, Chennai Rs 73.85 and Kolkata Rs 73.23 a litre, according to data available on Indian Oil Corporation website.
Diesel became costlier by 26 paise per litre and in Delhi rates touched Rs 65.71 per litre while it cost Rs 68.81 in Mumbai, Rs 69.41in Chennai and Rs 67.49 per litre in Kolkata.
Weakening rupee and rising crude rates in the international market have increased petrol and diesel prices by Rs 2.49 and Rs 3.05 respectively in the country since 1 January, 2019.
British PM promises new EU talks in bid to salvage Brexit deal
Prime Minister Theresa May, who was to reveal her alternative Brexit plan on Monday, said she would seek further talks with Brussels to salvage her Brexit deal, but offered no new solutions to break the deadlock, just 10 weeks before Britain is scheduled to leave the European Union.
She responded by opening talks with rival political parties, but in a statement to the Commons on Monday failed to suggest a radically different approach.
May offered guarantees to the Opposition Labour party on workers' rights and promised greater input for lawmakers over future trade talks with the EU. But she said her focus would be on addressing concerns among her own Conservative MPs and Northern Ireland's Democratic Unionist Party (DUP) over the controversial Irish border "backstop" plan in the current deal.
Honor View20 with a punch-hole camera to make its global debut at Paris
After being announced in China in December, the Honor View20 is finally making its global debut on Tuesday. The highlight of the smartphone is its punch-hole front-facing camera as well as its whopping 48 MP rear-facing camera.
The phone features a 6.4-inch LCD and is powered by Huawei's flagship Kirin 980 chipset. The View20 is also expected to launch in India later this month and go be pitted against the OnePlus 6T.
World
On 28 January 1986, the US space shuttle orbiter Challenger disappeared into the air following a massive explosion just 73 seconds after its launch from Cape Canaveral, Florida.
World
Last year, the court upheld a constitutional change that allows the military to continue in law enforcement duties until 2028, ruling against appeals that argued law enforcement should be left to civilian police forces
World
With Pakistan in desperate need of yet another loan from the IMF, the government led by PM Shehbaz Sharif has started to implement a slew of harsh measures that may increase the hardships of the common people