Daily Bulletin: End of Chhattisgarh CM's race in sight; nations agree on milestone rule book for Paris treaty, PV Sindhu sets up title clash with Nozomi Okuhuara; day's top stories
Today's top stories: Rahul Gandhi hints at end of tussle for Chhattisgarh chief minister's post; nations agree on milestone rulebook for Paris climate treaty; Belgium face Netherlands in Hockey World Cup final; and more.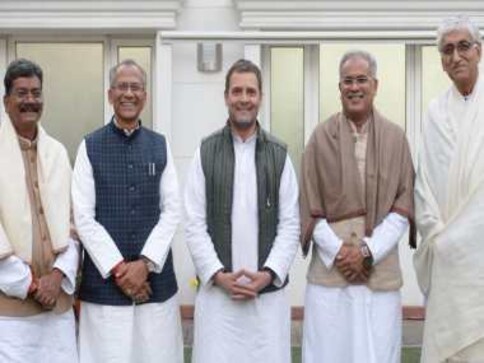 Rahul Gandhi hints at end of tussle for Chhattisgarh CM's post
The mystery around the chief minister candidate for Chhattisgarh is likely to continue making headlines on Sunday, after Congress president Rahul Gandhi on Saturday hinted at the end of tussle for the Chief Minister of Chhattisgarh, tweeting a picture of himself flanked by all the four claimants to the post.
Posting pictures of the four contenders in the race for the post — Bhupesh Baghel, TS Singh Deo, Tamradhwaj Sahu and Charandas Mahant — Rahul quoted American internet entrepreneur Reid Hoffman. "No matter how brilliant your mind or strategy, if you're playing a solo game, you'll always lose out to a team," he wrote.
Rahul's tweet follows his hectic parleys with Chhattisgarh leaders, along with UPA chairperson Sonia Gandhi, Mallikarjun Kharge, party's observer for Chhattisgarh, and PL Punia, who is Congress in-charge in the state.
PV Sindhu sets up title clash in BWF World Tour Finals with Nozomi Okuhara
Indian badminton ace PV Sindhu progressed to the summit clash of the World Tour Finals for the second successive time even as debutante Sameer Verma lost in the men's singles semi-final on Saturday.
The 23-year-old Sindhu, who finished runner-up at the last edition, staved off a strong challenge from the fighting Ratchanok Intanon of Thailand, a 2013 world champion, to emerge a 21-16, 25-23 winner in a tense semi-final that clocked 54 minutes. The Olympic silver medalist will now fight for the title with Japan's Okuhara, to whom she had lost an epic World Championship final last year.
Nations agree on milestone rule book for Paris climate treaty
Nations Sunday struck a deal to breathe life into the landmark 2015 Paris climate treaty after marathon UN talks that failed to match the ambition the world's most vulnerable countries need to avert dangerous global warming.
Delegates from nearly 200 states finalised a common rule book designed to deliver the Paris goals of limiting global temperature rises to well below two degrees Celsius.
"Putting together the Paris agreement work programme is a big responsibility," said COP24 president Michal Kurtyka as he gavelled the deal after talks in Poland that ran deep into overtime.
"It has been a long road. We did our best to leave no one behind." But states already dealing with devastating floods, droughts and extreme weather made worse by climate change said the package agreed in the mining city of Katowice lacked the bold ambition to cut emissions the world needed.
France's 'yellow vest' protests lose momentum on decisive weekend

Groups of defiant "yellow vest" demonstrators faced off with tens of thousands of police around France on Saturday, but the protest movement appeared to have lost momentum on a fifth and decisive weekend. President Emmanuel Macron, facing the biggest crisis of his presidency, announced a series of concessions on Monday to defuse the explosive "yellow vest" crisis, which swelled up from rural and small-town France last month.
The package of tax and minimum wage measures for low-income workers, coupled with bitter winter weather this weekend, appeared to have helped bring calm to the country after more than a month of clashes and disruption.
France was also hit by a fresh deadly terror attack on Tuesday night when a gunman opened fire at a Christmas market in Strasbourg, leading the government to urge people to stay at home to spare the stretched security forces.
"It's a bit of a failure because the state is stopping us from being able to demonstrate properly," Marie, a 35-year-old domestic helper, told AFP in Paris after travelling her home around 50 kilometres south of the capital.
Belgium face Netherlands in Hockey World Cup final
The Netherlands will face Olympic silver medalists Belgium in Sunday's summit clash at the 2018 Hockey World Cup after the Red Lions thumped England 6-0 in their semi-final while the Dutch edged past Australia. The match went into shoot-out after both Netherlands and Australia were locked 2-2 at the end of regulation 60 minutes.World No 1 Australia will look for a consolation bronze medal when they take on England in the third-fourth place play-off match on Sunday.
Brightest comet
Stargazers are in for a treat as the "brightest comet" is set to make one of the 10 closest comet flybys of Earth in 70 years, and one may even be able to see it without a telescope on 16 December.
The comet, known as 46P/Wirtanen, will approach at a distant 11.4 million kilometres or 30 lunar distances from Earth. Comet Wirtanen has already been visible in larger amateur telescopes, and while the brightness of comets is notoriously difficult to predict, there is the possibility that during its close approach comet Wirtanen could be visible with binoculars or to the naked eye.
First discovered by astronomer Carl Wirtanen in 1948, 46P/Wirtanen, with a width of 1.1 kilometres, orbits the Sun fairly quickly for a comet — once every 5.4 years — making it a short-period comet.
Indian-origin woman attacked on subway; accused charged with hate crime
A 54-year-old man has been charged with a hate crime for assaulting an Indian-origin woman travelling in a New York subway and using homophobic slurs against her. Allasheed Allah, 54, was brought before the court on Thursday and charged with assault as a hate crime and aggravated harassment against Avneet Kaur, 20, for the attack in New York City's Queens borough last month.
According to the charges, Kaur was travelling on a subway train in Manhattan last month when Allasheed engaged her in a verbal dispute. He then began making homophobic slurs towards Kaur and her friend. As the two women began to walk away, he followed them and hit Kaur in the back of her head and then once on her chest, causing her to fall and strike her head and neck on a pole before hitting the floor. She was immediately transported to a local Queens hospital where she underwent treatment for a fractured spine.
According to the charges, Allasheed admitted that he used homophobic language against Kaur and threatened her, asking if she kissed her friend travelling with her on the subway. If convicted, Allasheed faces up to 15 years in prison, Queens district attorney Richard Brown said.
Politics
The ED probe pertains to alleged financial irregularities in the Congress-promoted Young Indian Private Limited, which owns the National Herald newspaper
India
Congress leader Rahul Gandhi, however, took a swipe at the Centre over the announcement, saying this is a government of not 'jumlas' but 'maha jumlas'
Politics
Delhi Police has imposed provisions of Section 144 CrPC to prohibit assembly and entry of people on roads leading to the Enforcement Directorate headquarters in Pravaratan Bhawan on A P J Abdul Kalam Road