Daily Bulletin: Amit Shah, Jaitley unwell months before polls; Theresa May wins confidence vote; Netflix, Hotstar to censor content; day's top stories
Today's top stories: Two top lieutenants of Narendra Modi, Amit Shah and Arun Jaitley, unwell months before LS polls; Netflix and local rival Hotstar to censor content in India, say sources; Petrol price down, diesel rate up; and more.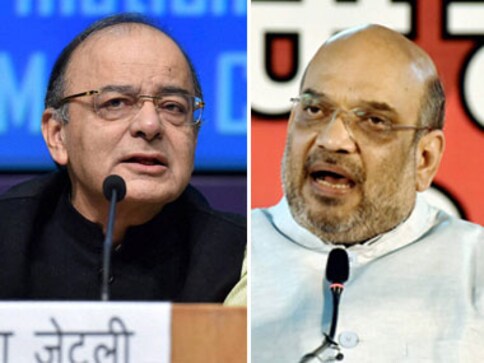 Narendra Modi's top deputies — Amit Shah and Arun Jaitley — have both fallen ill months before the Lok Sabha polls.

Petrol fell by 8 paise and the rate of diesel increased by up to 13 paise on Wednesday.

Netflix and Hotstar plan to adopt self-regulation guidelines for content on their platforms in India to prevent potential government censorship.

British prime minister Theresa May won the no-confidence vote and urged MPs to work constructively towards Brexit.

A survey found that 74 percent of Facebook users are unaware that the platform keeps a checklist of their interests for target ads.
Two top lieutenants of Modi unwell months before LS polls
BJP president Amit Shah on Wednesday said he was being treated for swine flu, the second member of Prime Minister Narendra Modi's inner circle to be unwell this week.
Shah is charged with crafting the strategy for Modi's re-election bid for the polls expected in April-May. He said on Twitter he expected to recover soon.
Last month, hospitals in Delhi reported a rise in cases of swine flu. Shah has been admitted to the All India Institute of Medical Sciences, the country's top facility in the capital.
News of Shah's illness comes while Finance Minister Arun Jaitley is in the United States for a medical checkup. No details were provided, but two people with knowledge of the matter said Jaitley was not expected back at least until 25 January.
After chargesheet, RJD not in the mood to give Begusarai seat to Kanhaiya Kumar
Chargesheet against former JNUSU president Kanhaiya Kumar might cast a shadow on his possible candidature from the grand alliance for the general elections.
Kanhaiya was reportedly to contest the Lok Sabha elections from Bihar's Begusarai constituency as the nominee of the alliance comprising the RJD, Congress, NCP, Jitan Ram Manjhi-led HAM (S), Sharad Yadav's Loktantrik Janata Dal and all Left parties.
However, jeopardising his candidature, the Delhi Police had filed a chargesheet in a court on Monday against Kanhaiya and nine others, alleging that he had led a procession and supported seditious slogans raised on the JNU campus in February 2016.
According to sources in the RJD, the party is now in two minds about fielding Kanhaiya as their candidate from the Begusarai seat. Tanveer Hasan, who fought the 2014 general elections on an RJD ticket from Begusarai, remains the party's first choice.
"That's why our leader Tejashwi Yadav distanced himself from Kanhaiya Kumar in the October 2018 CPI rally at Patna's Gandhi Maidan and didn't share the stage with him," sources claimed.
Theresa May wins confidence vote, calls on MPs to work together to deliver Brexit
British prime minister Theresa May has called on MPs to "put self-interest aside" and "work constructively together" towards Brexit, after surviving a no-confidence vote and averting a general election.
The prime minister won by 325 votes to 306 — a majority of 19 — on Wednesday, a day after her government suffered a historic parliamentary defeat over her Brexit divorce deal with the European Union.
Speaking outside 10 Downing Street after the voting, May said the government has won the confidence of Parliament. This now gives "us all the opportunity to focus on finding a way forward on Brexit", she said.
"Overwhelmingly, the British people want us to get on with delivering Brexit and also address the other important issues they care about," the Conservative leader said. "Now MPs have made clear what they don't want, we must all work constructively together to set out what Parliament does want."
"That's why I am inviting MPs from all parties to come together to find a way forward. One that both delivers on the referendum and can command the support of Parliament. This is now the time to put self-interest aside," she said.
Petrol price down, diesel rate up
Petrol fell by 8 paise and the rate of diesel increased by up to 13 paise on Wednesday.
Crude oil prices firmed after climbing about 3 percent and supply cuts led by OPEC indicate tight markets. Brent crude oil futures were at $60.83 per barrel, 19 cents, or 0.3 percent above their last close.
While petrol price declined by 8 paise, diesel rates continues their upward move for the seventh successive day, rising 13 paise on Wednesday in major cities across the country.
After the revision in the price on Wednesday, petrol was sold in Delhi at Rs 70.33 a litre, in Mumbai at Rs 75.97, in Chennai at Rs 73 and in Kolkata at Rs 72.44 per litre, according to data available on the website of the Indian Oil Corporation.
Accordingly, diesel was priced in Delhi at Rs 64.59 a litre, in Mumbai at Rs 67.62, in Chennai at Rs 68.22 and in Kolkata at Rs 66.36 per litre.
Kenya hotel siege: Militants and at least 21 people dead
Kenyan security forces have killed all the Somali militants who stormed an upscale Nairobi hotel compound on Tuesday, taking at least 21 lives and forcing hundreds of people into terrifying escapes, the government said on Wednesday.
Fifty people believed to have been in the complex remained unaccounted for on Wednesday afternoon, the Kenya Red Cross said, raising the possibility of a much higher final toll.
The bloody bodies of five attackers were broadcast across social media as President Uhuru Kenyatta announced the end of a 20-hour overnight siege that echoed a 2013 assault that killed 67 people at the Westgate shopping centre in the same district.
Somali group Al-Shabaab, an Al-Qaeda affiliate fighting to impose strict Islamic law, said they carried out the attack in revenge for US president Donald Trump's decision to recognise Jerusalem as Israel's capital.
Kotak Mahindra Bank case likely to come up today
Kotak Mahindra Bank's case against an RBI decision on promoter stake dilution is likely to come up for hearing before the Bombay High Court on Thursday amid a growing clamour for a review of the central bank's ownership guidelines for home-grown private sector lenders.
There is also a growing clamour, among those associated with the ruling dispensation, to ensure that the certain amount of indigenous control is maintained in the banking sector, even while welcoming foreign capital, and any stake dilution should be left to market evolution rather than forcing it.
Netflix, local rival Hotstar to censor content in India: Sources
Netflix Inc and home-grown rival Hotstar plan to adopt self-regulation guidelines for content streamed on their platforms in India in an effort to prevent potential government censorship, sources familiar with the matter told Reuters.
A draft of an unofficial code that will be adopted by Netflix, Hotstar and other local players, seen by Reuters, said the platforms will prohibit content that shows a child "engaged in real or simulated sexual activities", is disrespectful of India's national flag or encourages "terrorism".
Amazon Inc's Prime Video will not sign the code, though it helped draft it, as the company does not want to act in the absence of government-mandated regulation, one of the sources said.
Anil Kapoor meets Narendra Modi in Delhi
Actor Anil Kapoor met Prime Minister Narendra Modi on Wednesday in Delhi and tweeted about their meeting.
"I had the opportunity to meet our honourable Prime Minister Narendra Modiji today, and I stand humbled and inspired in the wake of our conversation. His vision and his charisma are infectious and I'm grateful for the chance to have witnessed it in person," Anil tweeted, along with photographs of his meeting with Modi.
Last week, members of the film fraternity like Karan Johar, Ranveer Singh, Ranbir Kapoor, Alia Bhatt, Vicky Kaushal and others also met Modi in the national capital.
74% Facebook users unaware of platform keeping a checklist of their interests
A new survey has revealed that roughly 74 percent of Facebook users don't know that the social media giant keeps a list of their interests and traits to target ads. The study also found that while Facebook offers a number of transparency and data control tools, most users of the platform are unaware of where they should be looking.
World
Diesel prices have already jumped since the war started on 24 February, and they could rise again for the fuel that is key to the global economy
Photos
Be it an all-black look by the beach, a cream-white look near the sunset, an abstract pattern on a green shirt, or a leaf print on an off-white shirt, Kapoor has the deal for the looks.
Entertainment
While Anil Kapoor was single mindedly focused on being a star, Jackie didn't care as long as the money to look after his family kept coming in.