Dadri lynching: One year on, what has changed after Mohammad Akhlaq was beaten to death?
Uttar Pradesh police say that they are yet to find any 'credible evidence' of cow slaughter by Mohammed Akhlaq's family, while refuting claims that a closure report will be filed soon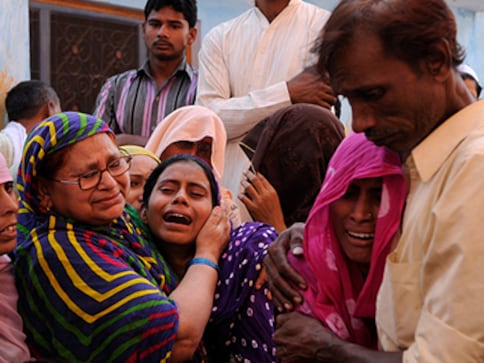 A year after the Dadri lynching case, where a mob beat 50-year-old Mohammad Akhlaq to death for allegedly consuming cow meat (or rather over rumours that his family was in possession and had consumed beef at home), what has changed in the town?
For one, police say that they are yet to find any "credible evidence" of cow slaughter by Mohammed Akhlaq's family, while refuting claims that a closure report will be filed soon. Dadri's Circle Officer Anurag Singh said that the investigation will continue till the last moment and "whenever we'll get any evidence we will arrest the accused". He added that the closure report will be the last step to take if they obtain no evidence.
Dadri, lynching and after
On 28 September, 2015, at around 10.30 pm, Akhlaq and his family were preparing to go to bed, when a feverish mob wielding sticks and other weapons stormed into his house and accused the family of slaughtering a cow and eating the same, reported the BBC. 
Akhlaq was lynched, his son Danish, 22, was brutally beaten up and some people also assaulted Danish's grandmother and molested her. The mob was reportedly acting on rumours that a calf had gone missing on 16 September and that its remains were found near Akhlaq's home, while Akhlaq was allegedly seen throwing a bag containing meat which villagers claimed was from the missing calf.
Immediately, an FIR was filed against 10 people — under IPC sections 147 (punishment for rioting), 148 (rioting, armed with deadly weapon), 149 (unlawful assembly), 302 (murder), 307 (attempt to murder), 458 (house-trespass or house-breaking), 504 (intentional insult with intent to provoke breach of the peace) — while six were arrested in connection with the case. Interestingly, the FIR made no mention of beef and reported recovery of beef from the premises of the deceased Mohammad Akhlaq that led to the ghastly incident. The police also claimed that cow slaughter was just an allegation by the assailants and sent the pieces of meat found for analysis.
Two days later, there was an "uneasy calm" in Bishara village where the incident took place, reported The Hindu adding that an "inconsolable" Asgari Begum (Akhlaq's mother) claimed that they didn't steal anything and that the meat in question was mutton. The Hindu report quoted Asgari Begum extensively as saying that "dozens of men broke into the house. It was a little after the isha ki namaaz, they broke all the lights and did not bother to check what kind of meat was in the fridge. They hit us with bricks and stones after breaking down the door."
Another report in The Hindu mentioned that a "riot-like situation" took over the village and Akhlaq's relatives were prohibited from taking part in the funeral procession. The UP government, on 30 September, 2015, announced an ex-gratia compensation of Rs 10 lakh to Akhlaq's family and Chief Minister Akhilseh Yadav also instructed the district magistrate and senior superintendent of police, Noida to provide full protection to his family.
On 23 December, 2015, the Uttar Pradesh police filed a chargesheet naming 15 people as accused, reported Scroll. Eighteen hearings have been held since the chargesheet was filed, reports The Indian Express, and of the 18 hearings, only five have seen any movement.
The final report on the meat (31 May, 2016) found in Akhlaq's house confirmed that it was from a cow, which was also confirmed by the Central Forensic and Scientific Lab in Mathura, although preliminary report had ruled out that it was cow meat and suggested that it was mutton.
A court on 14 July, 2016, ordered the registration of a case and further investigation against Akhlaq's family for alleged cow slaughter. Acting on the court order, police (on 15 July) lodged an FIR against the late Mohammad Akhlaq and six
family members for alleged cow slaughter, while the family decided to challenge the FIR in the Allahabad High Court seeking directions for its quashing.
There were also allegations that evidences had been tampered with. "The meat recovered was more than 150 metres away from Akhlaq's house," Maulana Amir Rahsadi Madni, the national president of Rashtriya Ulama Council, said. He also claimed that only two kg meat was sent to Dadri lab, but the report suggested the quantity of meat was four to five kg, implying that there was some amount of tampering somewhere.
On 26 August, the Allahabad High Court stayed the arrest of five family members of Akhlaq, while refusing to grant relief to Akhlaq's brother Jaan Mohammed, who was among the six people named in the FIR lodged against the family.
So far, 18 people have been arrested for Akhlaq's murder and two minors have got bail.
What did it bring about?
The incident brought about a debate on intolerance and religion — specifically, the tiding over of minorities such as Dalits and Muslims — with intellectuals (and actors alike) such as Nayantara Sahgal returning their prestigious awards in protest over the incident.
The ruling BJP government came under fire for not immediately condemning the murder of Akhlaq, reports The Times of India, while it naturally took on political echoes. On 12 October, 2015, Defence Minister Manohar Parrikar said that some of the incidents were being blown "out of proportion" and that the Dadri lynching would actually damage the BJP and the NDA. "It also damages the cause or the vision that the prime minister has and therefore they cannot be in the interest of the BJP or the NDA or the country."
Modi eventually broke his silence in October, calling the incident "unfortunate and undesirable".
With inputs from PTI
India
According to the Government Railway Police (GRP), Khan was rushed to Kalwa's Chhatrapati Shivaji Maharaj Hospital by a close relative and a few others, 20 minutes after the incident. They took him to the hospital in an auto-rickshaw, GRP added
First Cricket News
The former Pakistan leg-spinner wasn't impressed with Pant's leadership skills during India's T20I series against South Africa at home.